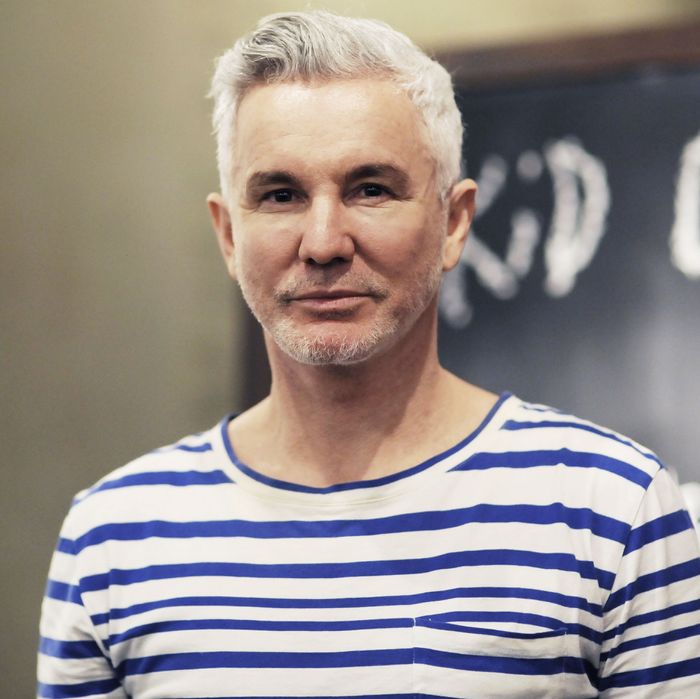 Baz Luhrmann.
Photo: Daniel Zuchnik/Getty Images
Baz Luhrmann has started casting his new Netflix drama The Get Down — and he's not just looking for established talent with agents. In an exclusive interview with Vulture, the director/producer says that while he's "already looking at some great talent out there who are professionals," he's also determined to feature undiscovered performers on his first-ever TV series, which will explore the rise of hip-hop culture from the ashes of New York City's 1970s malaise. To find that unknown talent, Luhrmann and his production team today are launching TheGetDownCasting.com, a site where performers will be able to submit video auditions. Their initial focus: finding African-American and Latino actors (male and female) between the ages of 18 and 21. "The thing is, the entire show is hung on bright young people," Luhrmann explains. "There are many professional [actors] at that age. But I don't want to miss some extraordinary young person who's just months away from sending in a tape to some casting agent. You need to spread the net very broadly."
In his first extensive interview since Netflix confirmed it was moving forward with The Get Down, Luhrmann revealed a few more details about the project, including his plans for using music on the show, the broad range of writers he's hired, and exactly when the show will take place.
The idea for the show has been percolating inside Luhrmann's head for close to a decade.
"I've been on this since before Gatsby," he says. "Not constantly. But for about seven years, and maybe as long as ten … I've had this kind of passion to explore the big idea — a city that's on its knees, and a borough that's beyond on its knees. And out of it comes a cultural force that, 40 years later, it's an all-pervasive culture, not just here but throughout the world. Look at what's going on with Hamilton, the play on Broadway, or Empire.
Writing has already begun, with some well-known scribes attached.
"I'm hunkered down in my little white box around Chinatown, writing it … with a great team of writers." Luhrmann says. Among those working on the show, he says, are some who "lived in the Bronx at the time" the show is set, including Seth Zvi Rosenfeld (The Writing on the Wall). Author and journalist Nelson George is also "on our writing team," Luhrmann says, as are Brooklyn playwright Radha Blank, Aaron Rahsaan Thomas, Sam Bromell, Jacqueline Rivera, and, as previously reported, novelist/TV writer Thomas Kelly. "We've spent several years doing quiet but very in-depth research," he adds. In addition to Luhrmann, other executive producers on the show include Kelly, Shawn Ryan, Catherine Martin, Paul Watters (Australia), Marney Hochman (The Shield), and Stephen Adly Guirgis (Motherfucker With the Hat), who is also a writer on the show.
The show will use music from the past, as well as original compositions …
Because Sony is producing The Get Down, "We'll have lots of recognizable, classic cuts" on the soundtrack, Luhrmann says. "We will be using very authentic music from the time. But our young characters — and this is crucial: Their songs are from a mythological musical group. So we have to see them create their own music … That's important because we want to show an aspirational story. We're going to use music as a way of allowing the world to be very authentic."
… and Luhrmann hopes to have many collaborators help create that music.
While he's got a good sense of the show's plot and story lines, "I'm in the middle of the evolution for the music," Luhrmann says. There's been TV-industry buzz for some time now that the director might be looking to bring in a big-name musical partner for The Get Down, the way he recruited Jay Z for The Great Gatsby. Luhrmann's response to that idea? "There's not much to say on that now, except: yes," he says. "I want to work with great veterans and new talent. I'm definitely down the road with several and different key collaborators." But the director also describes himself and his partners as "serial collaborators," hinting there might not just be one big musical partner on this show. "It's one of the great joys of my life to work with all kinds of collaborators," he says.
Luhrmann is also hoping some of the people he recruits through the open casting call could end up writing original music for the show. "If they have musical talents, I'd like to see them contribute," he says. "I'd like to see them write with us in the musical language of the show." And as with his feature films, it's likely those musical components will exist outside the series itself. "The music life of the show will be huge," he says. "There will be albums that come out of the show."
Season one will take place over three years.
"We start right in '77, and we finish [season one] on the dawn of the '80s," Luhrmann says. And, yes, because of that time frame, The Get Down will tackle the disco era. "A lot of people think disco happened and then hip-hop came along," he says. "But there was a very, very potent crossover period, and we're really exploring that. Disco gets written off because it went through a dumbing-down period toward the end. But there was a very rich period of disco, of dance music that was very underground."
The start of production is just around the corner.
Even though no big casting has been announced and the new audition website has just launched, cameras will be rolling in a matter of months in advance of the 2016 release date. "We want to be shooting by no later than the end of May," he says. And then, with a laugh, Luhrmann adds: "So please send your videos to TheGetDownCasting.com — as soon as possible!"