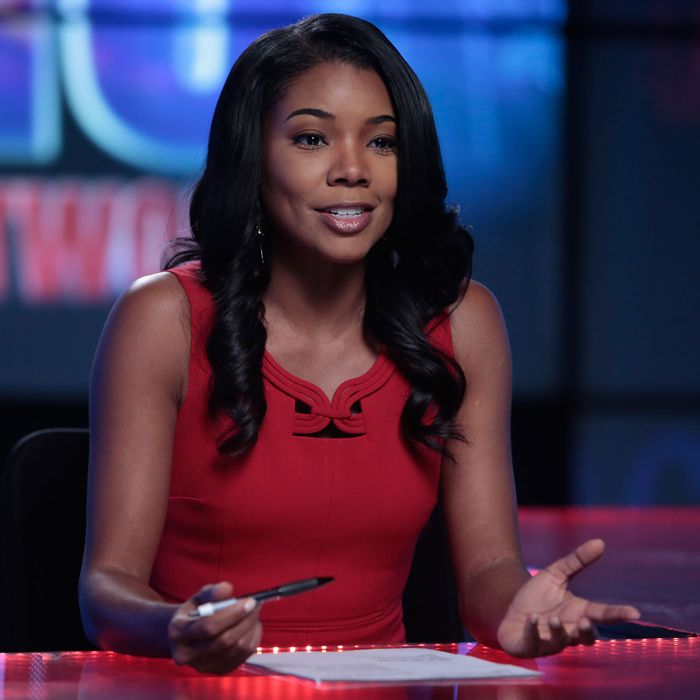 Photo: Daniel McFadden/BET
There are few joys as vivid as the well-executed prime-time soap. It has the panache of a prestige show, some of the intricate plotting, perhaps, but the emotions are all turned up to 11. Characters have complex interior lives, but they also scream and break windows and hurl things at one another, and fall into lusciously be-pillowed beds to have vigorous sex or to vigorously sob and thrash. A good soap is thrilling and cathartic, and it takes itself just seriously enough. BET's Being Mary Jane is a damn good soap.
The show returns for its second season tonight, and in top form. BMJ spent its first season figuring itself out, and about halfway through, started really finding its groove; tonight's premiere continues on that trajectory. Gabrielle Union stars as Mary Jane, a successful news anchor whose personal life is something of a disaster. I like a lot of things about the show, but I really love how not cute it is. Mary Jane is not cute, and her problems aren't cute, and no matter how cute her male companions are (very!), their relationship does not result in cute issues. Mary Jane can be a nasty drunk, and she can be pretty phony; she's myopic and distrustful. She'll say things like "my friend, Winston Churchill" when citing inspirational quotes on her news broadcast. (Shudder.) She can be staggeringly desperate. She's also smart and interesting and witty and brazen, which is why you want to watch a whole show about her. Her problems are grown-up problems, even if her solutions tend not to be. This is what scientists call "a fully developed character." You don't see as many of them on TV as you'd think!
Being Mary Jane pulls off a tricky balancing act of being rigorous enough to have something to say, and being, well, fun. A lot of that is Union's performance, and a lot of that is the creator Mara Brock Akil's willingness to let the show be many things. Let's have a dinner party where our characters are having serious conversations about American racial politics, but let's also have a story line where Mary Jane steals her ex's sperm out of a used condom and saves it in a specimen cup in her freezer. Mary Jane's deep anxiety and self-recrimination about not having a baby is covered in a grounded, real way, but her drunken Uber rides and surprising amount of contact with the woman whose husband MJ was sleeping with are pitched at a more extreme emotional frequency. Part of what makes the show such an effective soap is its threads of authenticity and normalcy, which make its operatic moments feel earned.
Being Mary Jane is the kind of show I relish, the kind where when you see a new episode on your DVR, you think, ooooh! and clasp your hands together like a greedy elf. I love that feeling, that excitement that only some shows are able to engender, and that weird bittersweetness of knowing that in an hour, you're going to be so sad that it's over. Tonight's premiere sets out a pretty clear vision for what MJ's going to be grappling with in season two, and it's exactly how you want a show to position itself for a sophomore season: the good parts, except more.