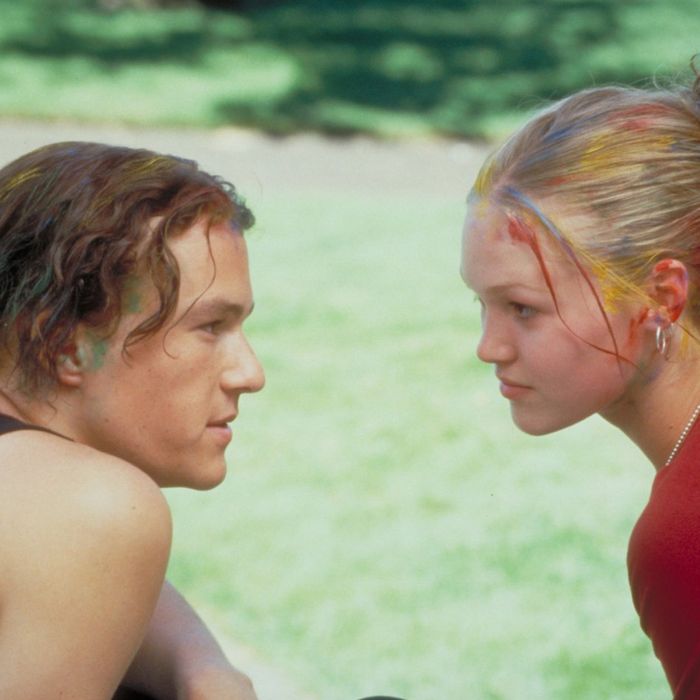 10 Things I Hate About You.
Photo: Touchstone Pictures
This list was updated May 5, 2017, to reflect Netflix's current offerings.
Romantic comedies: They make us laugh, they make us cry, then they make us laugh at how much we cried. We've rounded up the best romantic comedies on Netflix, from screwball classics in the public domain through the high periods of the late '80s, mid-'90s, and early 2000s to the current renaissance of microbudget rom-coms. You may remember some of them from our lists of the 25 best romantic comedies since When Harry Met Sally, 27 best indie rom-coms, and 8 mumblecore rom-coms, but hey — if a movie's good, why recommend it only once? (We'll update this list as titles are added and removed.)
Amélie (2001)
Every generation gets the messed-up ideas about love it deserves. Along with The Royal Tenenbaums and Garden State, Amélie told millennials of a certain taste that falling in love was like finding a magical wonderland where brightly dressed characters stared at each other with deadpan sincerity (ideally in an impeccably composed shot). But no matter. Watching Amélie now provides a lesson of surprising maturity: You may not love it like it like you did when you were 17, but that's not the only kind of love.
Shakespeare in Love (1998)
Similarly, Shakespeare in Love gets blamed sometimes for the quasi-snub of Saving Private Ryan, except which one would you rather re-watch? Mark Norman and Tom Stoppard's script is full of ingenious setups, callbacks, and references — and like a great play, it has enough gags for English professors and groundlings alike. If you prefer your romantic comedies literally Shakespearean, Netflix also has A Midsummer Night's Dream, Love's Labour's Lost, and Joss Whedon's Much Ado About Nothing.
Drinking Buddies (2013)
Mumblecore auteur Joe Swanberg made the move to the big time (or at least the less-small time), and the result is his finest achievement to date. Olivia Wilde and Jake Johnson star as friends and co-workers who could clearly be something more, except for one problem: They're both dating somebody else. When they take a weekend away with their respective partners (Ron Livingstone and Anna Kendrick), each couple ends up on unsettled romantic terrain. It's like the older, wiser cousin of that one New Girl episode.
Frances Ha (2012)
Like Swanberg, Greta Gerwig was a reliable veteran of the mid-2000s mumblecore scene before making the leap to slightly more mainstream fare. She's since done her best work in Noah Baumbach rom-coms: the salty Greenberg, and the sweet Frances Ha, which finds her floundering optimistically through post-college life.
Medicine for Melancholy (2008)
Two strangers have a one-night stand, reconnect the next day, then spent a few hours walking around San Francisco. That's a lot of indie films, but what Medicine for Melancholy lacks in originality of plot, it more than makes up for in the clarity of its vision. In meandering discussions shot in gorgeous, desaturated hues, Wyatt Cenac and Tracey Heggins discuss gentrification, interracial love, and what it means to be black in a city that isn't.

Bridget Jones's Diary (2001)
Jane Austen for the modern, pulp-reading romantic, Bridget Jones manages to be a lot better most of the things that could be, and often are, said about it. Mostly that's due to Renée Zellweger, who pulls off a British accent and a surprisingly honest take on a rom-com cliché: the clumsy yet endearing mess of a heroine.
10 Things I Hate About You (1999)
Until modern science perfects the time machine for commercial use, this film represents our most direct portal to 1999. Gil Junger translated The Taming of the Shrew for the era of center-parted hair and Bikini Kill, and unknowingly forged a cultural artifact with significance beyond its endearingly earnest adolescent melodrama. The slang and the fashion are both a scream, but the most jarringly dated element is Heath Ledger himself, scruffy charisma oozing from every pore. His bright future was apparent even at this early stage, and watching as he effortlessly charms the cynicism right out of Julia Stiles only makes his present-day absence even harder.
Adventureland (2009)
There's nothing especially revolutionary about Greg Mottola's account of one summer spent wage-slaving at an off-brand amusement park. But while its composite elements may be familiar, each archetype ranks at the top of their game: Jesse Eisenberg is the quintessential overeducated nebbish, Ryan Reynolds fully embodies the cool jerk, and who could the unattainable cool girl possibly be but Kristen Stewart? With ample wit and that distinctly postcollegiate sense of disillusionment, the film cuts through the BS of the young-adult romance genre, while recognizing the primal character dynamics that make it work. And remember — no one ever wins a giant-ass panda.
Midnight in Paris (2011)
You can find someone willing to argue that pretty much any late-phase Woody Allen movie is the good one, but this historical trifle has the most supporters, and for good reason. There's a shameless fanfiction pleasure in watching malcontent writer Gil (Owen Wilson) stumble back a century or so to hobnob with Lost Generation icons like Fitzgerald and Hemingway (Tom Hiddleston and Corey Stoll, a fine pair). An Almost Famous for the literary set, the film sends a slavish fan in to mingle with his idols and find that they're as flawed as anyone else. But whereas Cameron Crowe's chronicle of early years tracked a love affair with rock music, Allen's film gets at something more sentimental. As the final moments of the film would suggest, his real love is for the concept of love.
Love Actually (2003)
Each Christmas seems to reignite the ongoing debate of "Love Actually: Does It Suck or Not?" and that's all the necessary proof that the latter is true. This tasting platter of Brit-fronted romances — an affair, a tentative attraction front-loading the sex, and an unwelcome flirtation with international implications, to name a few — rubs some the wrong way with its guileless sincerity. But those unbothered by cute-kid antics will lose themselves in the downright romantic romanticism of this sweetly hewn cross section of lovesick Londoners. All the written-sign-scene parodies in the world can't detract from its hankie-dampening power.
How to Lose a Guy in 10 Days (2003)
Both Matthew McConaughey and Kate Hudson slowly and sadly slid into mediocrity by slumming it in brain-dead rom-coms, but they only kept at it for so long because they were looking for projects that could match this film's chemical charms. A silly premise (an ad executive and a magazine editor start dating as part of professional assignments, both unaware that the other has ulterior motives) precipitates some enjoyably fluffy comfort-food cinema. The duo's later work came to symbolize a very specific strain of shittiness, but America only fell in love with McConaughey and Hudson in the first place because they go together so irresistibly well.
Something's Gotta Give (2003)
The appeal of Nancy Meyers's films lies in the escapist qualities: the upper-class affluence affording everyone comfort and ease, the unfailingly tasteful kitchens, the inevitability of flowering romance. But here, Meyers grounds the interior-design porn in a respectful, mature awareness of how aging can complicate love. The body reaches a point where it can no longer keep up with a steadfast sex drive, and Meyers afford both Jack Nicholson and Diane Keaton's characters a palpable sexuality irrespective of their ages, in a refreshing change of pace. Plus, this is probably the one movie in which Keanu Reeves can portray a doctor and get away with it.
Beginners (2011)
It's never too late to come out. An 80-year-old Christopher Plummer earned raves as a geriatric widower who reveals to his adult son (Ewan McGregor) that he's been living in the closet for years. Plummer sets off to live a little life in the time he's got left, and inspired by his father's quest for self-actualization, McGregor strikes up a passionate love affair with a darling French actress (played by real-life darling French actress Mélanie Laurent). Gently comical and poignant in equal measure, it's a celebration of life in the face of intrusive death.
Gentlemen Prefer Blondes (1953)
At this point, Marilyn Monroe's more of a concept than an actress, an emblem of the woozy feminine appeal that fuels Hollywood until it tragically flames out. And Monroe was at her Monroe-iest in the oft-imitated "Diamonds Are a Girl's Best Friend" number from this effervescent musical comedy. Her dumb-blonde showgirl adores all the attention she receives from men, but in a show of girlish innocence, hardly has any idea what to do with it. Her sightly sharper bestie (Jane Russell, the brunette yin to Monroe's towheaded yang) has romantic aspirations of her own, but both women approach courtship like hunters on safari. May the best gold-digger win.
Me and You and Everyone We Know (2005)
Call it an unromantic comedy: Everyone's awkwardly grasping for some manner of connection in Miranda July's debut, but nobody's got the right emotional apparatuses to seize it. An unrequited affection between grown-ups, an online flirtation built on deception, and the first teenage rumblings of erotic impulse all form a complex narrative web between well-intentioned misfits. Love can be imperfect, misguided, awkward, and ultimately harmful in July's universe, but above all else, it's still funny. The script steers the audience toward laughter, but never at the expense of these earnest, pitiable characters. Even through sniggers, you can't help but root for them to find happiness.
The Little Death (2014)
Australian-born writer/director/star Josh Lawson gathers five uproarious tales of sexual deviancy for this shaggy anthology picture, situating most of his sketches at the intersection between desire and love. It's not always easy to negotiate between the two, and adding obscure fetishes (rape fantasies, dacryphilia, and somnophilia, to name a few) can complicate matters even further. But the vital importance of intimacy and trust provides a strong foundation for these fripperies, counterbalancing the more off-color material with tenderness. Making a relationship work is all about compromise — if your wife wants you to simulate a violent assault in a parking garage because it flips her switches, that's all on you.