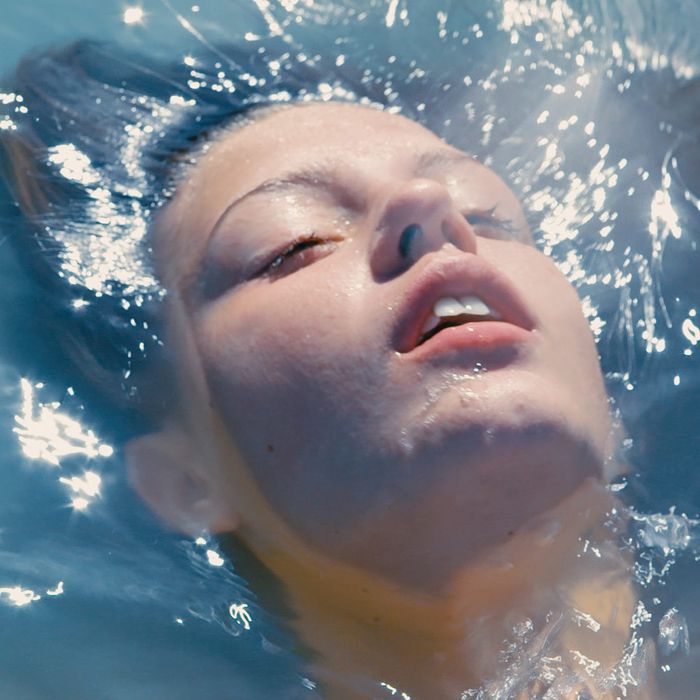 Blue Is the Warmest Color
Photo: Sundance Institute
This list was updated April 8, 2016 to reflect Netflix's current offerings.
Love comes in many different shades. Sometimes it's consuming and violent; other times it's goofy and messy. Hollywood, of course, loves every single type — but chances are it's hard to figure out exactly which one you want to watch at which time. Below you'll find all the love triangles, long-distance romance, and teenage lust you could ever hope for, all streaming on Netflix Instant. Disclaimer: Vulture is not responsible for how many overwhelming feels you accumulate during the course of viewing any of these films. (We'll update this list as titles are added and removed.)
Blue Is the Warmest Color (2013) 
Based on the graphic novel by Julie Maroh, this French drama hones in on introverted 17-year-old Adele (Adèle Exarchopoulos) as she falls in love for the first time with blue-haired art student Emma (Léa Seydoux). The film follows their tumultuous relationship through all of its passionate romance and ugly-cry-inducing difficulties. The film is controversial in that the actresses have been outspoken about the borderline-abusive conditions director Abdellatif Kechiche put them through, and about the lesbian sex scenes, which have been criticized far and wide. But despite their circumstances, the performances from Exarchopoulos and Seydoux are actually devastatingly good — so good that this film is worth a watch.
Weekend (2011)
If you're looking for a movie that isn't rooted in the rom-com "just friends" formula that really explores just how "no strings attached" a fleeting sexual relationship can get, this is the one. Lifeguard Russell meets art student Glen for a one-night stand that turns into casual sex. Though Glen is planning to leave the country after the week's end, the intimacy between the two men continues to heighten and their spontaneous fling ends up changing both their lives forever.
Beyond the Lights (2014)
Most actresses would take the role of an international pop star and do their best to play it big, but in Gina Prince-Bythewood's shimmering fable of love and the music industry, Gugu Mbatha-Raw offers up a performance that's stunningly small. As Rihannia-analogue Noni Jean, Mbatha-Raw finds all the human backbeats in a tabloid plot, which takes her from suicidal depression to swooning romance with a cop (Nate Parker). Minnie Driver gives a villainous, and later devastating, turn as Noni's mother. Prince-Bythewood's direction finds just the right place between escapism and backstage tell-all. And, if that wasn't enough, Mbathwa-Raw can really sing.
Beginners (2010)
Beginners is a two-fer: it tells both the story of introverted graphic designer Oliver's (Ewan McGregor) relationship with a French actress named Anna (Mélanie Laurent), and that of the new, openly gay life led by Oliver's father Hal (Christopher Plummer). Based on director Mike Mills's real-life experiences, this equally charming and depressing film is quirkily art-directed, including subtitles for Oliver's cute dog's thoughts and visuals that give the movie its unique aesthetic.
Punch-Drunk Love (2002)
Did you know Adam Sandler has a lot more in him than playing an adult baby? Who knew! Well, Paul Thomas Anderson did, and in this moving film, Sandler stars as Barry, a lonely and endearing toilet-plunger salesman who is prone to fits of rage. He meets Lena (Emily Watson) and there's a spark. When Lena goes to Hawaii on a business trip, Barry decides to follow her. What ensues is a bizarre, borderline-comedic love story that includes phone-sex calls, extortion, and not one but seven overbearing sisters.
Goodbye First Love (2011)
Goodbye First Love is a coming-of-age movie for Camille and Sullivan's teenage relationship. What starts as an endearing and lusty romance between the 15- and 19-year-old eventually transforms through restraints of time, location, and age. It's a movie that will make adolescents swoon over the time span of the young relationship, but adults who know better scream at their laptops for the couple's romantic struggles. And even with the film's textbook French-ness (does every French girl have a southern countryside home and eventually hook up with her professor?), the movie is nevertheless refreshing in its honesty — not to mention seriously beautiful.
Y Tu Mamá También (2001)
When teenage boys Julio (Gael García Bernal) and Tenoch (Diego Luna) end up taking a road trip through Mexico to a beach called "Heaven's Mouth" with the older Luisa (Maribel Verdú), the trio ends up forging a much closer bond than they initially expected. While it's certainly not a typical "love story" by any means, this beautiful Alfonso Cuarón–directed coming-of-age film is sad and funny in all the right places (not to mention deeply sexy).
Cinema Paradiso (1988)
If you're not tired of young romances tinged with parental disapproval yet, then Cinema Paradiso's is worth experiencing. While protagonist Salvatore's true love in this nostalgia flick is actually filmmaking, the romance between him and upper-class sweetheart Elena makes up much of the film's drama. It's a little meta in that it's about Salvatore falling in love with love in movies and then experiencing love himself … in a movie, but don't let that twist your brain because this dramatic tissue-grabber is a classic.
It Felt Like Love (2013)
Director Eliza Hittman flips the male gaze on its head for this exploration of a shy teen's budding sexuality. As 14-year-old Lila (Gina Piersanti) plots her ham-fisted seduction of an older boy, Hittman skillfully captures Lila's desires for both his body and experience in general. Bonus points for shining a spotlight on a corner of Brooklyn — the sprawling concrete of Gravesend — often ignored in most indie-film depictions of the borough.
Chocolat (2000)
Food and romance and drama. When expert chocolatier Vianne (Juliette Binoche) and her teenage daughter Anouk (Victoire Thivisol) settle into a stuffy French village to start a new life, the town's initial hesitance towards their liberal lifestyle – Atheism! An illegitimate child! Vibrant clothing! – is quickly resolved when the charming Vianne and her equally alluring chocolate shop become an epicenter for woeful residents. A handsome gypsy (Johnny Depp) comes in halfway through the film to spice things up, too.