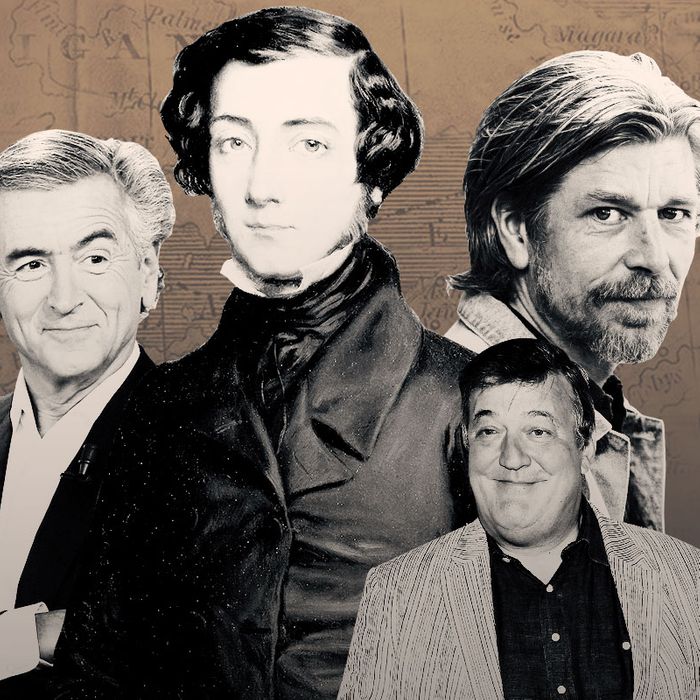 Left to right: Bernard-Henri Levy, Alexis de Tocqueville, Stephen Fry, and Karl Ove Knausgaard.
Photo: Kelly Chiello and Photo by Getty Images, Corbs
When the newly revamped New York Times Magazine asked the famously prolix (but personally reticent) Karl Ove Knausgaard, the author of a 3,500-page confessional six-book series called My Struggle, to undertake a road trip through Canada and the U.S., it enlisted him in a noble tradition: the foreign writer grappling with America via that most American of journeys, the road trip. How does his long and divisive report, part one of which will appear in this Sunday's print issue, compare to those of his predecessors? Below, we compare and contrast.
Game Plan
Democracy in America, by Alexis de Tocqueville, 1835: The great French intellectual is commissioned by the king of France to visit and report on the American penitentiary system—which he does. But then he uses it as a platform to go a little off-message—meditating for two volumes on the evolution of democracy.
American Vertigo, by Bernard-Henri Lévy, 2006: The open-shirted French public intellectual is commissioned by Atlantic Monthly to cross America "in the footsteps of Tocqueville." He visits prisons, malls, brothels — you know, the basics.
"Stephen Fry in America," BBC, 2008: The English comedian is commissioned by the BBC to visit all 50 states in a black London cab. Why? It had something to do with his father, who had turned down a job at Princeton, so he was "born not in NJ but in NW3 … I've been intensely curious to discover more about the world of my other self, this strange American, Steve."
"My Saga," by Karl Ove Knausgaard, 2015: The ruggedly handsome Norwegian novelist is commissioned by the Times to write a travelogue: "The editor proposed that I travel to Newfoundland and visit the place where the Vikings had settled, then rent a car and drive south, into the U.S. and westward to Minnesota, where a large majority of Norwegian-American immigrants had settled, and then write about it. 'A tongue-in-cheek Tocqueville,' as he put it … I accepted the offer at once." Later, he humble-brags about how much he's being paid for it (he also seems to let slip that the piece was meant to run in the previous issue, for the magazine's relaunch).
Grand Observations
Tocqueville: "The more I advanced in the study of American society, the more I perceived that the equality of conditions is the fundamental fact from which all others seem to be derived."
Lévy: "I still don't think there's reason to despair of this country. No matter how many derangements, dysfunctions, driftings there may be … no matter how fragmented the political and social space may be; despite this nihilist hypertrophy of petty antiquarian memory; despite this hyperobesity — increasingly less metaphorical — of the great social bodies that form the invisible edifice of the country; despite the utter misery of the ghettos … I can't manage to convince myself of the collapse, heralded in Europe, of the American model."
Fry: "A thing Americans like to do is dress up as a chicken." Also, after a Romney town hall in New Hampshire: "All Americans have a sense of great connection and pride about their democratic beginnings and their sense of being involved in the democratic process. That's something we could have more of in Britain." (Hard to say which of these observations rings more true.)
Knausgaard: "I had never really understood how a nation that so celebrated the individual could obliterate all differences the way this country did. In a system of mass production, the individual workers are replaceable and the products are identical … Not even the Soviet Union at the height of its power had succeeded in creating such a unified, collective identity as the one Americans lived their lives within."
Local Observations
Tocqueville: "The American of the South is fond of grandeur, luxury, and renown, or gayety [sic], of pleasure, and above all of idleness … The citizen of the North has not only experience, but knowledge: nevertheless he sets but little value upon the pleasures of knowledge."
Lévy: "The brothel is a sanitary place … the brothel is a place of safe sex … the brothel is a politically correct place." Also, the Iowa State Fair is "a festival of American kitsch"; Las Vegas is "a gilded hell"; Los Angeles has no center.
Fry: Going down into a West Virginia coal mine: "It's a hell of a commute." Of Miami: "The word 'hole' is certainly close to my lips. It's not my kind of city."
Knausgaard, at a restaurant in Newfoundland: "Everyone in the place, except the waiter, was fat, some of them so fat that I kept having to look at them. I had never seen people that fat before. The strange thing was that none of them looked as if they were trying to hide their enormous girth; quite the opposite, several people were wearing tight T-shirts with their big bellies sticking out proudly."
Obstacles
Tocqueville: Leaves France to avoid a complicated relationship with the new king — the one who commissioned the trip. Steamboats he's on get stranded on sand bars twice in the hinterlands. Has to walk 22 miles through Kentucky after the Ohio River freezes.
Lévy: Almost gets cited by a policeman for peeing on the side of the highway. "I couldn't care less if you're French — the law's the same for everyone. Keep moving," he says. The cop is unimpressed by Lévy's books on Daniel Pearl and forgotten wars, but lights up at the mention of Tocqueville, believe it or not, and lets him go.
Fry: Gets on a horse in Georgia despite the fact that "I don't get on with them … they mean well but they're also rather stupid." It runs off with him. Shows up in New Orleans with a cast on his arm and ten bolts holding his bones in place, but it wasn't the horse's doing; it happened while filming another show in the Amazon.
Knausgaard: Loses his driver's license before arriving, which strands him in Canada; stops up his hotel toilet and must fish out the contents himself; also, he is unwilling to speak to strangers. The story's photographer asks Knausgaard: "So your idea is to drive across America and write about it without talking to a single American?" He says, "Yes."
Personal Encounters
Tocqueville: Meets a Pennsylvanian who explains to him that blacks have voting rights but "are afraid of being maltreated" because "the majority entertains very strong prejudices against the blacks, and the magistrates are unable to protect them."
Lévy, at a brothel in Nevada: "'It's a hundred bucks,' she repeats louder, since the music has become deafening. 'Two hundred in the private lounge. Plus the champagne, of course.' Considering that I've circled this room, with its beer drinkers who have flocked here in groups and are sitting mesmerized in front of dancers who all have pretty much the same buttocks, the same hair, the same exceedingly round breasts as Linda — who seem, actually, to be her clones — I say yes, why not, let's try the private lounge."
Fry: Learns from a 92-year-old Southerner that "there's no animosity here, we get along good with the black people and they get along good with us and we work together." In fact, her grandfather had over 100 slaves, and after the Civil War, "he didn't lose the one."
Knausgaard: "This evening, I ate at a place called Pizza Delight. It was located in the Viking Mall, and I was the only guest. The waitress, a girl of maybe 18, seemed permanently amazed at everything I said and did. I ordered a pizza; she asked me several times whether that was all I was having. Yes, I said. When it was brought to my table and I started to eat, she stood behind the counter, glancing at me surreptitiously. I knew I was doing something wrong, but I had no idea what."
Celebrity Encounters
Tocqueville: President Andrew Jackson is "a man of violent temper and mediocre talents; no one circumstance in the whole course of his career has ever proved that he is qualified to govern a free people."
Lévy: On Warren Beatty, whom he likes, at a public event with other celebrities who "form a masquerade of the living dead, each one more facelifted and mummified than the next, fierce, a little mutant-looking, inhuman, ultimately disappointing."
Fry: On Sting, Buddy Guy, Ted Turner — and Morgan Freeman, who responds to one of Fry's soliloquies by saying, "You sound like Barack Obama, you know that?"
Knausgaard: Has lunch with an unnamed "well-known American writer" in Chinatown, with whom "I tried desperately to think of something to say." The writer emails later to apologize for inviting him, and asks him not to reply. Knausgaard does anyway.
The One Thing That Explains All America
Tocqueville: The abolition of primogeniture, so that estates are divided with each generation, freeing capital, leveling wealth, and weakening patriarchy.
Lévy: The Seattle Space Needle, on the one hand: "Everything that America has always made me dream of: poetry and modernity, precariousness and technical challenge, lightness of form meshed with a Babel syndrome …" The Mall of America, on the other: "This mausoleum of merchandise, this funeral accumulation of false goods and nondesires in this end-of-the-world setting … this confined space, this aquarium, where only a semblance of life seems to subsist …"
Fry: The Auburn vs. Alabama football game: "It's simultaneously preposterous, incredibly laughable, impressive, charming, ridiculous, expensive, overpopulated, wonderful … American."
Knausgaard: A drive through Detroit: "I'd seen poverty before, of course, even incomprehensible poverty, as in the slums outside Maputo, in Mozambique. But I'd never seen anything like this … if this was poverty, then it must be a new kind poverty, maybe in the same way that the wealth that had amassed here in the 20th century had been a new kind of wealth."
Critical Reaction
Tocqueville: Acclaimed as a monument of political philosophy, generally prescient about America's divisions, hypercapitalism, and breakdown of traditional family structures.
Lévy: From Garrison Keillor in the Times: "Thanks for coming. Don't let the door hit you on the way out."
Fry: From John Crace's "Digested Read" column in The Guardian, channeling Fry: "In the 1950s my father went on holiday to the USA and had quite a nice time. If he had stayed, and if my mother had been stupid enough to join him, I might have been christened Steve, not Stephen. So who better than me to have a six-month holiday at the BBC's expense?"
Knausgaard: The Internati are divided on whether Knausgaard's skill as a writer of slow semi-fiction is transferable to the road-trip narrative — or, rather, whether he fails at the assignment or boldly, stubbornly transcends it. Katy Waldman of Slate writes: "Karl Ove Knausgaard may be an intriguing novelist, but he's the last person on Earth you want as your travel writer."