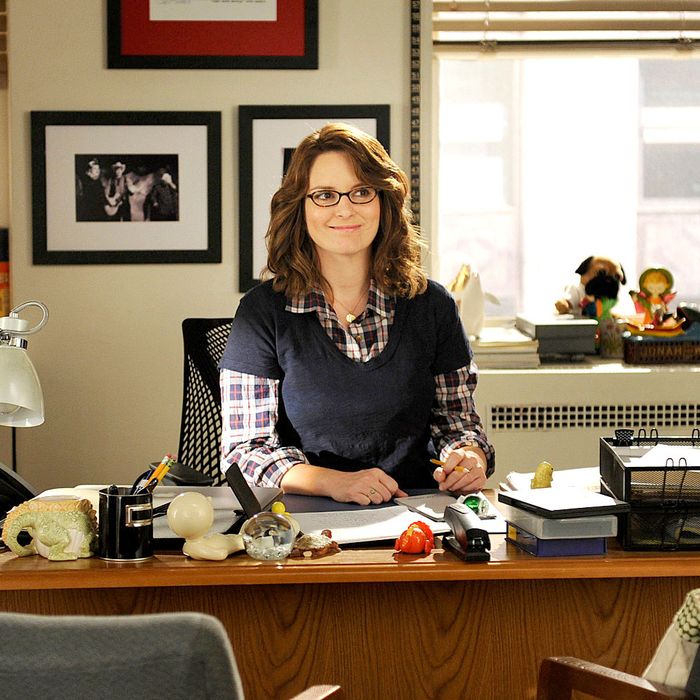 This list was updated April 8, 2016 to reflect Netflix's current offerings.
If you're like us, then you're probably always on the hunt for marathon-worthy TV shows. But if you're having difficulty winnowing down your options, we at Vulture are here to guide you. Below, our picks for the best series on Netflix right now, organized by alphabetical order within each genre. As always, feel free to note anything we've left out in the comments. We'll update this list as titles are added and removed.
DRAMA
Being Mary Jane
A high-quality guilty pleasure that manages to find all sorts of fresh, new things to say about being an ambitious single woman living in a fast-paced city with a high-powered career, making questionable romantic choices. Best of all, funny, relatable Gabrielle Union is the one doing it all.
Breaking Bad
Bryan Cranston's virtuosic performance as teacher turned meth-dealer Walter White shape-shifts through each season of this sprawling, superlative drama until he (and it) becomes pretty much the greatest thing ever to have happened in front of your eyeballs.
Broadchurch
Fox aired a Stateside remake of this 2013 British crime drama that was called Gracepoint and, exactly like Broadchurch, starred David Tennant as the lead detective investigating the death of a preteen boy in a small, coastal town. The main difference between Broadchurch and Gracepoint was that Gracepoint kinda sucked compared to Broadchurch, which is as tense a whodunnit as any you've likely seen of late. Or heard; stuffed with plot twists, dead ends, and moments of skin-curdling frisson, Broadchurch is akin to a small-screen, fictionalized version of "Serial."
Call the Midwife
Another great British show, this one is about a group of nuns and nurses toiling in desperately impoverished, postwar East London. An expertly done period drama that's downright radical in its feminist slant.
Freaks and Geeks
High school at its most exquisitely dreadful. The feathered hair and early '80s soundtrack are just a bonus.
Friday Night Lights
High school at its most heartrendingly poignant. The football games and Connie Britton's "Hey, y'all!" are just a bonus.
A Gifted Man
For several reasons, this one-season-and-done CBS drama deserved a second chance: Lead actor Patrick Wilson (hey, universe — be more generous to Patrick Wilson!); co-executive producer and pilot director Jonathan Demme; co-executive producer Susannah Grant (who wrote Erin Brokovich); a supporting cast that included Margo Martindale and Pablo "Pornstache" Schreiber. The premise — slick NYC doctor is routinely visited by kindhearted but dead ex-wife (Jennifer Ehle), prompting him to start caring about others — was both clever and mawkish, but the show was more the former and less the latter.
Gilmore Girls
Everything you need to know about Amy Sherman-Palladino's verbose ode to female relationships can be found in the fact that its theme song is "Where You Lead" off Carole King's seminal 1971 album Tapestry. That is to say, it's a bit gooey and old-fashioned, but what it doesn't offer in the way of vanguard viewing, it makes up for with its woman-centric wit, lyrical wordplay, and sense of quirkiness. Where Gilmore Girls will lead you is through seven seasons of honest family dynamics and ingratiatingly clever dialogue served up with the show's trademark whiplash delivery.
The Honorable Woman
Maggie Gyllenhaal delivers what may be her most astounding performance to date in this British miniseries about the daughter of an arms dealer who inherits her father's business while working philanthropically to promote peace between Israel and Palestine. An intricate and satisfying story told with a remarkable amount of intellect.
House of Cards (American and British versions)
Few shows aspire to Shakespearean levels of betrayal and deceit like House of Cards has in both its British and American iterations. That's probably because few actors pull off power-lusty sangfroid like Ian Richardson (British) and Kevin Spacey (American).
The L.A. Complex
This soapy 2012 dramedy was imported from Canada (it aired briefly on the CW) and focuses on a gaggle of aspiring Canuck actors, comedians, and more who find one another at a seedy Tinseltown boardinghouse. Equal parts refreshing, honest, frothy, and clever.
Last Tango in Halifax
What an aww!-dorable plot: A pair of British childhood sweethearts reconnect and marry 60 years later. A fanciful but surprisingly deep portrait of love in the age of Facebook and life in the face of your own mortality, with an absolutely wonderful performance by Derek Jacobi.
Luther
You've seen plenty of well-done dramas about dedicated, self-destructive police detectives who are prone to fits of violence and obsession. But this is the only one where you also get to see Idris Elba in the title role.
Mad Men
You may have heard of this show. It's about how Jon Hamm smokes all the cigarettes and beds all the women in the 1960s. Some other characters are in there, too. It's pretty good.
Orange Is the New Black
"Women's-prison dramedy" may be an accurate descriptor of Netflix's most engrossing, thoughtful piece of original programming, but it sounds so pat and Lifetime-y that let's put that tagline on lockdown (pun intended). Instead, what creator Jenji Kohan (Weeds) has delivered is an incredibly entertaining series full of deeply realized characters that also manages to slyly say a lot about America's political institutions and racial- and gender-based biases. Taylor Schilling's nuanced performance as Waspy protagonist Piper Chapman is criminally (pun intended) underrated, but that's to be expected when OITNB's supporting cast is also the most stellar on all of TV right now.
The Paradise
Based on Emile Zola's 1880s novel Au Bonheur des Dames, The Paradise tells the story of a small-town girl who comes to work at the Paradise department store and is taken under the wing of the widowed shop owner. In short, it's Mr. Selfridge meets Shopgirl! It's also British TV doing what it does best: turning out a terrifically acted costume drama that treats its characters with a light hand. A treat for those who appreciate entertaining storytelling for the sake of it.
Rectify
The problem with there being so much amazing TV these days is that a show like Rectify can easily fall through the cracks. This drama — about a 30-something man who returns home to small-town in Georgia after spending 19 years in prison for a rape and murder he didn't commit — is quietly spellbinding.
Sherlock
A modern-day retelling of the classic British detective stories. Fun, funny, quick-witted, droll, lively, fresh. But most important: Martin Freeman, Benedict Cumberbatch.
Sons of Anarchy
Antiheroes have dominated the TV-drama landscape ever since The Sopranos, but few shows have rivaled Tony and Co.'s ruthless bloodletting like Sons of Anarchy, FX's just-ended series about a motorcycle gang/crime syndicate based out of the fictitious hamlet of Charming, California. Ron Perlman stars as the club's president and Charlie Hunnam as his stepson and eventual successor, but thrillingly, it's Katey Sagal who steals the show as the familial and organizational matriarch.
Top of the Lake
Exquisite writing and directing from Jane Campion, and a peerless performance by Elisabeth Moss as a detective who returns to her small New Zealand hometown to care for her ailing mother and winds up investigating the disappearance of a 12-year-old pregnant girl. Youngsters gone missing from small towns seems to be the hot new thing in foreign-made miniseries (see: Broadchurch), but Top of the Lake is so unconventional and intense that it's less like a TV show and more like a dream you almost can't believe you had.
Twin Peaks
Did you know that Showtime is planning to bring back auteur David Lynch's magnum opus of moody weirdness? Now is the perfect time to fix yourself a slice of cherry pie and a damn good cup of coffee and settle in with the original 30 episodes from the early '90s.
Wentworth
Orange Is the New Black (see above) too lightweight for ya? Our own Margaret Lyons recommends checking out this "ruthlessly dark drama" about a women's prison in Australia.
The West Wing
The swift "walk and talk" shots, the Capra-esque patriotism and optimism, the executive-branch verisimilitude, the hard-nosed power players with hearts of gold: All of creator Aaron Sorkin's signature dramatic moves are here. So's Allison Janney in her career-making role, plus Alan Alda, Stockard Channing, Martin Sheen, Bradley Whitford, and several other outstanding yet underemployed actors you'll love watching.
A Young Doctor's Notebook and Other Stories
Don Draper and Harry Potter (yep, Jon Hamm and Daniel Radcliffe) portray the older and younger versions of a Russian doctor (based on Mikhail Bulgakov, a real-life M.D. and memoirist from the 1920s) who looks back on his early adulthood, when he was both a practitioner of medicine in a small village and a morphine addict. Wow, what an elevator pitch!
REALITY/DOCUMENTARY
Ken Burns: The Civil War
A nine-episode, saga-length 1990 documentary and the one that made Burns a household name. Come for the thorough but never boring history lesson, stay for unique aesthetic flourishes (slow-panning over archival photos, winsome musical scoring) that always give Burns's documentaries emotional resonance.
Ken Burns: Prohibition
National treasure that he is, sometimes Burns's exhaustive documentaries can be a tad, well, exhausting. So consider this three-parter a happy-hour-size dose of his always-engrossing fare. It's really fun to watch this while drinking cocktails, of course.
Making a Murderer
Making a Murderer has quickly captivated viewers by chronicling the life of Steven Avery, who spent 18 years in prison for a crime that was later proven he didn't commit. Two years after his release and in the midst of a civil case aiming to expose police corruption, Avery became the prime suspect of a grisly murder. Prepare yourself constant twists in this ten-part true-crime series that will leave you questioning.
Planet Earth
Escape the confines of whatever room you're watching Netflix in and let David Attenborough's dulcet intonation transport you across the world, from Antarctica to the Himalayas. Don't let the pretty pictures lull you into false sentimentality, however: Planet Earth includes some of the starkest violence this side of a slasher pic. Watch out for that shark attack footage, and remember, nature is brutal, beautiful, and bigger than you.
Top Gear
One of the most popular television shows in the world, Top Gear's reboot (from 2002 onward) follows quarrelsome hosts Jeremy Clarkson, Richard Hammond, and James May as they race cars and perform ridiculous stunts in countries across the world. Top Gear is perfect for armchair travelers, gear heads, and people who want to brush up on British insult humor.
SCI-FI/HORROR
Alfred Hitchcock Presents
Because all you really know about this show is its theme music and the thing where Hitchcock walks into his own silhouette during the opening sequence, and that's sad.
Alias
J.J. Abrams and Jennifer Garner teamed up for a spy series that put its fans through dizzying paces. Garner, in her breakout role, plays a young agent at SD-6, which she thinks is the CIA, but soon learns is an enemy-combatant organization. She then signs up with the real CIA, thus becoming a triple agent. If that sounds complicated, good; that entanglement was truly the fun of it.
American Horror Story
Amid a pop-culture landscape currently overrun with vampires and zombies,American Horror Story consistently manages to provoke, titillate, gross out, and scare the pants off its audience by reinvigorating antiquated horror tropes like witches, sanitariums, and spooky houses. Fantastic fun and a bona-fide fright fest all at once.
Black Mirror
The arrival of this British sci-fi miniseries to American Netflix was one of the best things that happened in 2014. For the uninitiated, Black Mirror is kinda like if The Twilight Zone were rebooted and ramped up to reflect modern-day levels of technological savvy and postmillennial anxiety. The cast is new for every episode, but a supremely dark milieu reigns throughout.
Buffy the Vampire Slayer
If there were such a thing as a TV dictionary, and if you looked up the wordsubversion in that dictionary, what you'd find next to that definition is a picture of Buffy Summers (a.k.a. Sarah Michelle Gellar, the best she's ever been and quite possibly the best she'll ever be) holding something sharp and bloodied. A complete overthrow of so many pop-culture memes — high school, horror movies, stereotypical ditzy blondes — and one of the most addictive and engrossing TV-watching experiences ever offered. (There's a reason academics write papers about the "Buffyverse," after all.)
Firefly
Joss Whedon's futuristic "space Western" is as funny, hip, smart, action-packed, and geeky as anything Whedon's ever done. Like most of Whedon's oeuvre, Firefly embodied every worthwhile reason that TV should exist, and was way too smart and innovative to ever be allowed to stay on it.
Jessica Jones
Krysten Ritter formidably steps into the Marvel Universe as Jessica Jones, a superhero turned private investigator with a dark past and excellent taste in leather outerwear. Following the end of her brief superhero career, Jones returns to New York City hoping for a fresh start only to be reunited with a mysterious man from her past, the torturous Kilgrave (David Tennant), who has a penchant for controlling minds and killing people without hesitation. Rounding out the characters are Luke Cage (Mike Colter) and Trish Walker (Rachael Taylor), who assist Jones as she attempts to put an end to Kilgrave and achieve some relative level of normalcy.
Lost
Yes, there's that contentious ending. But in the immortal words of Jack Shepherd, "We have to go back!" Because Lost is still some of the most fun a viewer can have falling down a sci-fi rabbit hole (or hatch).
The Twilight Zone
Along with Alfred Hitchcock (see: Alfred Hitchcock Presents), Rod Serling invented an entire genre of modern-day entertainment based on creepy realism. This show still makes for spine-chilling television.
The X-Files
I want to believe … that you have already seen this show. If not, watch it.
SITCOMS
30 Rock
The Rural Juror. EGOT. Blerg. "Werewolf Bar Mitzvah." A Blaffair to Rememblack. Little Chechnya. People's Gaypublic of Drugafornia. America's Kidz Got Singing. Queen of Jordan. Honky Grandma Be Trippin'. God Cop. Gavin Volure. Mind grapes. Night cheese. Sabor de Soledad. By the hammer of Thor! "He Needs a Kidney!" Dr. Leo Spaceman. MILF Island. Grizz and Herz. Clear dishwashers! Strictly on laughs per minute, this may be the funniest sitcom ever produced by the Sheinhardt Wig Company.
Archer
The most apt description and ringing endorsement possible for this animated spy-spoof comes from creator Adam Reed, who once described it as "James Bond meets Arrested Development." Time to deep-dive into this delightfully raunchy, pop-culture-riddled gem. "Sploosh!"
Arrested Development
Arrested Development stands as perhaps the most complete sitcom of all time, a smorgasbord of spoof, satire, farce, slapstick, and wordplay that necessitates repeat viewings to catch every last joke.
The Bernie Mac Show
America, nobody could break a fourth wall like Bernie Mac. That's just one reason why his eponymous sitcom deserves more respect, remembrance, and re-viewings today. Mac played a fictionalized version of himself, a successful comic who takes in his ne'er-do-well sister's three kids. The simultaneous exasperation and affection they make him feel is both hilarious and heartfelt.
Better Off Ted
A genuine satire that was, at times, brilliantly funny, Better Off Ted juxtaposed protagonist Ted Crisp's attempts to raise his daughter in a morally upstanding way while toiling for an evil behemoth corporation called Veridian Dynamics. Seeing Portia de Rossi as Ted's slick boss is a treat, but the funniest part was always the show's precise lampooning of corpspeak and Big Business drudgery.
Bob's Burgers
Wait, you've never watched Bob's Burgers? Oh. It's okay. I guess you weren't meant to have a good life.
BoJack Horseman
Will Arnett voices an anthropomorphic horse who's also a Hollywood has-been; he once starred in an '80s sitcom, and he's got issues with depression. Still not enough for you? The supporting cast includes Patton Oswalt, Amy Sedaris, Alison Brie, Paul F. Tompkins, Stanley Tucci, and Aaron Paul.
Cheers
When you get right down to it, we pretty much watch TV for one reason: to keep us company. And no show has ever embodied that desideratum like Cheers, a sitcom as cozy as it was zany and as brilliant as it was puerile. You're pretty much guaranteed to have more fun staying in with Sam Malone and his regulars than you are going out to an actual bar.
The Dick Van Dyke Show
A little TV history won't hurt, especially when it comes from the mind of Carl Reiner with terrific performances by Van Dyke and Mary Tyler Moore.
Frasier
The greatest sitcom spinoff of all time, which happened to win more Emmys than its predecessor (see: Cheers) and co-holds the record (with Modern Family) for the most consecutive Outstanding Comedy Series Emmys at five. Seriously, what about Frasier was not perfect? The characters (Roz! Niles!), the casting (John Mahoney! John Mahoney!), that gorgeous Seattle high-rise bachelor pad, the title cards between scenes, the celebrities who made voice cameos as callers on Frasier's radio show, the occasional return of Lilith (Bebe Neuwirth). Heck, even Eddie the dog is a sitcom legend in his own right.
Friends
Whenever you want to stop by Central Perk, all 10 seasons will be there for you.
It's Always Sunny in Philadelphia
It's Always Sunny is often called "Seinfeld on crack," and like that seminal sitcom, Sunny offers its fans a fount of one-liners and in-jokes that now stands as its own vernacular. Hips and nips! Rock, flag, and eagle!
Louie
Not so much a situation comedy as a living, breathing, rumbling, gurgling organism that feeds off life's hard, funny truths, grafted from the organs of Louis C.K.'s stand-up material and his discomfiting offstage persona.
Maron
"Don't interrupt me when I'm feeling sorry for myself," comedian and "WTF" podcaster Marc Maron says (to himself) in the pilot of his based-on-real-life IFC sitcom. That's not just a line; it's the show's entire worldview. Which isn't to say Maron's Maron alter ego is a Debbie Downer–style whiner. He's more of a sad-sack Seinfeld: a guy who gets lots of girls, but then gets rejected by virtually all of them.
Master of None
A ten-episode Netflix original, the comedy follows the 30-year-old Dev (Aziz Ansari, clearly moving away from his peppy Parks and Rec days), a moderately successful commercial actor, as he navigates his life in New York City. In his ten-episode Netflix original, Aziz Ansari addresses everything from the seriousness of family, romance, and work (you know, the essence of life), to the banalities of concerts and tacos, both under the guidance of a good crew (Kelvin Yu, Eric Wareheim, and Lena Waithe). As Vulture's Margaret Lyons wrote in her review, the show "grows beyond just solid comedy into a show that synthesizes ideas about romance, internet culture, entertainment, food hobbyism, gender, race, ethnicity, camaraderie, decency, tidiness, and the scepter of ostensible maturity into a thrillingly assured, engrossing, effective series."
Parks & Recreation
Amy Poehler's post-SNL comedic vehicle, about do-gooder Leslie Knope and her quest to better the tiny town of Pawnee, Indiana, may be the quintessential network sitcom of the decade: a low-key but often hilarious observational comedy about the family we make out of our friends and co-workers.
Raising Hope
Pour out some cheap beer for Greg Garcia's sweet-natured, silly but smart ode to sweet-natured, trashy, and not-smart Americans. This amazingly well-cast and consistently funny show starred newcomer Lucas Neff as the father of a baby he didn't know he'd created with a one-night stand who turned out to also be a serial killer. But the real star of the show was Martha Plimpton, Neff's young mom, who was finally given a chance to take a meaty starring role and act it to bits.
Short Poppies
Flight of the Conchords intersected with The Office intersected with Christopher Guest mockumentaries is a thinly sliced Venn diagram, but within that microcosm of absurdist comedy is where Short Poppies lives. Actual New Zealand TV reporter David Farrier portrays "TV reporter David Farrier," while Rhys Darby (you may know him as Murray Hewitt, the band manager on Conchords) plays the procession of small-time nobodies Farrier interviews in a fictitious place called "the Bay." If you've been waiting on a Waiting for Guffman sequel, Poppies will do nicely.
Weeds
Orange Is the New Black devotees owe it to themselves to watch at least a couple seasons of Jenji Kohan's previous dramedy, which in many ways serves as a primer for all the insanity going on inside Litchfield. The stellar cast is reason alone to invest in this story of a suburban weed dealer who breaks bad, and its season-ending cliff-hanger episodes make OITNB feel like Sesame Street in comparison.
SKETCH/TALK SHOWS
Comedy Bang! Bang!
Scott Aukerman and Reggie Watts make lampooning late-night talk shows look easy.
Portlandia
The thrill of the bizarro is alive in Portlandia, Fred Armisen and Carrie Brownstein's irreverent, loose-jointed yet spot-on send-up of hippies and hipsters who take themselves way too seriously.
Additional writing by Devon Ivie.