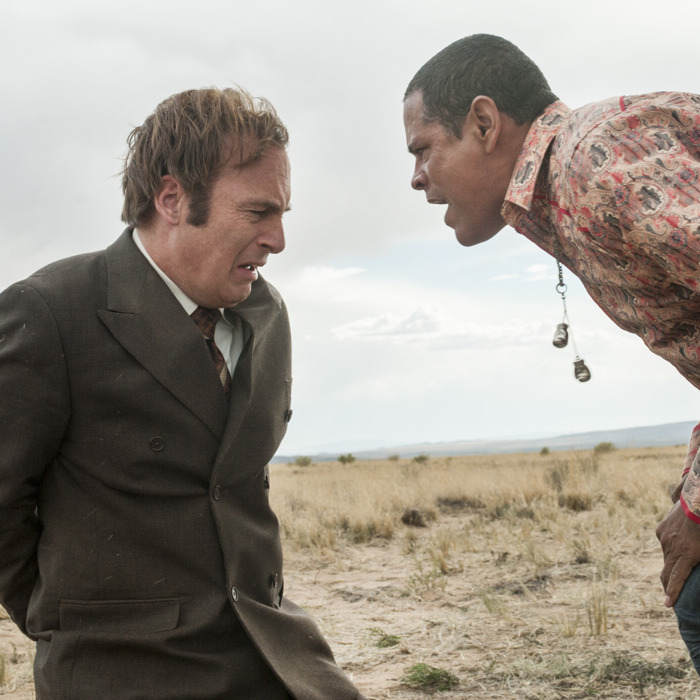 Bob Odenkirk and Raymond Cruz in episode two of Better Call Saul.
Photo: Lewis Jacobs/AMC
The Nielsen news continues to be good for AMC's Breaking Bad spinoff Better Call Saul. In its first appearance in its regular 10 p.m. Monday time slot last night, the Bob Odenkirk series drew 3.4 million viewers and notched a 1.6 rating among viewers under 50, good enough to tie ABC's Castle and CBS's NCIS: Los Angeles for first place in the younger demo. The second episode of Saul also bested last summer's series premiere of FX's new Sunday drama The Strain in both viewers and adults under 50, as well as the 2013 series premiere of A&E's Bates Motel (which also airs Mondays at 10). Of course, what Saul didn't do was bring along everyone who checked out the show's Sunday series premiere, which attracted a cable record 3.4 rating among viewers under 50.
Monday's follow-up Saul lost half of that audience, which under some circumstances would be cause for alarm. But the Saul debut was artificially inflated by its positioning behind The Walking Dead, TV's No. 1 show among viewers under 50; AMC execs always knew they'd be renting viewers for Saul by slotting its opening on Sunday. The goal was always to get folks to sample the new show and hope that a large number stuck around for more. So far, at least, the strategy is working. If Saul is like most cable dramas, its ratings will continue to drift down in the coming weeks. AMC execs (and rivals) will be watching to see just how much it declines and what sort of a boost the show gets from DVR replays. Fans needn't stress too much either way, at least not for a while: AMC has already ordered a second season of Saul for 2016.