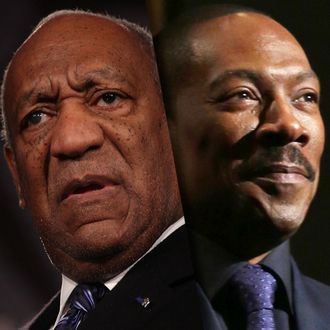 Bill Cosby (left) and Eddie Murphy.
Buried deep in Norm Macdonald's hundred-tweet tale of the behind-the-scenes action at SNL 40 came one interesting tidbit: Eddie Murphy was approached to play Bill Cosby in the Celebrity Jeopardy sketch — a bit that everyone agrees would have killed — but backed out at the last minute, not wanting to "kick a man while he's down." (Kenan Thompson did it instead.) Now Cosby has responded to Murphy's lack of kicking, saying through a spokesman, "I am very appreciative of Eddie and I applaud his actions."
But it's not like Cosby and Murphy are longtime friends. Murphy famously mocked Cosby in a sketch during his 1987 Raw comedy show, for which Cosby called him a "liar." Though, Cosby has since said he's forgiven Murphy.