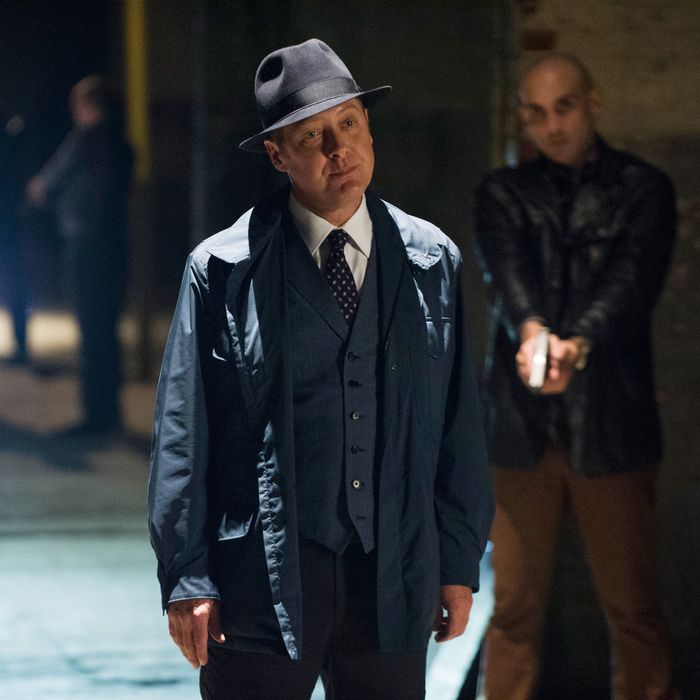 Nearly 26 million people watched Sunday's post–Super Bowl episode of The Blacklist, but for NBC execs, exactly how many tuned in after the game is far less important than what happens now. As part of a carefully considered strategy announced last May, the Peacock is using the promotional platform afforded it by Sunday's pigskin-palooza to move its top-rated James Spader thriller to a new home, Thursdays at 9 p.m., starting this evening. It is, as a certain vice-president might say, a big freakin' deal: Instead of benefiting from airing adjacent to The Voice on Mondays, as it has since its September 2013 premiere, The Blacklist is now being asked to single-handedly revive NBC's fortunes on a night where the network hasn't had a pulse in years. And in addition to no longer having a hit show leading into it, The Blacklist must now do battle with the gladiators of ABC's megahit Scandal, which will offer much steeper competition than the aging crime dramas Spader & Co. faced on Mondays. Some TV-industry wags have questioned the wisdom of NBC's big move, arguing the network could end up significantly weakening its biggest drama success in years. Those concerns are understandable: This is a risky play for the Peacock. But moving The Blacklist is a gamble the network needs to take.
The logic behind relocating The Blacklist remains as sound as when it was first announced. NBC hasn't had a pulse on Thursdays ratings-wise since The Office closed up shop in 2013. Being dead in the water on any night of the week is always suboptimal for broadcasters; being moribund on Thursday is particularly awful. That's because, even if it's no longer TV's most-watched night (an honor that now belongs to Sunday), certain advertisers — movie studios, automakers — are willing to pay a premium to reach consumers at the start of the weekend. Having a little-seen lineup on Thursdays, then, means leaving tens or even hundreds of millions of ad dollars on the table. Moving The Blacklist to the night all but ensures significant Nielsen gains in the 9 p.m. hour for NBC and gives the network an anchor show around which to begin rebuilding its lineup. It's the simplest, most obvious fix to a scheduling headache that has lingered on even as NBC has climbed out of the Nielsen basement the past few years.
Industry doubters (a group that very likely includes the producers of The Blacklist) have argued that, as much as NBC needs to resurrect its Thursday ratings, pitting one hot drama against an even hotter show will result in the younger, lower-rated series — that would be The Blacklist, at least among viewers under 50 — getting crushed. They note that since Scandal hasn't lost any significant momentum since shifting to 9 p.m. last September, while ratings for The Blacklist cooled a bit in its second season, it's now even more likely than it was last May that Spader is about to have his semi-iconic hat handed to him. This is not an unreasonable argument to make: Odds are Scandal will best The Blacklist in the overnight demo ratings. But so what? NBC doesn't need to beat ABC (or even CBS) to claim victory. Getting into the game on Thursdays with a respectable performance from Blacklist is all it needs to chalk up a win. Remember, NBC comedies Bad Judge and A to Z have been averaging a combined 3.5 million viewers in the 9:00 hour this season. The Blacklist could lose 30 percent of its same-day Monday audience (around 10 million viewers) and will still end up doubling NBC's Nielsen numbers on a critical night. What's more, NBC was almost certainly going to move The Blacklist away from The Voice next fall, if only because it needs to use the music competition to launch new drama hits. (State of Affairs, the network's first attempt to do just that, has been a flop.) It makes much more sense to make a shift now, using the Super Bowl as a launching pad, than to make a transition amid all the new show launches of the fall.
It's also worth remembering we now live in age of time-shifting, where many cable shows generate the bulk of their audience in the days after they first air. And since it debuted in fall 2013, The Blacklist has been breaking records with its DVR audience gains. Its first eight episodes last fall added an additional 6.2 million viewers once a week's worth of DVR replays were tallied, more than any broadcast show by a mile (and dramatically more than the 3.8 million extra viewers Scandal gets from time-shifting). Those 6.2 million viewers didn't care whether The Voice led into The Blacklist or what else was on Monday nights; why should they care if their show now airs Thursdays at 9? To be sure, advertisers — particularly those movie studios and car companies who value Thursdays so much — are more interested in who watches a show (and its ads) live, in real-time, than via DVR. All ratings points are not created equal. But time-shifted viewers still have value and certainly matter in terms of whether a show is perceived to be a success or not. If Blacklist can hold onto, or even build on, those 6 million viewers who've been DVR'ing the show on Mondays, that will help ease the pain of whatever same-day viewership it sacrifices to Scandal.
And yet, while The Blacklist could get dinged tonight, it should not be accepted as a given that the show is going to take a big hit in same-day ratings, particularly in the long-term. Industry worrywarts sometimes forget that TV in general — and Thursdays in particular — is not some zero-sum game in which there can only be one big winner. Broadcasters have been successfully pitting big shows against each other, often on Thursdays, for decades — and in most cases, both contenders survive the confrontation. Early on in the life of The Simpsons, in fall 1990, Fox shifted its budding hit from Sundays to Thursdays opposite NBC's aging-but-still-mighty The Cosby Show. After some early Simpsons sampling, Cosby drew higher ratings, but Homer's clan did great, too, staying on Thursdays until 1994 (when it, of course, moved back to Sundays). In early 2000, CBS ignored NBC's longtime Thursday dominance and slotted newbies Survivor and CSI opposite Friends and Will & Grace. Both networks did fine. The Blacklist may not be as red-hot as Simpsons or Survivor were at their peaks, but Scandal, as super-successful as it is, also isn't the overwhelming power that Friends and Cosby were. ABC's hit also skews very heavily female, whereas The Blacklist has a somewhat more even gender skew (and last year drew almost twice as many men under 50 as Scandal). While the two shows' audiences surely overlap somewhat, at least on paper, there's no reason why Scandal and The Blacklist can't peacefully coexist.