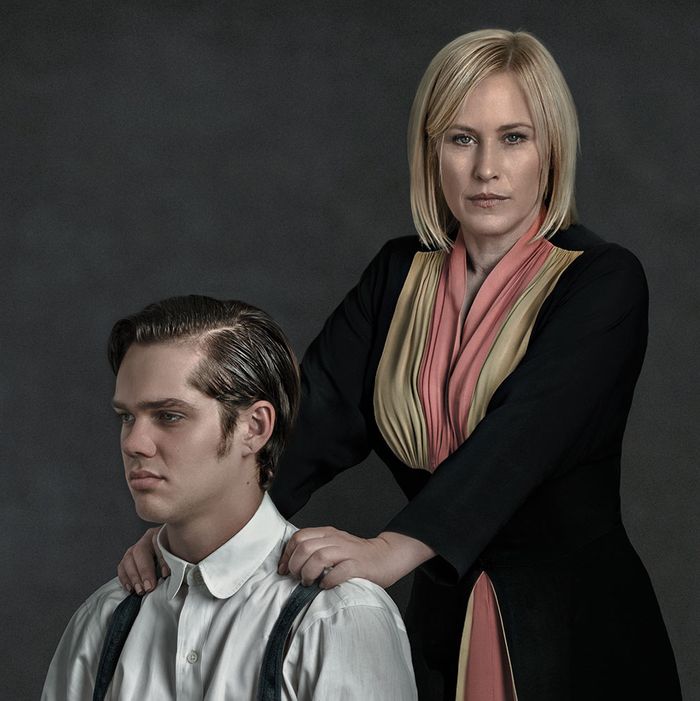 Boyhood's Ellar Coltrane and Patricia Arquette, photographed at Arquette's house in Malibu.
Photo: Amanda Demme
"My life is definitely pretty upside-down," Ellar Coltrane says. He's in Los Angeles, where that life—the previous 12 years of which went into his role as Mason in Richard Linklater's Boyhood—lately consists of hopping among awards shows. He can't remember the last time he got home to Texas for more than a week. Before this year, "I'd never put on a nice suit or flown first class."
For Coltrane and Patricia Arquette (Oscar-nominated for her role as Mason's mother, Olivia), it was far from preordained that their film would be so widely appreciated. "I think I was a little jaded," Arquette allows. "I've had so many experiences with movies I thought were good which weren't supported." Coltrane was similarly uncertain. "There are a lot of really beautiful pieces of art that no one cares about," he says. "And this film is such a simple thing—it's not really about anything spectacular. But it also is, you know? The simplicity of life is spectacular."
For this photograph, the two got together at Arquette's house in Malibu, where Coltrane has often stayed when he's passing through L.A. She has almost inevitably become a role model to him—as Coltrane puts it, "Being around someone who's not full of shit and is also confident and knows how to work: That's a good example to have." Owing to what Arquette calls the "very nice sort of hecticness" of Oscar season (most recently, she won a SAG Award), they've been spending more time together than they did during the slow-motion years of filming. But the onscreen parent is firm about deferring to the IRL one: As Arquette is quick to say, "He's got a super­cool actual mom."
*This article appears in the February 9, 2015 issue of New York Magazine.