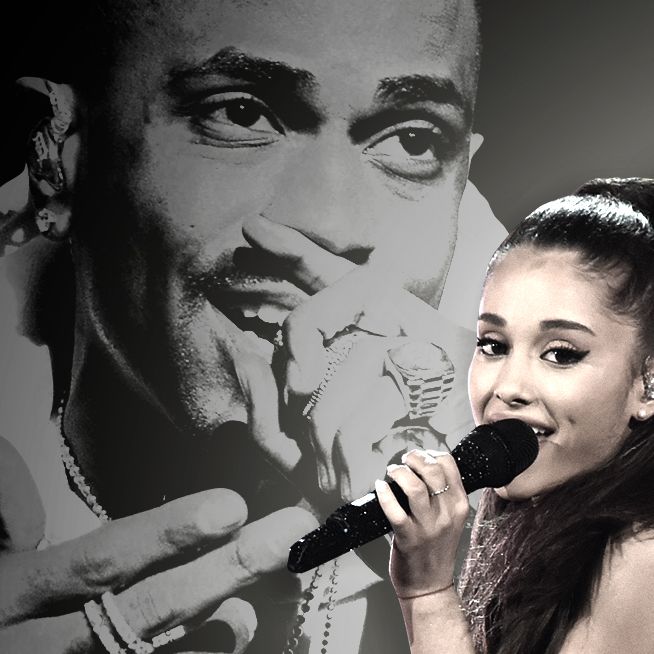 Photo: Maya Robinson and Photos by Tim Mosenfelder/Getty Images, Jesse D. Garrabrant/NBAE via Getty Images, Theo Wargo/NBC/NBCU Photo Bank via Getty Images and Scott Dudelson/Getty Images
This week Big Sean releases his third album, Dark Sky Paradise. And, as has become the norm for his career, the timing couldn't be worse. Here we look back at Big Sean's brief — but terribly frequent — series of unfortunate events. Whether it's famous girlfriends overshadowing his music or simply being bested on his own songs (nearly all of his hits have features), Sean just can't seem to catch a break.

March 1, 2011: Big Sean starts his career on the wrong foot, releasing the first single from his debut album, "My Last," with Chris Brown as its star feature. Sean, at the time, is a relative newcomer, while Brown is attempting a career comeback after assaulting Rihanna. The latter wins on this track, with Brown delivering a memorable hook.
October 18, 2011: After failing to gain traction as a stand-alone single, Big Sean rereleases "Dance (Ass)" as a remix with Nicki Minaj. The remix shoots up to No. 10 on the Billboard charts, and Minaj's larger-than-life posterior, on full display in the song's video, gets all the attention. (It remains his most-viewed video on YouTube.)
September 5, 2012: Big Sean releases his fourth mixtape, Detroit, to critical acclaim. Its lead single, "Mula," however, earns slightly more attention for its featured artist French Montana, whose hit song "Pop That" dominated that summer.
September 6, 2012: Big Sean gets his first major feature on the GOOD Music compilation Cruel Summer with "Clique," alongside Kanye West and Jay Z. While praised for his verse — and for handling the song's catchy hook — Big Sean plays second string to the A-list names on the track with him.
April 10, 2013: Big Sean confirms he's dating Glee star Naya Rivera; the two make their first official appearance together at the premiere for 42. The press coverage surrounding Sean's sophomore album Hall of Fame is subsequently dominated by questions about their relationship in interviews.
August 14, 2013: Sean releases "Control," featuring Kendrick Lamar and Jay Electronica, as a promotional single for his upcoming album. The song goes viral online off the strength of Lamar's "Ether"-esque verse, in which he declares himself "king of New York" and calls out nearly all of his contemporaries by name, saying he's "tryna murder you niggas." It becomes the most-talked-about verse of the summer — a version with his isolated verse has over 3 million views on YouTube  — sparking dozens of dis tracks from other rappers. The song ultimately gets cut from Sean's album due to "sample clearance issues."
August 27, 2013: After its release date was pushed back three times, Hall of Fame is released. The album gets largely overlooked in a crowded summer of other major rap releases, including Jay Z's Magna Carta Holy Grail and Kanye West's Yeezus, each released in the two months before Sean's.
September 24, 2013: Drake releases his third album, Nothing Was the Same. It includes the single "All Me" with Big Sean and 2 Chainz. On it, Sean brags about his girlfriend Naya Rivera, saying, "My new girl is on Glee and shit, probably making more money than me and shit," further drawing more attention to their relationship. The two get engaged the next month.
April 9, 2014: Big Sean ends his engagement to Naya Rivera. Many point to a tweet Rivera deleted, which accused Sean of stealing a Rolex watch from her home.
August 24, 2014: Big Sean is caught holding hands with Ariana Grande on a backstage camera at the MTV Video Music Awards. Blogs begin to speculate about whether or not the two are dating in the midst of press for her sophomore album My Everything — on which the two have a duet, "Best Mistake."
October 13, 2014: Ariana Grande confirms that she's dating Big Sean. Subsequently, she's all the media ask Sean about.
September 19, 2014: Big Sean releases "I Don't Fuck With You" as part of four new songs meant to tease his next album. Instead, the song causes more controversy for its subject matter, with many assuming its harsh lyrics to be directed at ex-fiancée Naya Rivera. Its video later includes a scene-stealing cameo from Kanye West (who co-produced the song).
November 11, 2014: For Big Sean's first time working with his idol and fellow Detroit native Eminem, he's thrown onto a crowded posse track, "Detroit vs. Everybody," featuring several other artists — including Royce da 5'9", Danny Brown, Dej Loaf, and Trick-Trick — all representing the city of Detroit.
January 30, 2015: Big Sean releases "Blessings," the next single from his upcoming album Dark Sky Paradise. Despite a strong verse from Sean, the song makes more headlines for reuniting Kanye West and Drake on a track for the first time since 2009.
February 19, 2015: Big Sean's third album Dark Sky Paradise leaks online. Most bloggers focus on "All Your Fault," a song that Kanye leads and calls "that new 'Ye," and, "Research," a song with Ariana Grande that many speculate throws even more shade at Naya Rivera.
February 24, 2015: Dark Sky Paradise is officially released. It comes on the heels of a month dominated by both Kanye West and Drake. In February, Kanye made headlines for stage-crashing the Grammys, debuting his Adidas collaboration, performing on SNL 40, and publicly sparring with Amber Rose. Drake, on the other hand, released his surprise album, If You're Reading This It's Too Late, which has become the best-selling rap album in over a year. Elsewhere, Tyga's relationship with Kylie Jenner has been in the news — leaving Big Sean, yet again, out of the conversation.