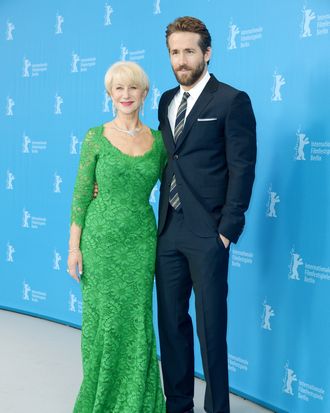 Helen Mirren and Ryan Reynolds attend the Woman in Gold photo call during the 65th Berlinale International Film Festival at Grand Hyatt Hotel on February 9, 2015 in Berlin, Germany.
Photo: Dominique Charriau/Getty ImagesDominique Charriau/2015 Dominique Charriau
Earlier this week, Ryan Reynolds and Helen Mirren paid a visit to the Berlinale for the festival premiere of the Weinstein Co.'s Woman in Gold. It tells the story of a Holocaust survivor reclaiming the titular $135 million Klimt painting, which was owned by her family before being stolen by Nazis. But the main thing on most people's mind was another sort reclaiming: Reynolds trying to reclaim his movie-star status.
Reynolds plays the bookish neophyte lawyer who works hard to help Mirren's character overcome the various obstacles between them and the artwork, even if she spends much of the movie chiding him with her acerbic Jewish wit. (Reynolds is also supposed to be Jewish here — though we had a hard time buying it.)
Everyone at the press conference was wondering whether Reynolds, in taking such a role, is trying to stage a comeback — a McConaissance of sorts, especially after his Sundance premiere Mississippi Grind has gotten some good press and the release of the trailer for his upcoming superhero flick Deadpool got the fanboys salivating. So why did he pick the part? Was it strategic?
Apparently, he got an offer he couldn't refuse. "I got a call one day from Mr. Harvey Weinstein while I was shooting and he said, 'Hey, Reynolds! It's ya lucky day,'" he explained. "And I knew it was." (Making a surprise appearance in Berlin to discuss the film along with the cast was Weinstein himself, whose trademark delivery was mimicked at points by both Reynolds and co-star Daniel Brühl — imitations that, according to Weinstein, were "poor.")
When asked how it felt being stripped of his superpowers and super-sexiness for a change, Reynolds answered, earnestly and reverently, "I've done superhero movies where I have less power than this guy." Representing this "relentless individual" onscreen was, according to Reynolds was, "a huge, huge honor."
Perhaps Weinstein, for his part, was trying to downplay Reynolds's onscreen nerdiness just a bit. "I'll tell you, Ryan always listened to everything I said," explained Weinstein. "I said, 'Don't wear the glasses in every scene in the film. I'm giving him my very, very wise, sage advice. I think he takes the glasses off once in the movie. And if you pan down, you can probably see his middle finger aimed at me."