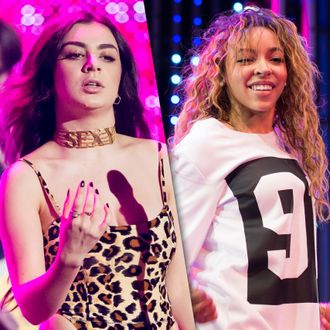 If we cut out Ty Dolla, it would be just fine.
Photo: RB/Bauer-Griffin/GC Images; Jennifer Lourie/FilmMagic
Well, this is awkward! You'd think three of 2014's biggest breakout stars, Charli XCX, Tinashe, and Ty Dolla $ign (along with perfectly competent producers Cashmere Cat and Stargate), would come up with something considerably better than this for their first (and hopefully last) collaboration. And yet, here we have "Drop That Kitty," a song so bad — with its references to video phones (what is this, 2005?!) and probably the worst extended sexual innuendo for pussy poppin' you've ever heard — that it's almost … good? It's like the semi-G-rated strip-club anthem you never asked for, and we can't stop dancing. Go ahead, judge us.