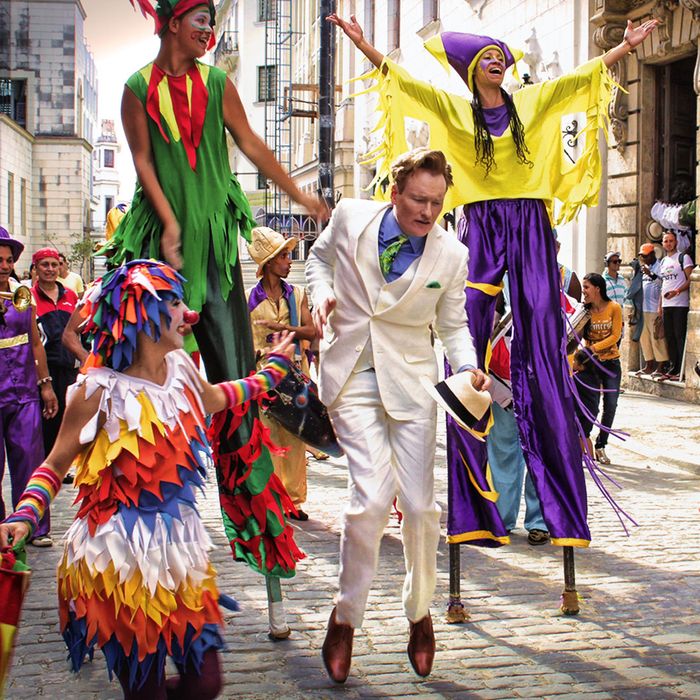 Conan O'Brien stumbles on a street fair in Havana. Courtesy of TBS.
Photo: Courtesy of TBS
One of Conan O'Brien's favorite moments from his trip to Cuba over President's Day weekend occurred when he was trying to learn how to sing with a "real serious Cuban band." "I'm not quite getting it, and then I burst through using eighth-grade Spanish to improvise this song," said Conan. "I'm saying things like, The cat is in the sky, the dog has no milk, but I'm singing full-out with great passion, and the band is really cracking up." Afterwards, he asks his bandmates for their thoughts. They were all being very diplomatic and gave him kudos for effort. "Then I look at this one guy in the back, the percussionist, and I go, 'What did you think?'" He looks at Conan and just shakes his head and says, "No." "Everybody laughs at me, and I'm glad he's getting the laugh at my expense." Conan thinks, "I like this guy."
This was one of the numerous anecdotes Conan O'Brien told a group of journalists over antipasti and chicken Milanese at Trattoria Dell'Arte, an Italian-American institution just south of Central Park. He was promoting his Cuba special all day Wednesday, starting with an interview with Howard Stern in the morning and ending with an appearance on The Daily Show with Jon Stewart. The Havana excursion, which Team Coco's editors are still furiously cutting together, represents a new form for him, an hour-long episode set to air March 4 where he is the perpetual "fish out of water" — an attempt to use comedy as a kind of diplomacy.
"Maybe it's not a bad form of diplomacy. Maybe it's not bad to send a comedian over," Conan said of the thawing U.S.-Cuba relations spearheaded by the Obama administration. "I'm not going to have a snarky take. The goal is not, Oh, look at this place. What's going on over here? It's a different thing. There's a genuine quality to it."
Indeed, over the past few years, Conan's segments have taken increasingly deeper dives into various worlds, whether it's the digital space of a hookup app like Grindr or a Koreatown spa in Los Angeles. "When I try something that I shouldn't be trying with the body that God gave me, it seems to make people laugh in the way that the French laugh at Jerry Lewis," he said. "There are some really good comedy moments in there, but also it's just, let's take this guy that we know and put him in this situation but maybe learn at the same time." Conan becomes the proxy, in other words — the gangly, redheaded guide through whom the viewer can experience a new world.
The episode sees Conan try different things, like singing to the clave rhythm, dancing salsa, learning Cuban slang, and hand-rolling a cigar — all poorly, of course. He hopes that by getting Cubans to laugh at him, he's bridging a cultural gap between two countries that might be close in proximity but distant in mutual understanding. "It's a form of humility to make yourself the butt of a joke with another culture," he said.
In some ways, the style is a throwback to older times that were more reportorial. Jack Paar, who was host of The Tonight Show in the late '50s and early '60s, went to Cuba in the sliver of time after the revolution and before the embargo. Conan thought of Paar when President Obama relaxed the embargo in late January. It was another window of opportunity: Conan would be the first late-night host to visit the country after the embargo and before what would surely be an inundation of American capital that would reshape the country.
The episode, then, is an attempt to catch Havana in a particular historical moment. "We gave marching orders for the B-roll: Just get as much of this beautiful city as you can because it's going to change, and it's going to change quickly," he said. "We wanted to get the palette of Cuba. It's my take on Anthony Bourdain." For one segment, Conan stands in a street lined with historic buildings, and they imagine the future of the space with digital overlays: Baby Gap, Foot Locker. "It's bittersweet," he said. "It's the good news/bad news. Their lives are going to change for the better, and then there's going to be some things that are going to be lost." At the same time, he wants to resist the "hipster" impulse to romanticize Communist propaganda and crumbling buildings, because he thinks it's no one's decision but theirs.
This might be a career shift, but for Conan, it's a way to keep him interested in the work that he's doing. "For 22 years I've only been aggressively pursuing what's funny here, and this was a different agenda," he said. "The only way you can keep going at a certain point is to change, and to grow up and try different things." Part of the Cuba trip is an attempt to keep him sharp and stay in the game. Does he have plans to retire? "I think there's going to be a day where I'll wake up and say, 'I can't think of another thing that I could possibly do with this form.'" Then he waits a beat: "And then I'll do five more years."