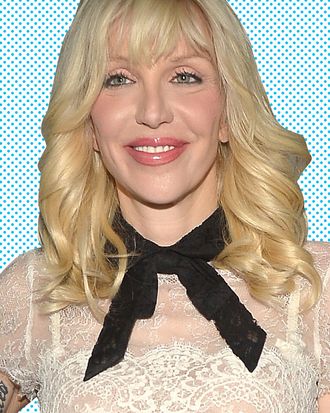 Courtney Love.
Photo: Gustavo Caballero/Getty Images
Courtney Love made her first appearance on last night's Empire as Elle Dallas, a drug-addled "has-been" diva whom Cookie (Taraji P. Henson) takes on as a client. It's pretty much perfect: Henson and Love battle for dominance as each tries to make her respective comeback. Elle — who will have a seven-episode arc on Empire — is part of Cookie's rise as well, but she's not going to make it easy. And who better to battle with Cookie than Courtney Love? We spoke with the singer about preparing to play a junkie diva, the world of Empire, and just how well the show nails the recording industry.
The part was originally an R&B diva, but since you've stepped in, it's a rock diva. What's the difference?
The ability to hit crazy notes. I'm not Mariah. It's really written sort of as a mélange of Whitney — I think it's a tribute to her, initially, that's what the writers sort of thought of. And then when Lee decided to cast me, we had to change it, because I mean, I — you know, I get compared to Dylan or Patti or Stipe or Bono, that's my peer group. So you know what I mean, I have a rock voice.
But you can still have the attitude of a diva.
Yeah, I mean, look at Stevie Nicks in the '70s. She sold a hundred million records. I haven't had that experience, but I know Mariah, I love her, she's great. And I knew Whitney briefly. But a rock diva — look, I mean, probably I would not be stretching it to say that Metallica sold a hundred million records, so … you know what I mean? Like, rock can also sell as well.
You also did Sons of Anarchy recently. How'd that compare?
Well, for Sons of Anarchy I didn't have a lot to do; if you read my arc, there wasn't a lot of meat on the bone, if you will. But thank God, because I hadn't acted in a very long time, so for Kurt Sutter to give me that part, it was like getting my feet wet. And I started going to acting classes very religiously and really remembering how to do this. You know, it's just like riding a bicycle, you just have to keep doing it. And I determined that I wanted to start acting again about a year and a half ago. I'm trying to put my pedal to the metal, get my mojo on.
What other kind of preparation did you do for this Empire role?
I did a lot of yoga, a lot of Pilates, juicing a lot, you know, just [to] keep myself in good shape.
Even though she's a junkie.
Well, you know what, the other time I played a junkie was in Larry Flynt, and you know, same thing, I was juicing — and thinking probably of killing myself.
What's the most fun thing about playing the role?
You know, I said this to another publication, but I really, really like working for Lee, and I really like giving him what's raw and what's pure, and the fact that Taraji is such a good actress enabled me to do that. I'm limited in my capacity, and for Taraji to be so talented is absolutely fantastic because it allows me to get really — I mean, this is not beauty lighting, you know what I mean? This is some dark stuff.
Who's your current Empire favorite?
Oh, well definitely Cookie. I mean, she's amazing. [Taraji] is just a giving and grateful actress, and you know, she's been a working actress for a very long time, but I think this is absolutely going to make her a superstar, and she deserves every bit of it. She's such a good actress.
Everyone seems to love the show so far.
Yeah, we had no idea. We were filming it and we had no idea.
Do you think that Empire accurately reflects any real-life record-label drama that you've experienced?
I wouldn't know; I stay away from executives.