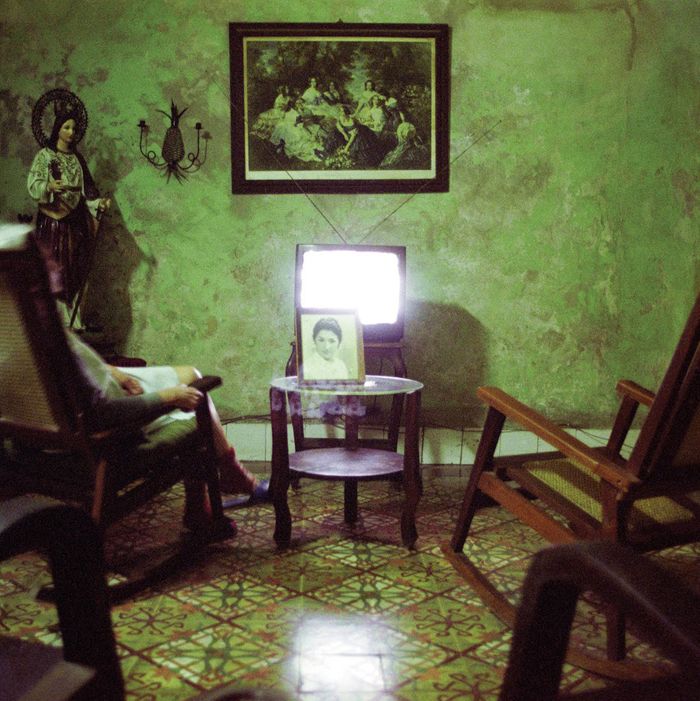 Nightly Programming, a photo from Simone Lueck's "Cuba in TV" series.
Photo: Simone Lueck
In the year 2000, photographer Simone Lueck documented Cuban TV habits in a photo series, a project she picked up again in 2010. "The first thing I noticed in Havana was that the city was dark at night," she wrote. "There were no streetlights, porch lights, or living-room lamps. It was pitch black except for the faint colorful glow spilling out of open doors everywhere, and it came from the TVs."
For services like Netflix and Amazon, the growing thaw in U.S.-Cuba relations opens up new opportunities to reach Cuba's avid TV consumers. Earlier this month, Netflix became the first entertainment provider to move into the country. "Starting today, people in Cuba with Internet connections and access to international payment methods will be able to subscribe to Netflix and instantly watch a curated selection of popular movies and TV shows," Netflix announced in a press release. Soon after Netflix's move, Conan O'Brien traveled to Havana to tape an episode of Conan that will air March 4. Conan, who is the first American late-night-TV host to enter the country since 1959, told reporters on Wednesday that he wanted to document daily life in the island nation before American capital dramatically changes the way Cubans live. "Their lives are going to change for the better, and then there's going to be some things that are going to be lost," he said.
So how do Cubans currently watch American television, what do they choose to watch when they do, and will they be able to catch Conan's Cuba debut? Cuban blogger Yasmin S. Portales-Machado and Cuba scholar Ted Henken explain.
First off, will Netflix change how Cubans watch TV?
In the weeks following Netflix's announcement, Cuba experts fixated on two words in the release: "Internet" and "payment." University of Havana professor Elaine Diaz, and Ellery Biddle, an expert on digital culture in Cuba, pointed out that less than one percent of local residents have internet at home, and even if they do, the connections are not strong enough to support streaming video. Further, they wrote, most Cubans do not have credit or debit cards, or access to PayPal. "If it reaches anyone at all," Diaz and Biddle concluded, "it will most likely be foreign tourists staying at high-end hotels on the island, which do have broadband internet connections."
Others argue that Netflix is playing the long game in Cuba, getting in early on a market that is already receptive to and familiar with American media.
How do most Cubans watch foreign TV without internet?
They use a system called "the Packet." The Packet is a widespread illegal network that distributes digital content on flash drives filled with the latest episodes of American TV shows, along with Oscar-nominated films, Latin-American soap operas, classifieds, documentaries, books, and newspapers. Colloquially known as el paquete (often abbreviated by Cubans as PKT), this distribution system spreads foreign entertainment in weekly installments across the entire country. Because what passes for news and entertainment on state TV is so boring, everyone with a minimum of means is in the market for flash drives.
How does it work?
On Mondays in Havana, hundreds of messengers get the packet from "producers," who have compiled a weekly selection of entertainment onto flash drives or DVDs. Each new packet includes the latest content ripped from the internet, along with all necessary subtitles and local commercials inserted. The messengers fan out across the city to deliver the drives, while others travel out to the provinces in pairs.
How much does the Packet cost?
Typically, the Monday packet is pricier, retailing for $5 — the equivalent of an average weekly Cuban salary — because the shows are newest at that point. The prices drop down to as little as $1–2 by the end of the week. (For those with the means to access it, Netflix costs $7.99 a month in Cuba.)
How much demand is there for the Packet?
Your typical messenger delivers the flash drives to a network of 11 local distributors. By Wednesday, the weekly PKT has arrived in small towns and villages on the far eastern tip of the island. In such small communities, one local distributor can have as many as 300 weekly clients. Meanwhile, in the provincial capital of Santa Clara, a single street can require as many as three local distributors, each of whom supplies upwards of 500 customers a week. There's always a line.
What American television do Cubans watch?
Consumer preferences vary depending on whatever is available on the PKT in their region. Javier, a distributor from the Playa section of Havana, noted that his customers prefer fantasy shows from the U.S. ("They want the PKT so they can relax or escape," he said.) It's unlikely Cubans will be watching Conan's Cuba episode, or any late-night show, for that matter — adapting the inside jokes would require a sophisticated level of translation.
According to distributors in Havana, some of the most popular shows currently in rotation are:
Arrow
The Blacklist
Game of Thrones (some have already reserved and paid for the upcoming season)
The Big Bang Theory
Gotham
Revenge
The 100
The Walking Dead
Vikings
The Originals
Chicago Fire
Flash
CSI
The Vampire Diaries (mostly adolescents)

While young Cubans tend toward American TV series, middle-aged Cubanas prefer Spanish-language soap operas and dramas. But they aren't too picky about where they come from. Currently in high demand are both the Mexican novela Tormenta de Pasiones (Storm of Passions) and the Turkish crime drama Ezel, dubbed into Spanish. Javier has a 60-something client who will only watch so-called "narconovelas" (drug-lord dramas). 

News is also included on the PKT, but Javier notes it's largely soccer scores and Hollywood gossip.
Can Cubans request what appears on their Packet?
Yes. If what you want is not included, you can custom-order it, and your distributor will try to procure it at no extra cost.
What do PKT users think about Netflix's arrival?
Beatriz, a 64-year-old retired college professor of mixed race: "In order to feel any cultural impact [of Netflix in Cuba], we would have to have internet service. Until that happens, everything's just a bunch a speculation. For now, the only people who'll see a change are the wealthy, because the rest of us can't spend $8 a month just for the right to watch movies."
Pedry Roxana Rojo, a 56-year-old white actor, literary scout, and barber: "The main thing is that Netflix respects quality. This will allow it to tap into people's tastes, since a lot of what is currently available here is so bad. It won't take over, but it could become a complement to what's available, since whoever can pay for it will copy and redistribute the content. Still, $8 a month is not that expensive. You can spend that on eight beers in one night out, right?"
Leondys, a 44-year-old Afro-Cuban: "Netflix is going to change even the way we Cubans see life. It will challenge our close-minded perspective on a lot of things. But actual access is an impossible issue, and then there's the high cost of the internet. Because of this, the PKT is safe for the time being."
Silvia, a retired 66-year-old Afro-Cuban teacher at a vocational school: "Nothing. That's because you need internet, and the majority of the population can't access it."
Gustavo, a white 47-year-old college professor: "The key is the ability to access various sources of information — it's necessary for the development of modern identity and critical reasoning. But based on the average salary, Netflix has little growth potential."