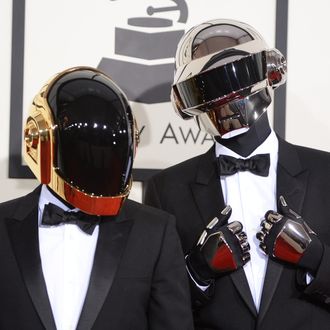 Daft Punk.
Photo: Robyn Beck/AFP/Getty Images
As part of an exhibition about music producers, artist Xavier Veilhan (kind of) unmasked Daft Punk in the form of a birch plywood sculpture. "The funny thing is I didn't even ask them," Veilhan told Vice's Creators Project. "I proposed to introduce them as producers, not as musicians. … They proposed to me: 'Okay, we should make the sculpture the non-existing image of us. So if somebody wants to see how we are like in real [life] they'll have to look at the sculpture.'" They still have sunglasses on in the piece, so it's like saying Dick Grayson is obviously Robin sans eye mask. But, hey, still a coup.
Anyway, here are Guy-Manuel de Homem-Christo and Thomas Bangalter, a.k.a. the New Age Starsky & Hutch with reversed hairdos:
Veilhan's exhibition, titled "Music," opens Thursday at New York's Galerie Perrotin and runs through April 11.