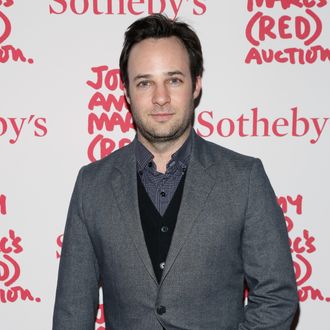 Danny Strong.
Photo: Cindy Ord/Getty
Appearing on Sway in the Morning, Empire co-creator Danny Strong sat in the hot seat on Thursday, fielding a number of questions on Fox's surging show. He didn't have any spoilers for listeners, but he did tease Raven-Symoné's big forthcoming episode and shared some other gems, such as how Scandal helped him and Lee Daniels pitch the show. An underrated highlight: Here is Sway saying over and over how badly he wants to go back on the show (sometimes subtly, but usually not). Here are five fun tidbits — including semi-quashed rumors (Strong is really good at saying, "You should check with Daniels on that one!") — we learned from the interview, thanks to Sway and Co.:
1. Strong's alter ego = Lil' Quentin .
Strong grew up renting movies from the same store that employed Quentin Tarantino:
"I was 10, 11, 12, and I would go to this local video store, and I would spend a lot of time with him. I would spend 45 minutes, an hour, because I was a movie buff, even as a kid. He would recommend all these different movies to me, and I was in there so much they called me Lil' Quentin."
2. Jay Z's early life was an inspiration for Empire.
On allegations that the show perpetuates negative stereotypes:

The Jay Z story, which very much inspired Lucious Lyon, certain elements of Lucious Lyon, was that story. So for me, I don't think in terms of we have to be careful of certain things because of certain negative stereotypes. I view it as the entire cast is African-American, we're gonna have all different types of characters, and we're gonna tell good stories. We're not gonna sit here and play defense, or sit here and think that our show is a representation as black culture in its entirety. It's not; it's just this story. … It's an American Dream story. This is metaphorical of so many people in America, how they rise up to power. … We talked about the Kennedy family, we talked about Jay Z, we talked about so many different things.
3. Empire was originally a movie pitch.
And then Lee Daniels (thankfully) pushed it to the small screen:
When I came up with this idea … I thought of it as a movie, but if Lee had not been interested in it, then I may not have pursued it. He was my litmus test. I pitched it to Lee and he called me the next day and said, "I can't stop thinking about it, I love it. But I think it's a TV show instead of a movie." I said, "You're absolutely right. Because it's about a family and TV shows are about a family. We could do this week to week."
4. Was Mo'Nique supposed to be Cookie?
She claimed she was offered a role on the show, but the offer was later taken off the table.
Well, I don't know if Lee Daniels had a conversation with Mo'Nique about it that I don't know about. I know that Lee and I were partners on this project, and we discussed Mo'Nique once very briefly, and from my knowledge — unless there was some conversation I never knew about — we never offered her the part and she wasn't going to be Cookie. We both think she's incredibly talented and genius, but we didn't think she was right for the part. … It was always Taraji.
5. How instrumental was Taraji Henson in getting Wesley Snipes off the show?
Meh.
We were talking to Wesley Snipes about playing Lucious, that was the first conversation, although I have to say I wanted Terrence Howard. I always had it in my head that Lucious was Terrence Howard. Then Lee was talking to Taraji, and Taraji did say that she really wanted to do this with Terrence; however, so many different things go down, that may or may not have been why it didn't work out with Wesley Snipes. It was sort of a factor, but she said that when the conversation with Wesley was kind of dwindling and it didn't look like it was going forward anyway.
Watch the whole shebang here: