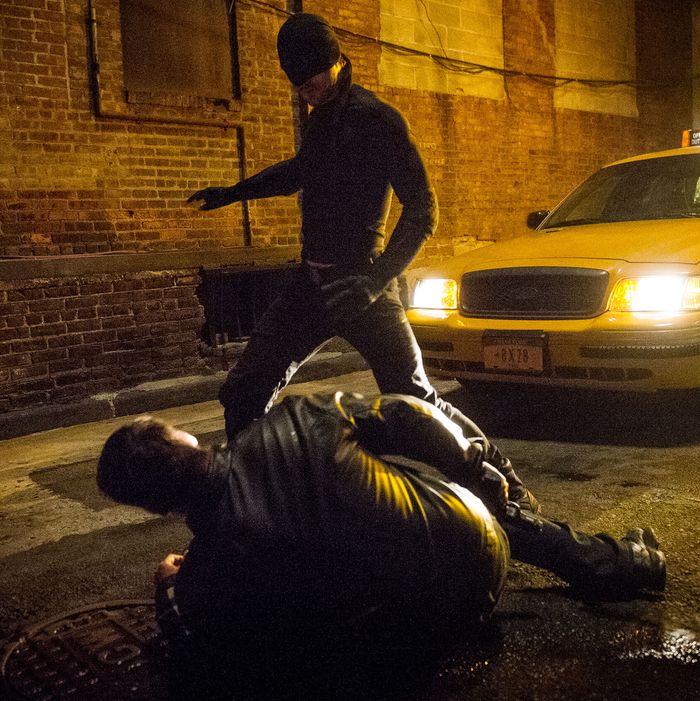 Photo: Barry Wetcher/Netflix
At long last, Marvel Studios is returning to the holiest site for its pantheon of spandex-clad gods: New York City. In the just-released teaser-trailer for Marvel's upcoming Netflix series Daredevil, we don't get a whole lot of substantive dialogue (which is to be expected, given that this is 2015 and we've all been trained to drool over threadbare teasers with vague voice-over and half-second flashes of faces and explosions). But there's one essential line at the very end that should give any longtime Marvel nut a jolt of hope: "I'm just trying to make my city a better place." Sing hallelujah in Hell's Kitchen, kids: We're finally telling a Big Apple superhero story in the so-called Marvel Cinematic Universe.
That line is spoken by Matt Murdock (Charlie Cox), the hotshot lawyer alter ego of Daredevil, the man without fear. (For the uninitiated, here's the basic pitch: Murdock was in a science-y accident that blinded him but also heightened his other senses, then he got secret ninja training, and now he leaps around fighting crime in back alleys and such.) Ever since Marvel announced that it was doing a set of Netflix shows set in Manhattan's Hell's Kitchen (after Daredevil, we'll get A.K.A. Jessica Jones, Iron Fist, Luke Cage, and The Defenders), fans have held out hope that they'd break from the mold set by Marvel Studios' movies (The Avengers, Iron Man, Thor, and the like), in which our heroes hop from dimension to dimension, country to country, and fight threats that could rip the world — or the cosmos — asunder.
After all, the roots of Marvel are firmly in New York. That's where virtually all the iconic Marvel Comics stories were set, back in the seminal "Marvel Age" of the 1960s. (This was in notable contrast to DC Comics, where heroes usually lived in New York–like cities, like Gotham or Metropolis.) Sure, heroes would occasionally make trips around the globe, but they'd usually return to NYC, and their greatest battles were always waged there. Indeed, many of the greatest Marvel Comics stories from any era were about lone heroes patrolling (or just strolling) the streets. The characters with the deepest ties to such street-level superhero storytelling were probably Spider-Man and Daredevil. And since Sony owns the movie rights to Spider-Man, Marvel Studios only has access to the latter of those two, and it's only now putting him into action. And Daredevil has starred in some incredible New York–centric stories, from his early Stan Lee–penned tales to his legendary 1980s Frank Miller sagas to the acclaimed run by Brian Michael Bendis and Alex Maleev in the '00s and beyond.
Of course, Marvel Studios stories has had New York story lines in the past. Most notably, the climactic battle in The Avengers took place in midtown Manhattan. But that story is about New York as much as Transformers: Dark of the Moon was about Chicago: It's just a major metropole under attack from aliens. We get no sense of the city itself, of its uniqueness, its denizens. The first Captain America began in New York but quickly shipped out to Europe. The delightful Agent Carter TV show is very much situated in New York (albeit the New York of the 1940s), but that's hardly a superhero story — it's more of an espionage thriller. The five boroughs have gone undefended by the world's superhumans. Instead, we get a never-ending string of world-ending threats, with stakes so high that it's hard to feel much connection to them.
Only now are we getting a tale that can bring heroics to a more delicate volume — and do justice to the city that birthed the characters who now rake in billions for Marvel. The trailer shows us bare-knuckle fights on sodium-lamp-lit streets, ominous gatherings in Manhattan high-rises, tense meetups at the shore of the East River. Sure, Daredevil could end up being a dull melting pot of urban-vigilante tropes. But I'm holding out hope that this could be the first time Marvel Studios does justice to the city where it all started.