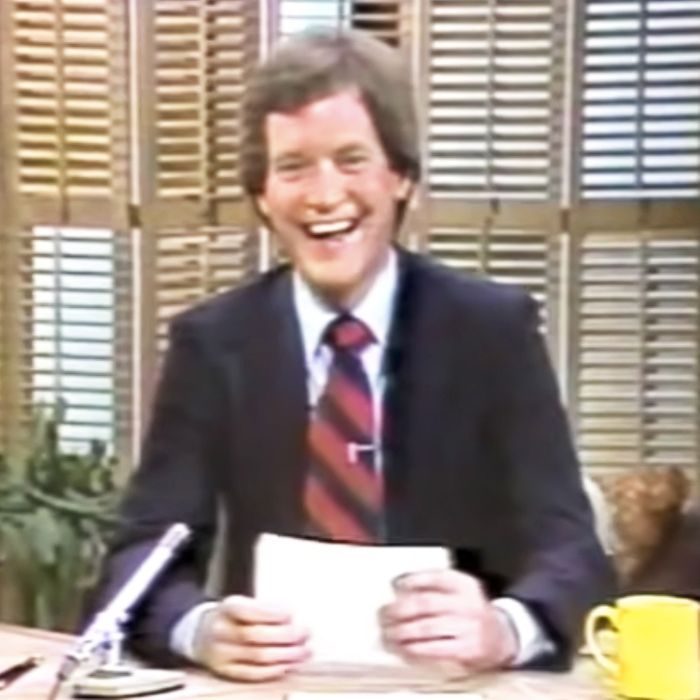 Photo: Don Giller/YouTube
The Paley Center for Media, which has locations in both New York and LA, dedicates itself to the preservation of television and radio history. Inside their vast archives of more than 150,000 television shows, commercials, and radio programs, there are thousands of important and funny programs waiting to be rediscovered by comedy nerds like you and me. Each week, this column will highlight a new gem waiting for you at the Paley Library to quietly laugh at. (Seriously, it's a library, so keep it down.)
As we move closer to the end of the long Letterman era of television, It's interesting to remember that this will actually be the third time Dave has closed down a TV show. The second was in 1993 when Letterman said goodbye to NBC and relaunched his show an hour earlier on CBS (we covered that farewell over here). Today we look back at Dave's first televised goodbye on October 24, 1980, when the experiment that was The David Letterman Show signed off one last time.
There are a few things that made The David Letterman Show different from Dave's later shows. First, there's the fact that it was 90 minutes. Eventually that was cut down to an hour, but that's an extra two and a half hours of content they had to create every week. Second, there's the fact that it was broadcast live. This leads to a much more vocal studio audience (apparently, knowing that their friends could be seeing it right then led to people wanting to make a lot more noise), and a few more flubs, though this could be due to the fact that Dave was so new to hosting. And finally there was the fact that it was on at 10am.
Despite all this, the tone of The David Letterman Show was much closer to his current show than it was to Ellen and the other daytime fare. The "Viewer Mail," "Stupid Pet Tricks" and "Small Town News" segments began there, and continued across each of Dave's shows, (he performed the latter earlier this week), Dave had an obnoxious buzzer installed by his desk that he would hit intermittently, and his dry and irreverent sense of humor was deeply ingrained into the program, no matter what time it was on.
But all good things must come to an end, and sadly, the ratings just weren't there for the daytime show. Dave's show would be replaced by the very thing it had taken the timeslot from: game shows. But Dave and his writers weren't going down without a fight. If this was going to be their last gasp on television, then they were going to go out guns blazing. The show opens lavishly with a group of dancing women, festooned with elaborate headpieces and fans adorned with peacock feathers, who usher Dave to the stage.
At his desk, Dave begins by answering a few pieces of fan mail, which serves as an excellent example of his sarcastic tone. For example, one viewer chides Dave for reading a letter on the air in a previous episode but referring to the town as Taunton, Maine rather than Taunton, Massachusetts. To apologize, Dave invites the letter's author to be a guest on the program the following week. The Mailbag segment is subtly different from the way it would appear in later incarnations. On the late night shows, Dave and Paul are the ones who provide the punchlines, usually following a relatively banal or innocuous question. Here, a handful of the letter writers are clearly attempting to impress Dave with their own brand of humor, or cheekily submit their own jokes. One letter writer discusses how much they love lima beans and how they've changed their name to Lima Bean. Another pretends (?) to be an insane person who believes that they are David Letterman, and closes by telling Dave that he's "real sorry to hear we've been cancelled."
There were a number of guests on the final show, including Wil Shriner who shows some clips of some of the mistakes and bloopers that occurred live on the show, such as trying to dial out on a phone that isn't working, or a musical guest performing without a working microphone. Ed Newman, the show's news reader, and Frank Owens, the show's conductor, get a chance to say goodbye as Dave devotes a full segment of the show to chatting with these two elements of the show who didn't usually have much time to talk on the air.
Similarly, many of the show's writers are given an opportunity to get some airtime with a slightly altered version of the usual "Stupid Pet Tricks." In "Stupid Writer's Tricks," a handful of writers get to come out and perform a joke or a segment that they had pitched, but Letterman had rejected. The first writer out is Gerard Mulligan, who would continue working for Dave all through Late Night and until 2005 on Late Show. Gerard's rejected joke is a monologue joke in which he tells the audience he had a good weekend. Or at least, "I think I did, if the amount of bail is any indication." Up next is Paul Raley, whose monologue joke is done with an impression of Dave's laugh, and a fake gap in his teeth, followed by Rich Hall, whose joke refers to the fact that you never see huddled masses, like those referenced on the Statue of Liberty's inscription. So, he presents one to the audience. Up last is Merrill Markoe, who believes that if there had been more sex and violence on the program it might have lasted, so in an effort to turn it around, she's brought some with her. These "writer's tricks" seem to have been a surprise to Dave, which seems especially clear from his reaction to Merrill's, who flashes some centerfolds from Playboy and Playgirl to the in-studio audience, just barely out of shot of the live TV cameras, and then for the violence, she steps to the side, dropping a very heavy sandbag onto the table, obliterating it. A genuinely tickled Dave then throws to commercial.
After the break, Dave gives a tour of Studio 6A, introducing the audience to a number of behind-the-scenes figures such as producer Barry Sands, announcer Bill Wendell, various audio technicians, control room folks, and, according to Dave, "a staff of people who just stand around." In the last segment, our host thanks his fans very sincerely for the support of his fans, and an emotional sounding Letterman mentions three people that made the possible: head writer Merrill Markoe, the aforementioned Barry Sands, and director Hal Gurnee.
To close it up, Dave introduces the show that will be taking his place; a game show entitled Las Vegas Gambit, while the audience boos. As a special treat to the audience, the show presents a musical tribute to the game show, which features lyrics like "Win cash and fabulous prizes/ on NBC. / It's not just cash. / It's not just fabulous prizes. / It's a mixture of the two. / It's cash and fabulous prizes." All while a living deck of cards, played by various staff members, dance on stage, which triggers an obscene amount of confetti and balloons to fall from the rafters. The audience is then invited on stage to mingle and the show is over.
Between commercials, instead of the usual graphics, this episode's bumpers featured the resumes of various staffers on the show, but fortunately they didn't need to look too hard for employment. According to the recent oral history of Late Night with David Letterman, written by Brian Abrams, NBC immediately locked Dave into a holding deal, paying him $20,000 a week to sit tight, and wait for his next gig. Luckily it didn't take too long. Late Night took over for Tom Snyder's show at 12:30, and from there you know the rest. A momentary setback became a television legacy that continues to roll on, for at least a couple more months.