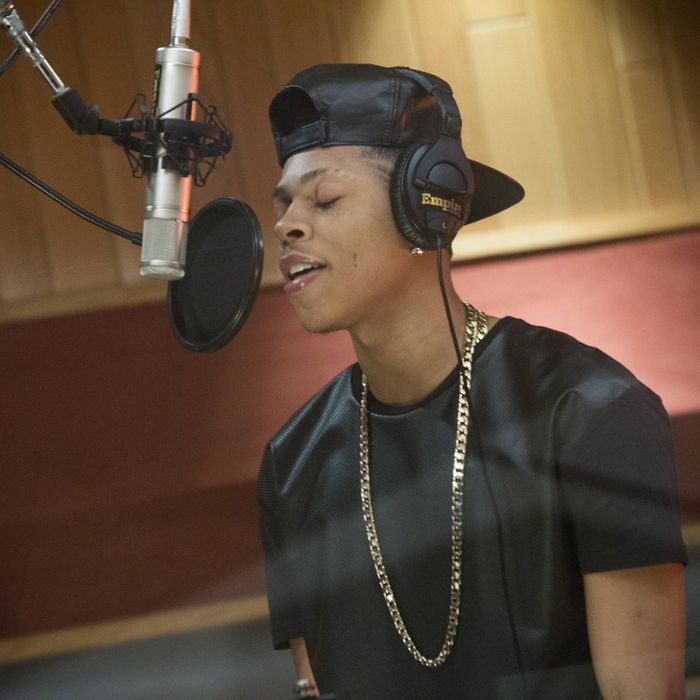 Bryshere Gray as Hakeem on Empire.
Photo: Chuck Hodes/Fox
On last night's episode of Empire, we heard a new song from each of the Lyon family's rival brothers. Bushwick's own Jamal gave us the soulful "I Wanna Love You" — the first song that actor Jussie Smollett wrote himself for the show. Then, fueled by anger over Tiana's betrayal, fleek-eyebrowed rapper Hakeem went into the studio and laid down the biting "Can't Truss Em." ("Get out my way, chick, 'cause I already know the game … They all phony and that's why I don't trust 'em.") When he plays it for Anika and Lucious in a gilded conference room at the end of the episode, they're overjoyed. "The good thing about this song is it's going to generate enough controversy that we won't even need the promotion spent," Boo Boo Kitty says with delight. Hakeem and his father fist-bump.
Empire gets more fun to follow with each passing week, and by now it feels safe to say that enlisting Timbaland as executive music producer was one of the show's brightest ideas. Sure, a lot of the songs and even some of the characters are obvious knockoffs (if only I could think of a word that rhymes with Tiana …), but Timbaland's production gives the music an air of authenticity; you don't have to suspend any disbelief to imagine most of these songs being hits in the Empire world, even if none of them have made any impact on the real-life Billboard charts (yet). And anyway, plenty of the songs borrow most liberally from other Timbaland songs ("No Apologies," Jamal and Hakeem's early duet, is basically Tim's way of saying, "Remember when I made 'Holy Grail'? Wasn't that awesome?"), which is a canny way of reminding us how much his sound has defined the last two decades of hip-hop and R&B.
The knockoff factor of "Can't Truss Em" is especially shameless, though. I imagine the script said something like, "And now Hakeem raps Chris Brown's 'Loyal' over the TNGHT drop from Kanye West's "Blood on the Leaves.'"
But not everyone was so thrilled with the track. As the song plays, Cookie and Jamal storm into the conference room. "Y'all forgetting one thing," Jamal says, clearly channeling his mother's superpower of being able to hear through walls so he can enter a room with the perfect line, "When you write a song about how much you hate women, it makes you look like a little bitch."
Empire hasn't explicitly dealt with hip-hop's misogyny problem yet, so this felt like a pretty unprecedented moment for the show. It also felt like a pretty pointed Chris Brown dis, since "Can't Truss Em" was so transparently inspired by "Loyal," with maybe a pinch of Big Sean's "I Don't Fuck With You" for good measure. (You could even take the "Blood on the Leaves" nod to gesture toward critiques of Yeezus's misogyny.) Given how well the show has tackled homophobia, I'm glad to see Empire isn't shying away from misogyny either. After the first few episodes, some people worried that Empire was relying on broadly drawn stereotypes, but as it's gone on, each of its characters has become more complex. No one on this show is a saint (we're even beginning to see some of Jamal's flaws, and he's become a better character for it), but that also means Empire is never preaching to us about what's right and wrong. Instead, it's doing something more powerful: Opening up discussions, giving voice to multiple perspectives, and letting us make up our own minds. Last night's episode provided a built-in critique of songs like "Loyal," but it also shined a light on the forces that continue to generate hits like it. They exist within the artist's psyche, of course, but also within the all-press-is-good-press mentality of the industry.
"I really hope that when you finally become a star, you can finally let go of all this childish anger," Cookie tells Hakeem as "Can't Truss Em" still plays. Unfortunately, it doesn't always happen that way.