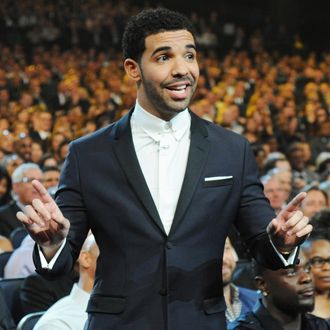 Drake at the 2014 ESPYs.
Photo: Kevin Mazur/Getty Images
After showing us what adorable rapping baby Drake was like, full-grown Drake fulfilled a prophecy tonight and released If You're Reading This It's Too Late, a 17-track surprise mixtape with PARTYNEXTDOOR, Lil Wayne, and Travi$ Scott. (He didn't pull a full Beyoncé, because as some have pointed out, he's only released one video today. Also, isn't dropping an album with no promotion basically the new norm? Enough already.) You can buy it here or go on YouTube while the release is still young. Over on Drake's blog he's put up a dedication (with handwriting that must be making all of Canada livid), as well as the track list with production credits.
He left this semi-oldie up, too: