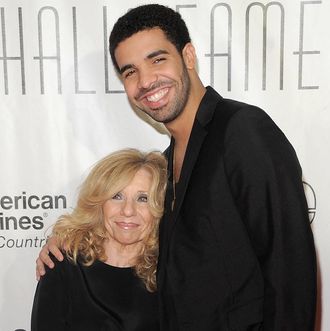 Drake and his mama, Sandi.
Photo: Jemal Countess/WireImage
If you're done wading through the Cash Money drama and Tyga disses on If You're Reading This It's Too Late, maybe you've finally hit track 15, called "You & the 6." In the vein of Kanye West's "Hey Mama" or the Backstreet Boys' "The Perfect Fan" (and every other ode-to-my-mama out there), Drake addresses the four minutes and 25 seconds to his mom, Sandi, revealing quite a few things about their relationship. And not only is it undeniably sweet, but it's also undeniably Jewish. Have we seen Drake embrace his Jewish roots so thoroughly since the bar mitzvah setup in "HYFR"? Arguably no.
Ain't been returning the texts, so she been reading the press / She got Google alerts, them shits go straight to her phone
Hold up — Sandi Graham gets "Drake" Google alerts? Mom, no. That's breaking rule No. 1 of celebrity: Don't read the comments. The fact that Sandi's unanswered texts have driven her to Google her famous son is unacceptable. Do better, Drake. Text your mom some emoji and let her know you're alive.
She said, "I heard you back with you-know-who" / I told her, "Girl, I'm always back with you-know-who"
If "you-know-who" equals Rihanna (and it does) that means Sandi isn't a fan of the pop star. But what Jewish mom is a fan of whoever her beloved son is dating? Important fact: Rihanna is not Jewish. (But would she raise her kids Jewish?)
"You're your father's child / Man, thank God you got some me in you"
Such a mama's boy.
And look, I hate it when you hate on all my girlfriends and assistants / Always convinced that there's always someone better
There's no one good enough for my Drake.
Like that girl from that gym who trains you / I know you wanna arrange it, you told me she's free Thursday / And I'm sure that she's an angel, but she don't want this life / The timing ain't right
Nothing like a good old-fashioned Jewish mom setup. (See: Fiddler on the Roof.) You know what Sandi's trainer definitely doesn't do? Strip. She's not a stripper. Drake, how about you lay off the strippers.
I'm Game of Thrones with it, Mama / I'm Home Alone with it, Mama
A TV show and a film where protagonists have to protect themselves, sure, but also a TV show and a film where (dragon and non-dragon) mothers save the day.
I really hate using this tone with you, Mama / I really hate getting aggressive on this phone with you, Mama
This is presumably the part where Sandi offers up the girl from the gym again.
I used to get teased for being black, and now I'm here and I'm not black enough / Cause I'm not acting tough or making stories up 'bout where I'm actually from
Hell yeah, fuckin' right Drake is a man in the eyes of Jewish law. He won't forget his bar mitzvah. (And neither will I.) But anxiety associated with being stuck in the middle, as he puts it, goes deeper than just being neither black nor white enough — even Drake's whiteness could be "compromised" by his Judaism. Jews hiding their heritage goes all the way back to the story of Moses (or Dreamworks's The Prince of Egypt, if that rings more bells), who was adopted into the royal Egyptian family and would eventually claim his birthright and free the Jewish slaves. (Yes, these super-old stories do still provide Jews with piles of anxiety.)
They will not tear nothing down / I built this home for you, Mama
"I got two mortgages / $30 million in total," Drake raps on "Energy," and you know one of those is for Mama's house.
Know I don't call enough, Mama / I just been working with so little time for personal, Mama
Drake, call your mother sometime. She misses you.