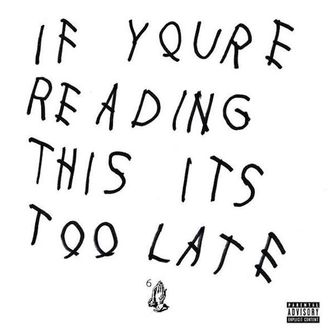 If you're reading this, you're already in too deep.
Drake's surprise release last night has everyone a bit confused. Mostly, is this thing a mixtape or an album? One one hand, it's got 17 full tracks and is currently for sale on iTunes and streaming on Spotify — that points to album. But it's not the same title as the album Drake's been promising (Views From the 6), and there are a number of fishy things about the release. Is Drake taking the Lil Wayne route (with a bit more subtlety) to get out of his Cash Money contract? All evidence points to yes. Here's what we know: 
1. The title. 
You don't think the mixtape's title, If You're Reading This It's Too Late, seems a bit off? First, as we mentioned above, it's not the name of the album Drake has been promising. Second, it's kind of a threat: If you're reading this album cover, it's too late. I've already gotten out of your stupid contract. I win and you lose. 
2. The lyrics. 
Aside from a gorgeous Tyga dis, Drake doesn't take obvious punches at Cash Money or Birdman. Unless you count a quick moment on "Energy" where, if you read it this way, he takes a slight dig at his record-label overlords: "Y'all don't wanna hear me say it's a goal / Y'all don't wanna see Wayne win 50 awards." Basically, if Wayne's out, so am I. (He even calls himself Wayne's successor on "6 p.m. in New York.") And speaking of Lil Wayne … 
3. The Lil Wayne.
We already know Wayne's pissed at Birdman and Cash Money. He hasn't been subtle with his tweets, meanwhile, Billboard reported that Wayne has planned all along to take his protégés Drake and Nicki Minaj along with him. And those two are loyal. Nicki's new album The Pinkprint even alluded to the fact; in "Want Some More," she raps, "Cash money, getting six albums." 
3. The speculation. 
We're not the only one with this theory. Plenty of music journalists, music professionals, and music fans who spent their Thursday nights up late poring over this thing noticed the weirdness: 
4. The tracks. 
If You're Reading This It's Too Late isn't bad, but do you hear any singles on here? Any "Worst Behavior"? Any "Hold On, We're Going Home"? Any "Started From the Bottom"? No. (Although "You & the 6" is a very, very sweet song. We love moms, too.) Is his decision to release an album with no radio potential another subtle dig from Drake?
5. The Soundcloud drama. 
Possibly the biggest evidence of tension between Drake and his label is how the album was released. Shortly after it hit iTunes, all 17 tracks were also uploaded to OVO's official SoundCloud and made available to stream for free. Minutes later, all of them were removed except the previously released-for-free "6 God." Curiously, all those now-dead SoundCloud links are still posted on OVO's official Blogspot. Read into that what you'd like, but here's what we'll read: Drake's team and the Cash Money team are not quite communicating.