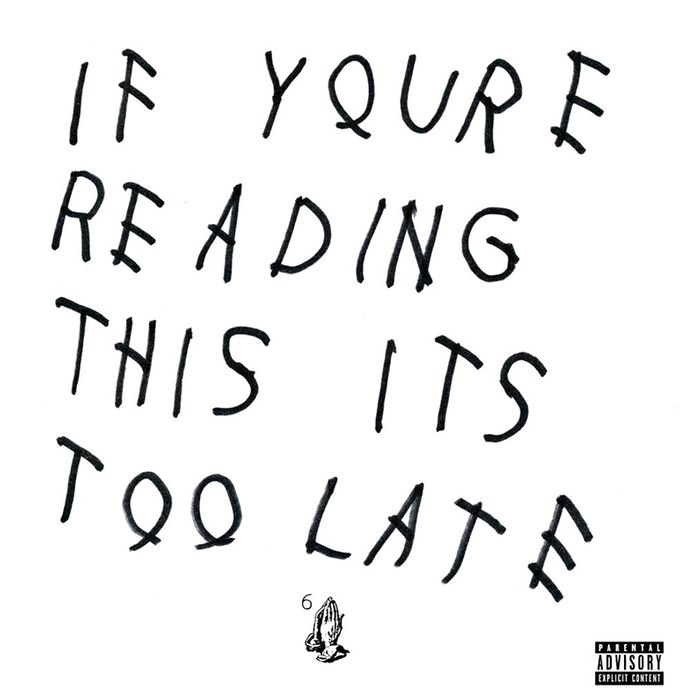 "If You're Reading This It's Too Late"
"This is nothing for the radio," Drake proclaimed at the beginning of his 2013 album, Nothing Was the Same, "but they'll still play it though." Like any good rap boast, it was a bit of an exaggeration — after all, we're talking about an album that featured such obvious hits as the puffed-chest anthem "Started From the Bottom" and the tuneful, twilit ballad "Hold On, We're Going Home." But mostly, Drizzy spoke the truth: The wildly successful Toronto rapper had finally reached that rare cultural plateau that the pop critic Tom Ewing once dubbed "the imperial phase," a moment in an artist's career when "intense scrutiny meets intense opportunity" — when he is as popular as he is innovative. Drake's imperial phase has been uncommonly long (its beginning really stretches back to his regal, brooding 2011 masterpiece, Take Care), perhaps because he's been so good at maintaining relevance between major releases. Such is Drake's Midas touch that even the odds and ends he puts out between albums turn to gold. The trumpeting "Trophies" — which at first seemed like a throwaway B-side when he put it out shortly after NWTS — dominated rap radio all last summer; "0 to 100/The Catch Up," another non-album cut he released on his closely monitored SoundCloud page, was nominated for a Grammy. Shrugs the Boy himself with that self-aware swagger, "It's that new Drizzy Drake, that's just the way it go."
But If You're Reading This It's Too Late, the new mixtape Drake released under mysterious circumstances on the second Thursday night in February, is — no exaggeration this time — nothing for the radio. Devoid of easy hooks, many of its 17 songs are dark, formless, and sometimes even anti-melodic. Like any other Drake release, its unique, throbbing sound is mostly the work of the producer Noah "40" Shebib, who has been collaborating with Drake since the days before he signed his deal with Lil Wayne's Young Money Entertainment. 40 is no stranger to minimalism, but the beats on If You're Reading This are so sparse that they actually feel indebted to ambient music; this tape is basically 40's Music for Airports. Something about the atmosphere is almost amniotic. A friend of mine has been calling If You're Reading This "Drake's man-cave album," and I'll second that — it's a fitting soundtrack for this most stir-crazy month of winter. ("Haven't left the condo for a weeeeek now," Drake admits atop a hypnotic beat on "10 Bands.") You can tell that things are lonely at the top, though. On songs like the stealthy "No Tellin'" and the combatant "Energy," If You're Reading This often sounds like the ravings of a king who has become so paranoid and distrustful of everyone outside of his circle that he's barricaded the doors and pulled up the drawbridge for the season.
The first time most people heard Drake was also on a mixtape, but a kinder, gentler one: 2009's So Far Gone. Confrontationally confessional and proudly eclectic (I challenge you to name another record whose track list contains both the phrases "ft. Peter Bjorn and John" and "ft. Bun B"), So Far Gone marked the moment when Drake went from being the often-side-eyed former star of Canadian teen soap Degrassi to the natural heir to Wayne's throne. He certainly wasn't humble, but even his boasting had an undercurrent of vulnerability: "It's funny when you comin' in first … but you hope … that you last," he rapped wistfully on "Lust for Life," and over a Tears for Fears sample at that. Drake broke at the right moment, just as hip-hop's long-muffled heart was beginning not only to beat, but to bleed. He also benefited from a perfectly timed assist: If Kanye West's 808s and Heartbreak stole the defibrillator from the hospital, So Far Gone put it to the rap world's chest.
Which of course meant that the laziest way to insult Drake was to say that he was soft — the guy with the Aaliyah back tattoo crying Auto-Tuned tears. Drake seemed immune to this kind of criticism for a long time, but over the past few years he's begun to push back, and it's been a mixed blessing for his music. On the one hand, there's NWTS's great single "Worst Behavior," four and a half minutes of imminently quotable, near-cartoonish tough-guy stunting ("Do it look like we stressin'? Look atchu, look atchu, and look atchu"). But on the other hand, there are the duller moments of If You're Reading This It's Too Late, a stretch that lasts from "No Tellin'" to the aimless "Star67," across which it feels like King Drake has completely run out of things to say. It's hard to deny that If You're Reading This is a technical triumph, a showcase for some of Drake's sharpest and most dexterous rapping ever. But it also feels soulless in a way that Drake's music never has before. (PARTYNEXTDOOR, a featured crooner who finds the middle ground between the Weeknd's comedown romanticism and Future's space-dog howl, provides a bit of well-sequenced relief on "Preach" and "Wednesday Night Interlude.") Tough Drake is a much flatter persona than Old Drake, and as the tape extends past the hour mark, the material here begins to wear thin. "I wanna take it deeper than money, pussy, vacation," Drake famously promised us on Nothing Was the Same, but If You're Reading This rarely makes good on that word.
Or at least not until the very end. The best songs are the final three: the atmospheric, slow-motion lullaby "Jungle," the spitfire manifesto "6PM in New York," and, most memorably, "You & the 6," a song directly addressed to Drake's mom. It's one of the only songs on the tape I'd call emotionally complex, and it suggests that Tough Drake is probably just a passing phase he had to get out of his system: "I pulled a knife out my back and cut they throat with it, Mama," he growls. "I'm Game of Thrones with it, Mama/I'm Home Alone with it, Mama … I really hate using this tone with you, Mama."
By all accounts, If You're Reading This is a stopgap before Drake's next proper album; by some accounts, he released it to get out of his deal with his embattled label. According to early sales projections, it will sell as well in its first week as any Drake album, though I can't decide whether that is a triumph — or whether it's fair for Drake to charge for something he's calling "a mixtape." Maybe Drake's ultimate tough-guy boast is the very existence of this tape and its preordained success. After all, it's nothing for the radio — but he knows they'll still buy it, though.
*This article appears in the February 23, 2015 issue of New York Magazine.