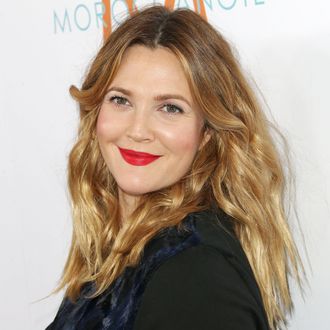 Drew Barrymore.
Photo: Frederick M. Brown/Getty Images
How do you celebrate turning 40? By inking a book deal to publish your life story, of course. People reports that Drew Barrymore will release a collection of autobiographical essays, via Dutton. The book's described as "humorous, emotional, and welcoming" — so, a lot like Amy Poehler and Tina Fey's recent memoirs, we're guessing. Barrymore previously chronicled her famously tumultuous childhood in 1991's Little Girl Lost, but says her new book will include more stories from that time in her life, like "living on her own at 14 (and how laundry may have saved her life), getting stuck in a gas station overhang on a cross-country road trip, saying goodbye to her father in a way only he could have understood, and many more adventures and lessons that have led to the most important thing in her life, which is motherhood."
Last year Barrymore also published Find It in Everything, a collection of personal photography. There's no expected release date or title for her new book yet, but we're seriously hoping it digs up a lot of old Hollywood dirt.