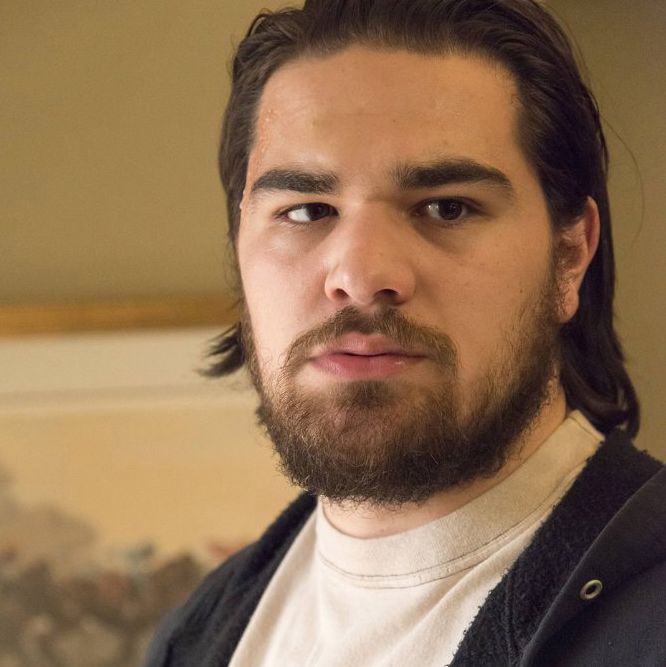 Duke Davis Roberts on Justified.
Photo: FX
Spoiler alert: This interview reveals major plot points from the February 24 episode of Justified, "Alive Day."

Duke Davis Roberts has made a big impression on Justified this season. His character, brain-damaged war veteran Mundo, a.k.a. "Choo-Choo" (because he comes at you like a train), has been embraced by fans despite the fact that he's a murderous thug for evil pot baron Avery Markham (Sam Elliott). Sadly, Choo-Choo reached the end of the line in last night's episode after a shootout with Deputy U.S. Marshal Raylan Givens (Timothy Olyphant). L.A. native Davis, an ex-MMA fighter who only earned his SAG card last year, spoke with Vulture about his arc on Justified, his distinctive voice, and giving up on MMA.
How did your character get his nickname?
It came from Timothy Olyphant's brain. He talked to the writers and had them change my name. He told me there was some baseball player whose nickname was Choo-Choo [former Mets and Phillies catcher Choo-Choo Coleman]. Tim thought that was so funny, and they just ran with it.
How did you come up with the character's distinctive guttural voice?
I went into the audition with that voice and that cadence, and then I worked on it with the writers. Tim told me, "You don't want to go overboard on playing the dumb guy. You want to be a weird mystery."
Was the character's look, with greasy long hair and a bushy beard, your idea?
That was my unemployment beard, and it turned into my employment beard. I had the long hair and that awful beard. I knew Choo-Choo was military, so I thought they were going to shave my head. And they said, "No, we like your look."
Is Choo-Choo definitely dead?
The script does say explicitly "very dead," crushing all my hopes and dreams.
How did you find out he'd die after four episodes?
I got a call from [executive producer] Graham Yost before I shot my final episode, and he said, "You're doing a great job, but we're going to have to kill you." I almost took it as a compliment.
Is it poetic justice that Choo-Choo dies on the railroad tracks after being shot, but the train stops just short of hitting his car?
I love that bit because it's ironic in a way. You're playing with the viewers' grandiose expectations of the train smearing this wounded dog, but he just bleeds out quietly. I thought it was fitting.
What kind of response have you gotten from viewers about the character?
The fans of Justified are responding very well, but there's a big ol' Dewey Crowe [the dim criminal who was played by Damon Herriman and was killed off this season] hole in their heart. I don't understand how you could hate Choo-Choo. He's like a big kid or a bear. Everyone on Twitter and Reddit seems to have enjoyed him. I'm very surprised. He's not quite dumb. He's brain-damaged and he's weird, and people are interested in that.
Are you getting recognized on the street yet?
I get the occasional look on the street, but I think that's just because I'm freakishly tall. But I would embrace it, because that's the only way people would know me in public, because everything else I've shot hasn't come out yet. I'm new to this having-a-response thing. I've been doing YouTube videos that 100 people watch.
I noticed on Twitter there's been chatter between you and your co-star Scott Grimes about doing a prequel in which we see Choo-Choo's wartime origins.
That was kind of a joke, but I did walk up to the writers once and [say], "Just so you know, I have the voice of Choo-Choo, pre-head-wound, if you need it." It's really just talking a lot faster.
Have you given up MMA fighting now that you're an actor? You don't want to mess up your face, do you?
I fought amateur for two years, and I won a light-heavyweight belt. Once I booked a role, I realized how important it is to maintain your look. So I had to retire from MMA because it would be so dumb to screw my big dream just to see how far I could go as a fighter. A friend of mine, Jonathan Lipnicki, trained in MMA, and he told me he got a black eye and casting directors looked down on him.
Jonathan Lipnicki, the kid from Jerry Maguire?
Yeah, I went to high school with him. That's what you get when you go to industry high-schools in L.A.
Has your size ever held you back from getting certain types of roles?
Definitely. I do worry about turning into a henchman forever. If people like me and want me to stick around, I'm going to have to shape-shift my body. I'll never get rid of being six five, but I fought at 205 [pounds], so I can get down to 200 pounds and kind of look like a normal person. I can pull a Chris Pratt.