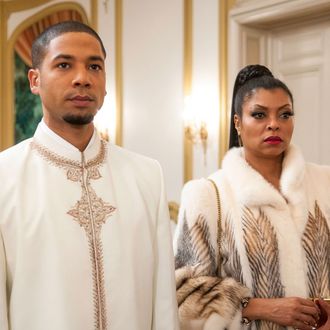 A shot from last night's Empire.
Photo: FOX
The #DripDrop don't stop. Fox's Empire is breaking ratings records — and not just the ones measured by Nielsen. Vulture has learned that the Lee Daniels–Danny Strong hip-hop soap opera has become the first TV show to rack up more than 1 million views on Comcast's XFinity TV on-demand platform within a week of its linear TV debut. It broke this barrier with its February 11 episode, generating more plays than established blockbusters such as The Walking Dead and Modern Family. The good news for Fox: The massive VOD audience isn't hurting Empire's same-day viewership at all; if anything, it might be helping it.
Last night's episode saw the show grow its audience yet again, with preliminary Nielsen data showing Empire surging to roughly 14 million viewers and a 5.3 rating among viewers under 50. That's up nearly 2 million viewers since the show broke the 1 million barrier on Xfinity. And among viewers under 50, Empire last night scored the highest-rated regularly scheduled episode of any broadcast network drama since Grey's Anatomy in September 2010. Overall, Fox says Empire is on pace to be broadcast TV's fastest-growing drama since the first season of House, in 2004. You can almost hear Fox execs counting those dollar dollar bills, y'all.