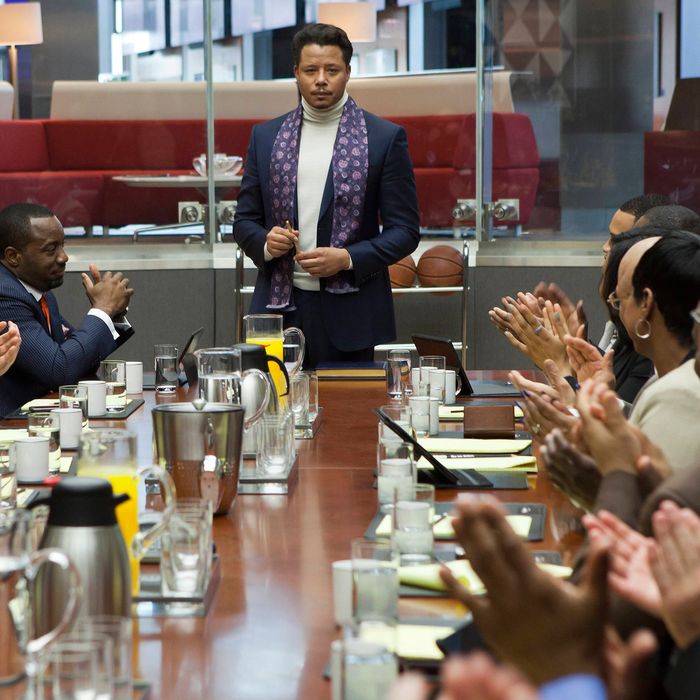 Terence Howard as Lucious Lyon on "Empire"
Photo: Chuck Hodes/FOX
A mother gets released from prison. A father gets a death sentence from a doctor. Three sons are asked to compete to run the family business. A company notifies investors of its intention to issue publicly traded shares.
Okay, okay, that last plot point might not be the most emotionally riveting one offered up on Empire, but it is an important one: Empire Entertainment, run by Terrence Howard's Lucious Lyon, is going public, meaning a big influx of cash and a whole lot more familial drama.
Yet Empire is no Facebook, Twitter, Alibaba, or Uber. It's not the kind of disruptive technology platform that investors have flocked to in the past decade. It is an old-school record company, one in the increasingly less and less lucrative business of minting hits and shooting videos. Hasn't Lucious heard that the record industry is dying? Would it even be possible for this latter-day Death Row to IPO?
The answer to the first question is yes. "Times have changed," Lucious growls to a room full of journalists in the debut episode, shortly after recounting his hard-knock childhood and spinning a basketball on the tip of a gold pen. "The internet has destroyed the musician's ability to make money because our work is downloaded for free online. And now it's impossible for the disenfranchised kids growing up in the projects to overcome poverty the way that I did. We are going to change all of that."
The answer to the second question, as posed to a variety of IPO and music-industry experts, is … maybe. "As beaten down as the music industry is, they do own a massive catalogue of some of the most important intellectual property in the country, if not the world," said Russ Crupnick, the managing partner of MusicWatch, an industry research group. "Is it that farfetched to say, 'These are challenged but attractive companies'? A lot of public companies are challenged but attractive!"
As are the main characters on the show. And when not parsing their emotional power plays, Empire goes into a surprising amount of detail on the business and its path to the really big bucks. Board approval! Wharton! Auditors! Chief-executive physicals! Key-man insurance! Share pricing! Founding shareholder disputes! Underwriters! The show spouts enough corporate psychobabble that The Wall Street Journal has dedicated an IPO reporter to evaluating each episode in excruciating detail. (Really.)
At the moment, the major obstacle to a successful public offering seems to be Lucious's dirty laundry and ailing body. His rivals — or lovers — could inform the feds that Empire was built on drug money. "Cancel your IPO," one competitor warns him. A similar threat comes courtesy of the indomitable matriarch Cookie.
Those threats are not entirely implausible ones, according to some of the real-life versions of the many dark-suited lawyers in the show. Legal questions have botched or delayed other initial public offerings, such as that of Virtu Financial, as the Journal has pointed out.
Then there is Lucious's terminal struggle with Lou Gehrig's disease. Empire Entertainment is a cult-of-personality business, and investors might feel differently about it with anyone but him at the helm. There's the question of disclosure, and the ethics and legal ramifications of Lucious covering up his condition. There's concern about someone leaking his condition to the public to scratch the IPO.
There's also the question of one of his sons taking over for him sooner rather than later — and at least one of them fears that the illness might botch the entire public offering.
The broader economics of the music industry might be yet another headache for Lucious and the Lyons. You don't hear about many music businesses seeking an IPO these days, in no small part because the industry is shrinking. Globally, it generated $15 billion in revenue in 2013, according to the International Federation of the Phonographic Industry. That's a lot of cash, but 4 percent less than the year before.
And record sales — Empire's apparent bread and butter — are a particularly weak link. Last year, for instance, Taylor Swift's 1989 sold 3.66 million records, making it the biggest album of the year. The best-selling album of 1999, a full decade and a half earlier, was the Backstreet Boys' Millennium, which moved nearly three times as many units. Moreover, digital music sales have cooled off, too. Both singles and albums sold fewer copies through services like Amazon and iTunes in 2014 than they did in 2013.
The true growth right now is coming from the technology side, including from listening-platform companies like Spotify. In a year when music sales were flat in North America, global revenues for subscription and streaming services jumped 51 percent, to more than $1 billion.
For Empire to IPO, it would have to sell more than just records, analysts said. "Media businesses have a tendency to be hit-driven," said Kathleen Smith of Renaissance Capital, an IPO-focused investment firm. "To IPO, it's got to be big. It's got to be diverse. And it's got to show it can scale."
Thankfully for Lucious and Empire's supposed investors, that scale and diversity seems to be there. Empire has a growing and diverse stable of talent, including athletes and the rapper Titan. And Lucious owns not just songs and videos, but a club, a merchandising operation, a media business, a fashion business, and even a Champagne label. That makes him less of an old-school record executive like Tommy Mottola and more like new-school music moneymakers like Dr. Dre, whose Beats headphones will make him more than The Chronic ever did. (Apple acquired Beats Electronics last year for $3 billion.)
If Lucious's kingdom really is Empire Entertainment, and not just Empire Records, that might be a business that the markets would want.