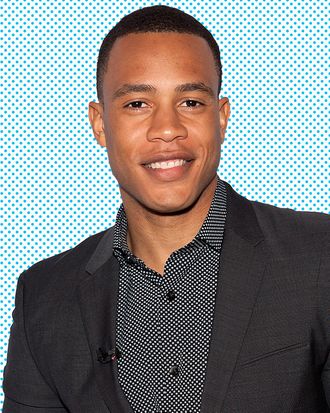 Photo: D Dipasupil/Getty Images
Empire's family drama largely plays out in a high pitch, except for big brother Andre Lyons, who has operated in the background this season, quietly plotting to take over the family business. Until last week's episode, when Andre — played by Trai Byers (Selma) — broke down, fully clothed, in the shower. Speaking to Vulture, Byers talked about playing a character with bipolar disorder, why this is really just the "beginning of Andre's story," and his best Oprah memory from the set of Selma.
Last week's episode of Empire was a big one for Andre. Lucious tells his family he has ALS, and your character seemed the least emotional about the news. But then we seem him break down in the shower in a powerful scene, and there seems to be more going on there than just his worries about the business. Can you talk about what Andre was feeling in that moment?
It was a long time coming. Episode seven was kind of the beginning of Andre's story. He's been a part of the family dynamic. He's kind of legitimized them, got them to be a Fortune 500 company. He's the brains behind it all, and also he's the oldest, so he feels it's his birthright to be next in line to run Empire. A lot of it has been, I wouldn't say his villainy, but his deeds to procure Empire and get it back by any means necessary. And in addition to that, he has bipolar disorder, so in episode seven, he hadn't been taking his medication as he should, and he's rocked with the information that his dad has ALS, and in the same world, he's still trying to get Empire, kind of underhandedly. So it's all those different emotions, and the fact that he's bipolar, just trying to manage everything. It just kind of failed him.
How did you prepare for that scene?
[For] me as an actor, getting into that was more easy because of what playing Andre has been for me as the outsider. The actors are great, everybody's great, but having to do the material for the last six episodes where Andre is not seen, not heard, and felt unloved — it was kind of the breaking point for me as an actor as well, so it was cathartic for me to break down with Andre in that shower.
You mentioned Andre's bipolar disorder, and I'm wondering how you prepared for such an emotionally complex arc, and how it will play into the later episodes.
If you think the shower scene was something, you have seen nothing yet. It gets dark. This week, you're going to see something that I don't know if we've seen on television, at the hands of Andre. It really goes there. As far as researching, I'm from the Yale School of Drama. I researched everything I could on paper, I found some people online that showed me two different versions of manic episodes. One was very fast, so fast that he kind of induced a stutter, couldn't really keep up with himself. Another one was really mellow, not depressed, though, still in a manic state, but just really, really slow. So finding something in between. But the bigger thing for me is I have a family member very close to me who is bipolar. Before I even found out that my character is bipolar, I was working on the film Selma, and on a break from that I went to Louisiana, where my family's originally from, for a family reunion, and my uncle was there. He had an episode where he was talking to himself for an hour, almost in a different voice. It was very disturbing, coming from this brilliant man — he's a genius outside of his disorder. It really caught me off guard, and later I find out that my character is bipolar as well, so that really served me, learning from my uncle.
Have you and your uncle talked about it since you started playing Andre?
Absolutely, and it's such a beautiful thing. He's open to talking to me about some of the things that he experiences. He's happy that we're using this platform to showcase the fact that there are people who suffer with the disorder, and it's something that we as Americans sweep under the rug. Just to be seen and heard is a great thing.
Now that everyone knows Lucious has ALS, how is it going to affect the family and the business?
You've seen what he looks like, and how he's not able to fully function. Andre is very loyal to his father — he's the head Lyon, and to see [Lucious] falling apart is very hard for him as well as the rest of family. Everybody wants something from Lucious, and they're used to dealing with a more able character, and now that he's falling apart, everybody's rocked by it, and you'll see as the episodes grow how some people might try to take advantage of that, and how some people will fall victim to that and be completely in their emotions. It's like any family that you see anywhere.
How much does Rhonda influence Andre's decisions, and do you think she has any ulterior motives?
I don't think that she does. I had a great conversation with some of the creators of the show, and I agree with this when they make this statement: The relationship between Rhonda and Andre is actually the most pure, fully functional [one] on the show. Twisted though it may be, they are completely ride or die. Being that this is Andre's family that he has to undermine, of course she's going to be more of the instigator to keep him motivated, doing what he has to do, but it's all in the name of what is owed to Andre. And she's being a solid wife for that. It's underhanded, I know, it's twisted, I know.
Your brothers on the show are the musically talented ones. Do you have any musical talent that we might see later in the series?
The thing about Andre is he is very much the straight guy, he has the business savvy, but it's crazy he's a part of this musical family and he's the only one that's not musical. There may be something in the future, I don't know. As far as season one, if I were you, I'd be on the lookout for something very touching that might or might not involve music.
How about you, Trai, do you have any musical talents?
I sing.
What kind of music do you like?
I'm an old soul. I like the Nat King Cole, Sam Cooke is my favorite singer of all time. But I'm into neo-soul, I'm into R&B, some of the modern stuff appeals to me, but most of it comes from an older time.
What is the cast dynamic like on-set? Cookie is the most entertaining onscreen, but is there anyone who is more of that type offscreen?
Everybody comes with their own thing, and absolutely I'd say Cookie is a force, and to see Taraji transform into that — not that she's not a force offscreen — but it certainly is a transformation, and she's masterful. But everybody's cool, it's a blast. We're like a family out there, the relationships are genuine. Even though some of us are doing things in underhanded ways, it's like family there.
You also starred in Selma this year, and your career seems to be gaining momentum right now — is it surreal to be a part of two of the biggest cultural moments of the year?
I'm very much a Christian, and I think about things in terms of timing. The timing was certainly divine. For me, I was certainly grateful. I'm an artist with a message, and my message is more for society, casting the mirror onto them and saying, hey, this is what we look like, what are we going to do about it, how are we going to use what we've been through to aid where we're going. It was magnificent to be a part of both projects. Speaking for bipolar disorder with Andre, and then something that happened 50 years ago that we still look in the face today with Selma, I count myself blessed. I'm certainly grateful to have worked with the people that I've worked with. It's a dream come true, but it's also a responsibility, and I can't get caught up in how my dreams are manifesting when the job has to be done.
You played real-life civil rights leader James Fornan in Selma. What kind of research did you do for that role?
Everything I could — this is an Oprah project, you know [laughs], Brad Pitt. Everything I could get my hands on. But nothing could prepare me for going to the actual places. Walking across the Edmund Pettus Bridge was such a spiritual journey — I walked across there, and I felt James walking with me, and other spirits were walking with me over this river. There are so many bodies down there, some people that we know of, some that we'll never know. And that's what we're walking for. We're marching for the spirits of past, present, and future. It was mind-blowingly powerful.
What was the feeling like on set that day, with all those people there?
It felt like a movement. We used maybe a couple hundred extras, but it felt like a movement of thousands. Everybody felt the responsibility, knew what we were doing. And the pride as well, being able to walk across this thing. Yeah, we're making a movie, but 50 years ago, people walked across and they didn't know what was going to happen. They didn't know if they were going to die that day. And the courage it took, the strength, the resilience, the fortitude, everything that I'm talking about as far as my message is concerned, they displayed their fears to get what was rightfully theirs, which is equality.
Do you have any good Oprah stories?
I got one [laughs]. We were in Selma, and there was a party while we were there, and she goes and finds somebody's house and basically kicks them out of their own home: We're partying here tonight. So we take over this person's house, don't know who it was, but she was very sweet. My sister's there with me, Brandy Byers. And Brandy wants to take a picture with Oprah, and I said, "Okay, we'll catch Oprah at some point in the night by herself." So Brandy's taking a picture with Oprah, and I'm taking it. Oprah's like, "No, no, no, you have to move over, Trai, get in the light. Get in the light. Take a step to the right, now you're in the light." I take the picture, and Oprah comes over and grabs my hand and says, "Stay in the light, young man, stay in the light." It's something that I keep with me.
John Legend and Common's performance and speech became one of the most talked about moments of the Oscars ceremony. How did you feel about it?
It was very emotional. First of all, the song is amazing. Watching the performance itself, it took me right back to the moment when we were all marching across [the bridge]. It was such a powerful moment. I didn't cry because I'm not a crier, but I certainly was filled with pride. It was a perfect way to end the journey.
How did you feel about the film only getting two Oscar nominations?
David and Ava, I would have loved to see them get nominated, they definitely deserved it. But the biggest thing for all of us who are spiritual, and history means something to us, [is] being able to give the gift of that time period. And as masterful as David was, and as masterfully depicted at the hands of Ava, I think that's a bigger gift than any statue could be. Especially with Ferguson going on, and the fact that this is the 50th anniversary, that's the bigger prize, I think, and we all get to share that. No one person takes it home and put it on their mantelpiece.