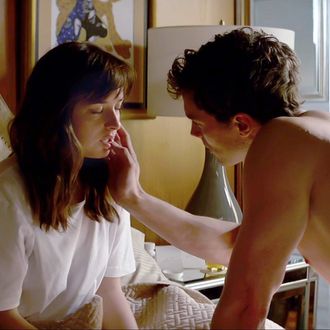 Photo: Universal Pictures
The breathlessly anticipated Fifty Shades of Grey surpassed studio expectations for the best Presidents' Day weekend ever, doing $81.7 million at the box office. The movie is projected to make $90.7 million through Sunday. It was also the second biggest February opening ever, just a hair under The Passion of the Christ's $83.9 million record set in 2004. "We're all popping champagne over here," Nick Carpou, Universal's president of domestic distribution, said to the Los Angeles Times. 
The other new release, Colin Firth's action-comedy Kingsman: The Secret Service, also performed well — just not nearly as well — with $35.6 million. Last weekend's box-office champ, The SpongeBob Movie: Sponge out of Water, dropped to third with a still-solid $30.5 million. American Sniper continues to stick around the top five with $16.4 million. Jupiter Ascending rounded out the top five with $9.4 million. The real lesson here is that sexy movies do well on Valentine's Day, or Galentine's Day: 68 percent of the audience was female.