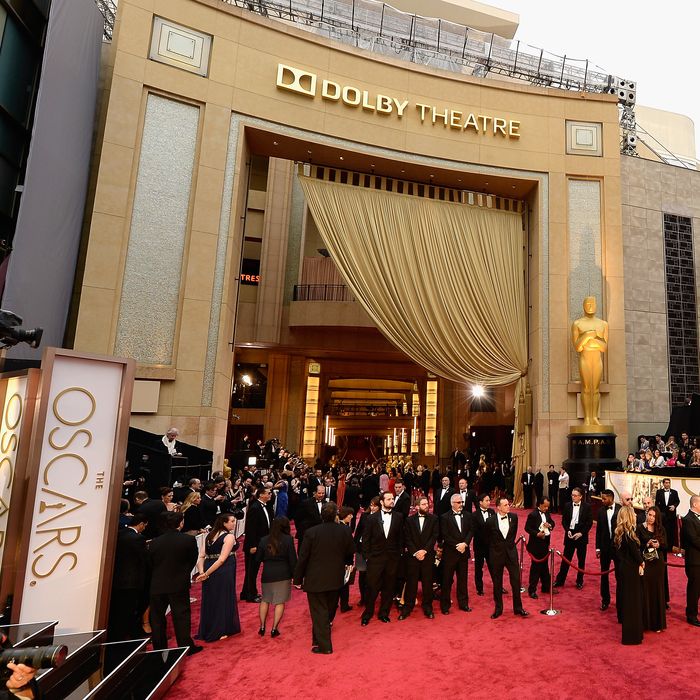 Behold, the red carpet.
Photo: Kevork Djansezian/Getty Images
Red-carpet shows are sexist, stupid, and a waste of time. The hosting style ranges from dumb to obsequious, with everyone behaving as if the audience somehow needs or wants to know the name of the jewelers who provided the glitz. It doesn't have to be like this, does it? I like celebrity culture, and I like fashion, and even I am profoundly put off by and disappointed in red-carpet coverage. This is the kind of thing I should like! It's the kind of thing I want to like. But there are three main problems with red-carpet shows — particularly E!'s model but the network shows are just about the same: The shows are uninformed, joyless, and formless. No wonder we're all having such a bad time.
Perhaps we need to consider what a red-carpet show is even for, and there seem to be two main goals: (1) to cover fashion, and (2) to elicit candid and perhaps charming moments from celebrities. And yet the current incarnations of the show involve no meaningful fashion information and only awkwardly forced moments. We can fix this through a multi-pronged approach.
Step 1: Stop expecting actresses to know or care about fashion. Oscar night is a major night in the fashion world, not just in the film world, but the people wearing the outfits are not themselves necessarily fashion experts, nor should they be expected to be. "How many dresses did you try on??" As many as her stylist told her to. The information about from whence the jewelry came is truly worthless to everyone, and forcing actresses to rattle off who designed their purses seems like a misallocation of resources. The fashion questions skew heavily female, which results in male celebrities being asked feebly about work, and female celebrities being asked, again feebly, about clothing. Let's stop pretending that red-carpet fashion is somehow a demonstration of true personal identity rather than a carefully orchestrated commercial project.
Step 2: Start asking stylists those questions. Open the red carpet up to the stylists who designed and perfected these looks and have them explain everything. Get a few shots of an actress's elaborate gown, and then listen to her stylist explain who designed it, what it's an homage to, how it tells a story, etc. Let a stylist or fashion editor explain why a shawl collar on a tuxedo looks fresh and sleek on a young actor — the goal here is to be informative, like an episode of Good Eats. No need to be snippy.
Step 3: Have Jimmy Fallon or Ellen DeGeneres host the red carpet, not just the ceremony. The red-carpet shows are supposed to be fun. Ryan Seacrest is many things — but fun isn't among them. The more turgid network specials aren't much better, though. Replace the canned "What's it like working with [person]?"/ "It is great, she/he is a true genius" with some Pictionary or Taboo, or a quick round of Never Have I Ever. Hell, play that hand-slapping don't-flinch game (watch out for the big rings) or having a staring contest. Brief, silly, delightful, and with any luck a little charming. No serious journalism is occurring on a red-carpet special, and watching an interviewer and a celebrity pretend to have a moment of "serious" talk about an "issue" on the red carpet is tonally inappropriate and always feels forced and self-aggrandizing. Save the gravitas for the In Memoriam section, and let the rest of the night's endeavors be light and pleasant.
Step 4: Ban body talk. Giuliana Rancic et al. seem to think telling women they're skinny is somehow the same thing as a compliment. That's bad for everyone. All the "And you just had a baby!" faux incredulity particularly grates, plus there's the irritating avoidance of mentioning the fact that looking glamorous and beautiful at public events is part of an actress's job. This is work. Get rid of all the you-look-so-thins, all the what-did-you-eat-this-mornings, every you-must-work-out-a-ton. The world is full of other things to talk about.
Step 5: Enlist Billy Eichner for atmosphere pieces. What's it like out there on the red carpet? What are the surroundings? Who's arriving with whom? And what will people do for a dollar? These are questions only Billy on the Street can really answer.