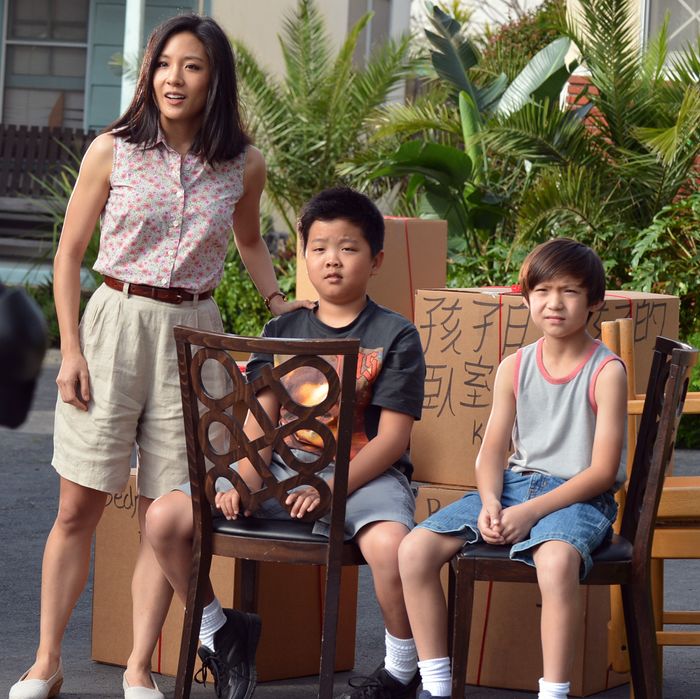 Constance Wu, Hudson Yang, and Forrest Wheeler in ABC's new comedy Fresh off the Boat.
Photo: Eric McCandless/ABC
Circle, a nightclub in Times Square better known as the epicenter of Korean nightlife in New York City, hit its 1000-person capacity on a Wednesday night. Some people had been waiting in line since 6 p.m., and the bouncers turned away latecomers at the door. Inside, those with the best view of the giant projection were a fleet of well-heeled women parked in the lounge area whom a publicist told me were "community influencers." Hip-hop-heads clustered around the mezzanine near the bar, and a group of kids peered down from the railings on the opposite side. On the dance floor, it was standing-room only: Hundreds of people, most of them young and Asian-American, stared up at the screen, waiting. They were here for a "live community viewing" of restaurateur Eddie Huang's memoir turned sitcom, Fresh Off the Boat, the first show about an Asian-American family to air on broadcast television in over 20 years. They were here to cheer on their own and to commune with one another. They were here to represent.
"This was supposed to be a quiet, casual community gathering," Jeff Yang, an Asian-American cultural critic who writes the column "Tao Jones" in The Wall Street Journal, tells me. His son Hudson plays little Eddie Huang on the show. "This is an incredible milestone event for our community. It signals just how hungry we are for something like this." Indeed, in Los Angeles, the blogger Phil Yu and comedian Jenny Yang hosted a similarly at-capacity watch-party at the Japanese American National Museum. Even if you were watching it alone on the couch, you had an entire online community live-tweeting the first two episodes of the show, getting #FreshOffTheBoat trending.
Twenty years ago, when Margaret Cho's All-American Girl became the first Asian-American family sitcom to air on broadcast television, Yang was the TV critic for The Village Voice and he wrote a scathing review, calling the show "awful" and "larded with stereotypes." He thought the show was self-orientalizing and not the kind of representation Asian-Americans should have. Yang closed his review: "Why not just go ahead and call it Gooks 'R Us?" And while numerous Asian-American critics loathed the show, it was historic nonetheless. "People were holding viewing parties, people were doing nothing but talk about All-American Girl, how it's going to be this transitional moment for Asian America," said Yang. "Much as we're saying here tonight."
So even as there was excitement in the air, it was tempered with caution. "Asian people are very excited and also a little worried," Randall Park, the actor who plays Eddie's father Louis Huang, said onstage during a talkback after the screening. "We hope it's good." As the premiere briskly moved along, I could feel the air relax around me. We breathed a collective sigh of relief that history was not going to repeat itself. Not today; not with this show.
This was especially apparent when the crowd erupted into cheers after the final three minutes of the episode (which particularly resonated with Huang himself). In the scene, Eddie has just gotten into a fight with another student who called him a "chink." It's important not simply because of the shock of the word but because of how the parents react. The principal is ready to suspend Eddie for this infraction, and instead of apologizing on his behalf, Louis and Jessica Huang are appalled that the principal did nothing to defend Eddie. "Where is the other boy?" they demand. When they threaten to sue the school because "it's the American way," the audience was already whooping and cheering them on.
"I like how white people are the minority in this show. It reverses the dynamic," said a friend of mine I ran into at the event. Others were surprised by how pointedly the show addressed conversations that are normally on the "inside" — what parents tell their children outside of the earshot of white people. "I've been waiting for this for a long time," said one 32-year-old Chinese-American who grew up in Westchester. "It toes the line between mainstream humor and how we actually grew up." His girlfriend, an IT consultant from Toronto, chimed in: "This is literally how some of us grew up. That is so crazy to see on TV." What almost everyone I talked to noted was how vociferously the show addressed whiteness. Indeed, this is where Fresh off the Boat succeeds: It addresses Asian Americans as the viewer, first. 
In the half hour between the first and second episodes, the event organizers held a talk-back session with one of the executive producers, Melvin Mar, Randall Park, Hudson Yang, and, of course, Eddie Huang himself, hosted by MSNBC news anchor Richard Lui. Huang flew in specifically for the event when he heard how many people had RSVPed on Facebook. Dressed like a hip-hop mogul, he walked in to the beat of the intro of his show for Vice — now called Huang's World (it was Fresh Off the Boat before the ABC show) — wearing a printed gold-and-white button-down, silver sneakers, and what I can only describe as slouchy high-fashion sweatpants.
"This moment means a lot to me. This is the first story about a Taiwanese-Chinese-American family that has been allowed on network television. And today we've arrived," he said. When Huang speaks, he holds court, and the air is punctuated by shouts of "Yes!" and "Preach!" He blends personal anecdotes and observations of structural racism. He knew this show was not the wild and ribald memoir that he had written, that it required "artistic sacrifice" to reach a wider public. He knew that it was not everything, but that it was still something. "This got us on-base, but somebody in this crowd gotta bring us home."
Eddie Jr., the precocious and energetic Hudson Yang, was in the crowd at the event, playing with his cousins. When I stuck out my hand to say hello, he told me, "No, like this," sticking his hand out with his elbow bent upwards so that we could clasp hands and bump shoulders.
I asked him if he thought it was strange to see himself onscreen. "I'm watching it again and now I understand. Before it was weird and embarrassing to see myself onscreen, but now I understand that this is a breakthrough in history if this were to be successful. It will give chances to hundreds, thousands of Asians who want to be actors out there. That would be amazing." I agree. It would be absolutely amazing.