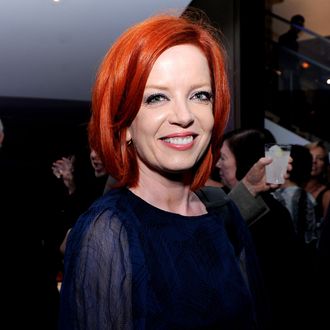 Shirley Manson in October 2014.
Photo: Kevin Winter/2014 Getty Images
Shirley Manson, the lead singer of Garbage, turned Kanye West's post-Grammys rant against him on Monday. West invited conniptions from all corners of the entertainment industry Sunday night when he almost "Imma let you finish"-ed Beck, and proceeded to say the Album of the Year winner should've given his trophy to Beyoncé. "Grow up and stop throwing your toys around," Manson responded in a Facebook post. "You are making yourself look like a complete twat."
Here's Manson's missive in full:
For what it's worth, Beck has taken the slight pretty well. He told Vulture he agreed with West, more or less, and was equally surprised by the win. He also told Us Weekly he still thinks West "is a genius. I aspire to do what he does." Earlier today, West (kind of) clarified his comments, saying Beck was a true artist, just not an artist with the Album of the Year, according to TMZ. At the moment, Ye is just trying to mind his business and tweet about vacuum-packed hot Cheetos or space food or NYFW shoes or something.