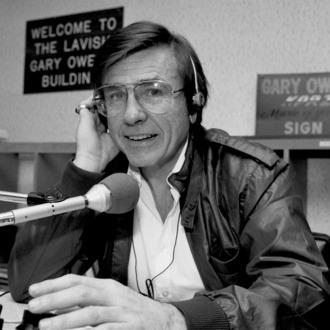 Gary Owens.
Photo: Bob Riha Jr/2015 Bob Riha Jr
One of the great voices of television and radio, Gary Owens died on Thursday at his Los Angeles home. Owens is best known for his work as the announcer on Rowan & Martin's Laugh-In and coining the phrase "beautiful downtown Burbank." He is survived by his wife of more than 50 years, Arleta Lee Markell, and their two sons, Scott and Chris. He was 80.
His was an iconic voice alongside Casey Kasem. Owens got his start working in radio stations throughout the Midwest and the South. He became a disc jockey in Los Angeles at KFWB-AM in 1961 and moved to KMPC-AM, where he worked for two decades. In addition to Laugh-In, he appeared on animated shows from Space Ghost to The Ren & Stimpy Show, narrated Sesame Street segments, and did commercials and intros for television shows like Bewitched.
Here is a pretty delightful one that he did for Splash Dance Radio in 1985.