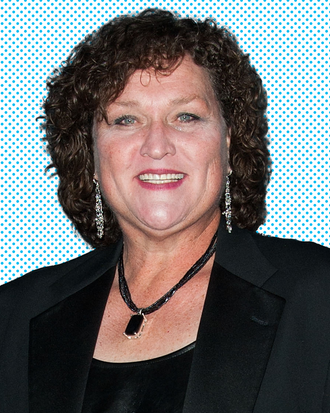 Photo: Valerie Macon/Getty Images
Dot Jones is no stranger to emotionally charged story lines. As Coach Beiste on Glee, she's done more than just whip the McKinley football team into shape since season two. She's been Emmy-nominated for her work on the show three times in the Guest Actress category, and while Glee is ostensibly a comedy, Jones's work has dealt with body-image issues and domestic violence in the past. Now Shannon Beiste will transition to Sheldon, a decision the character announced in the third episode of Glee's final season. TV has begun to embrace trans story lines more aggressively, although more often than not on nontraditional mediums, from Netflix's Orange Is the New Black and the Golden Globe–winning Transparent from Amazon Studios. However, Jones's Beiste is one of the few prime-time, network portrayals in this new era of trans storytelling. After a three-episode absence, Shannon Beiste returns as Sheldon on February 13's episode, which will also feature several other trans characters and actors. Vulture caught up with Jones to talk about what it was like to embody Sheldon for the first time on set, how her denizens of Lima reacted to the news, and what Ryan Murphy show she would love to end up on next.
Did you have any inkling that this would possibly be a story line?
No, I had no idea. I never had an idea that Ryan [Murphy] was going to do this with the character. I didn't know anything until I got the script.
He didn't tell you anything?
He told me he had big plans for my character this season, but he didn't let on as to what. I know Ryan likes to change things up and make it interesting for everybody, but I was totally surprised.
You worked with Ryan before on a trans story line for Pretty/Handsome. What is it like playing trans now in a different political and media environment than it was during that pilot?
I hate that it's become an issue. It should just — I hate the word accepted, nobody should have to accept anybody for who they are. Pretty/Handsome didn't get aired, there were some people who did get it on the web, but as far as going to television, I love that while there's other shows that have transgender men and women on them, Fox is the first network to have it. To have it, and also have the process of the transition.
What was the experience like on set when you did the post-transition scenes?
When we did the makeup test, it was pretty awesome. Melissa Buell, who does my makeup, once she did it, I looked like one of my brothers. On the set, you're walking around and you're so worried about your lines and stuff. You go up and talk to somebody and you forget you're in this makeup. A lot of people didn't recognize me at first. To shoot that episode was amazing. It was overwhelming, it was one of the best days ever.
Did the knowledge of the upcoming transition affect the way you portray Beiste?
This episode is the first episode coming back to the school as Sheldon, that's my new name. Just like Beiste was always trying to be herself in her skin, it's a whole other level for Sheldon to try and be himself in his skin.
How is the reaction from the rest of the characters when Beiste returns?
Positive, definitely overwhelmingly positive. Sue, Jane Lynch''s character, still has some snide comments and remarks, but overall it's amazing. I'm glad they went that route. Everyone's very on my side. That's how it should be in real life, anyway, but unfortunately some people just don't get it.
Have you experienced any negative reactions to the fact that Beiste's transition means we're losing a female character on TV who doesn't conform to gender stereotypes?
The reaction was 99 percent positive. There were a few comments that somebody made like, "I hoped that young girls who saw Beiste — who was a big girl and was okay with it and now she needed to be a man — I hope young girls aren't going to think that they can't be like that because now I'd want to be a man." I don't want them to take that away from this. I take [the role] seriously. I want to do the character with the utmost respect and honesty. I hope it comes across in the next episode.
Do you know the endgame for Sheldon?
No! We're just filming episode 11 now, and we're only doing 13 episodes. I have no idea how it's going to end up. I hope happy!
What's next for you as the series wraps up?
I would give anything to do a sitcom. I'll give anything just to keep working!
Any sitcom on air right now you'd love to be on? We can put it out there to the universe.
I'd love to be on Mike & Molly. I love Melissa [McCarthy], she's incredible. Also, too, Ryan's other show, American Horror Story. I'd love to be on that.
I've always hoped the final episode of Glee will reveal that Glee and American Horror Story are in the same universe.
That sounds awesome! I just want to work with Jessica Lange and Sarah Paulson and Kathy Bates. That would be a dream come true.
A previous version of this post mistakenly stated that this is the first transgender storyline on primetime, network TV.