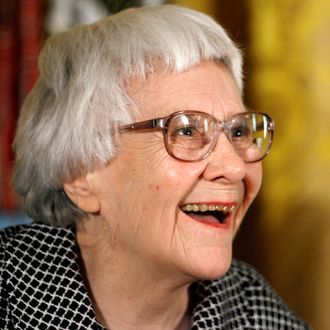 Harper Lee in 2007.
Photo: Chip Somodevilla/Getty Images
After questions about Harper Lee's willingness to publish a second book muddied this week's news of a To Kill a Mockingbird follow-up, the 88-year-old issued a riposte, saying, "I'm alive and kicking and happy as hell with the reactions to [Go Set a] Watchman." According to the New York Times, the statement comes via Harper's lawyer, Tonja Carter, who visited the author at an assisted-living facility in Monroeville, Alabama, on Wednesday. Carter, who has avoided discussing the matter with the media, passed the remarks along to Harper's international literary agent, Andrew Nurnberg.
Despite Lee's purported assurances, some in her hometown are surprised that Watchman is bound for publication. "People knew about the book, but never for sure," said Karen Hare, the owner of a catfish restaurant in Monroeville. "She always said she didn't want anything done until she died."
Nurnberg told the Times the writer was hesitant to publish Watchman but ultimately buckled after reassurance from her inner circle. In another effort to quash speculation that Lee was manipulated, Nurnberg told the Guardian on Thursday that Mockingbird was supposed to be the first in a three-book series. "[Lee and her old agent] discussed publishing Mockingbird first, Watchman last, and a shorter connecting novel between the two," he said. "It would appear she never wrote or finished the middle novel, but it is clear that Lippincott was planning on publishing Watchman." Lee's latest is already scaling best-seller charts and is set for a July release.