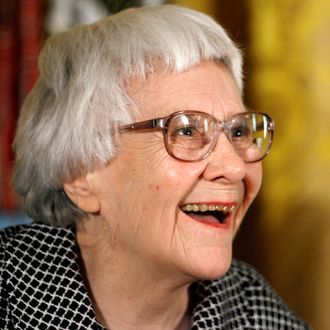 Photo: Chip Somodevilla/Getty Images
Fifty-five years after her first novel, Harper Lee is finally releasing a follow-up: Lee's publisher announced today that it would be releasing a new book by the reclusive author, coming July 14. The book, which was completed in the 1950s, was Lee's attempt at telling the story of the adult Scout Finch; her editor, she said, preferred the flashbacks to Scout's youth, and convinced her to put it on hold to write the book that would become To Kill a Mockingbird. "I hadn't realized [the first book] had survived," Lee said in a statement, "so [I] was surprised and delighted when my dear friend and lawyer Tonja Carter discovered it. After much thought and hesitation, I shared it with a handful of people I trust and was pleased to hear that they considered it worthy of publication." Its title is Go Set a Watchmen, which appears to have narrowly beat out our suggestion, 2 Kill 2 Mockingbirds.
For more on Harper Lee, read Boris Kachka's deep dive into Lee's long retirement in Monroeville, Alabama.