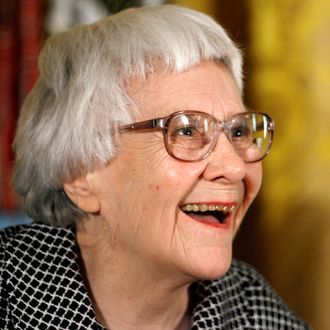 Harper Lee in 2007.
Photo: Chip Somodevilla/Getty Images
In her first extensive interview since Harper Lee's second novel came to light, the author's lawyer, Tonja Carter, refuted claims that Lee has been taken advantage of and told the New York Times how she found the manuscript. "[Lee] is a very strong, independent, and wise woman who should be enjoying the discovery of her long lost novel," Carter said. "Instead, she is having to defend her own credibility and decision making."

Residents of Lee's hometown, Monroeville, Alabama, seem split over whether this is true, with some saying Lee is lucid and others saying the writer is mentally infirm (and easily manipulated). Some question whether the lawyer has Lee's best interests in mind, but one of Lee's friends defended Carter. "Tonja has the full confidence of Nelle," the friend said, using Lee's real first name. "And I can say with confidence that Tonja would not do anything that Nelle would not want her to do."
Carter said she's upset about the negative attention but added that her job is to be a lawyer, not a celebrity. Carter makes it sound like she discovered the Go Set a Watchman manuscript accidentally, while thumbing through an old draft of To Kill a Mockingbird. She reportedly found it doing legal work and then took it to Lee for an explanation. Carter would not identify anyone who took a peek at the manuscript before Lee agreed to publish it. Regardless, Watchman, which follows the Finch family in the 1950s, is due out in July.