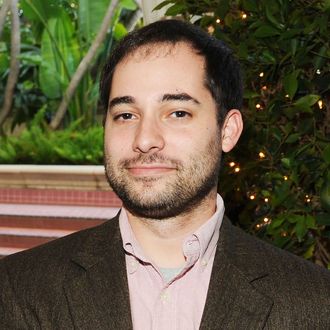 Harris Wittels at the 12th Annual AFI Awards in 2012.
Photo: Frazer Harrison/2012 Getty Images
Parks and Recreation co-executive producer Harris Wittels was found dead at noon today in his L.A. home, Vulture has confirmed. A spokesperson from the Los Angeles Police Department said Wittels's assistant discovered him, and added that the cause of death could have stemmed from a drug overdose. Wittels, 30, had been involved with Parks in various roles since 2009 and also worked on such shows as Eastbound & Down, Secret Girlfriend, and The Sarah Silverman Program.

The multihyphenate was a comedian in his own right, appearing from time to time on IFC's "Comedy Bang Bang" podcast:

He also performed in the self-described "piano-weird-pop" trio Don't Stop or We'll Die, which had a UCB performance scheduled for later this month:
Many will also recognize Wittels for bringing the term humblebrag into the pop-culture lexicon, creating a Twitter account for instances of false modesty, in 2010, and then a book, in 2012. Inside and outside his comedy, Wittels discussed drug use publicly; he was also reportedly in rehab recently. The LAPD said the county coroner's office will investigate further to see if Wittels's death was in fact linked to a drug overdose.

Shortly after TMZ first reported Wittels's death, celebrities and colleagues began penning remembrances via social media:

Parks star Amy Poehler honored her compatriot at a Variety event tonight, saying: "Today, I lost a friend. … I lost a dear, young friend in my life who was struggling with addiction." Poehler was being fêted for her global work with underprivileged children. "I'm sharing it with you because life and death live so close together, and we walk that fine line every day. … I don't really feel like telling any jokes. I'm kind of sad, and it's really great to be here tonight and listen to all of you, and listen to the great work that you do and be reminded why we live in this bizarre planet called 'Hollywood.' … It's very strange."
Parks, which Wittels also appeared in as a Phish-loving animal-control employee, airs its series finale next Tuesday.