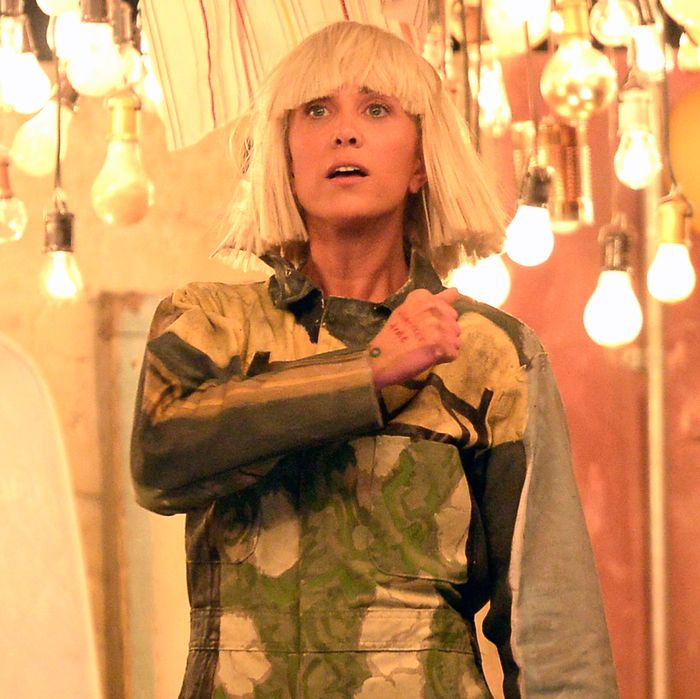 Kristen Wiig.
Photo: Getty
We made it through another almost-four-hour-long Grammy Awards, which have increasingly become a test of how many televised musical performances one person can stand. Turns out, not that many! (Let's take a moment to thank Sam Smith for keeping every one of his acceptance speeches mercifully short.) Below, we revisit the evening's many highs and lows.
HIGHS
Sam Smith and Mary J. Blige, "Stay With Me"
Even on his big night, Sam Smith exudes a shy vulnerability that's hard to resist. You pull for him to get through the songs because he looks like might not. Mary J. Blige, of course, has made a thrilling career out of just barely bringing herself back from the emotional edge. One is sweetly insular, the other fiercely outgoing. Duetting on Smith's "Stay With Me," they complemented each other absolutely, gorgeously, perfectly.
Miranda Lambert, "Little Red Wagon"
Year after year, the Grammys wheel out creaky classic-rock stars in a transparently insecure "This music is still relevant!" move. They did it again this year — AC/DC opened the show — but it was Miranda Lambert who rocked hardest, ripping through "Little Red Wagon." And she got bleeped, too.
Sam Smith's acceptance speech for Best Pop Vocal Album
For being the only acceptance speech we remember happening during this four-hour perform-a-thon.
Ed Sheeran and Electric Light Orchestra, "Mr. Blue Sky" and "Evil Woman"
The only thing cooler than wearing the free guitar strap that Fender includes with every Stratocaster is hauling out ELO to do surprisingly not-bad versions of "Evil Woman" and "Mr. Blue Sky."
Beck and Chris Martin, "Heart Is a Drum"
This was kinda nice.
Hozier and Annie Lennox, "I Put a Spell on You"
On the plus side, Hozier got to play his kinda overwrought blues-folk song on the Grammy telecast. On the downside, his duet partner, Annie Lennox, completely and utterly stole his spotlight. By the time she finished their cover of "I Put a Spell on You," did anyone remember which of these two was the Grammy nominee? Annie was on fire.
Sia and Kristen Wiig, "Chandelier"
Sia can not show us her face as much as she likes if we get Kristen "wigging out in a wig" Wiig.
Kanye West, Rihanna, and Paul McCartney, "FourFiveSeconds"
On the spectrum of Paul McCartney collaborations, this song falls somewhere between "Say Say Say" and that Beach Boys song he chewed carrots on. But on the spectrum of tonight's Grammy performances, it was still good enough not to be a "low."
LOWS
Jessie J and Tom Jones, "You've Lost That Loving Feeling"
"And now, to perform one of the most beloved songs in pop history, Tom Jones — and Jessie J, who has generously composed a brand-new melody just for tonight."
Madonna, "Living for Love"
Madonna has never looked less comfortable in her bionic body than she did here: dressed as a matador, tumbling over minotaurs.
Paul McCartney being shamed into sitting down during ELO's performance
The Paul McCartney that died in 1966 would never have f0lded so easily.
Beck Winning Album of the Year
There's an argument to be made that Beck's lovely, melancholy Morning Phase was an apt Best Album winner for a Grammy Awards that skewed solemn — but it's a dumb argument. Beyoncé got robbed.
Adam Levine and Gwen Stefani, "My Heart Is Open"
Maroon 5's "My Heart Is Open" wasn't up for any big awards. The song wasn't much of a hit. Neither Adam Levine nor his duet partner, Gwen Stefani, have the kind of huge voices that kill at awards shows. So why, exactly, did these two perform that song tonight? Because Sia wrote it? This was a prime example of awards-show bloat. Unnecessary.