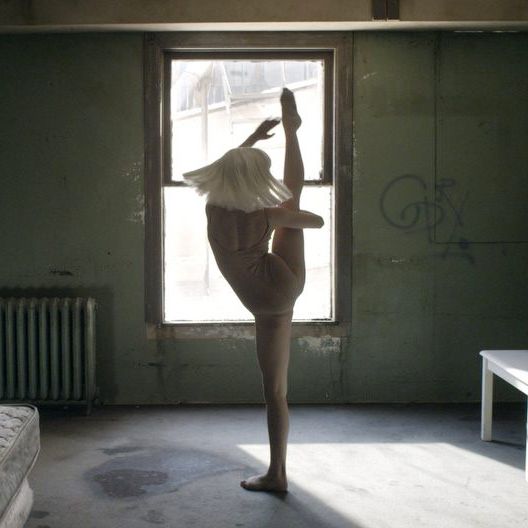 Maddie Ziegler in the "Chandelier" video
Ryan Heffington may be pop artist Sia's secret weapon. The Los Angeles–based choreographer who uses movement vocabulary like "make eyes with mouths" and "brush your mustache" to inspire his dancers is responsible for the inventive dance in Sia's haunting — and viral — "Chandelier" music video. Heffington recently adapted the video's choreography for Sia's Grammy performance with Dance Moms wunderkind Maddie Ziegler and surprise guest Kristen Wiig. He also dreamed up the choreography for Sia's "Elastic Heart" cage-fighting video, which features Shia LaBeouf in a poetic tangle with 12-year-old Ziegler. Heffington took a break from working with rising music star/dancer FKA twigs in London to speak with Vulture about Sia's groundbreaking Grammy performance, why Shia LaBeouf is no pedophile, and if he ever gets to see Sia's face.
How did you come up with the concept for the "Chandelier" video?
Sia had been watching Dance Moms and just one day out of the blue she was cold-set on having Maddie be the talent for it. So she was booked. Sia had the concept in mind and ran it by me, and then she let me run with the choreography in terms of outline and story.
I heard that during the original "Chandelier" video shoot you told Maddie to think of her character as a hoarder. Can you talk about that?
A hoarder's mentality parallels the feeling of being trapped in a space that is not inspiring but you feel still super-strongly connected to. For a couple of the movements, like when she is rubbing her belly, I had her think: You're a hoarder, you're obese, you're lonely …
What are other ways you directed her?
At the time [during the "Chandelier" shoot] she was 11, and some of the concepts were too mature for her. So I would use funny phrases. But then I also would explain her situation or her character's situation and give her background. She's super intelligent and really good at mimicking, so sometimes I would do it for her and ask her to do exactly the same movement. She nailed it every time — she's incredible that way.
Your "Chandelier" music-video choreography was adapted for Sia's Grammy performance. Can you tell me more about how that came together?
I've been really fortunate that I've been able to run with our original theme thanks to Sia, and we can just enhance it and create different takes on it. It was awesome to re-create it with Kristen [Wiig] and Maddie.
How did Kristen Wiig get involved?
She told a friend who is friends with Sia that if she ever needed a dancer that she would love to do it — she was really inspired by Sia's album — and so Sia was like, "Well, do you want to do the Grammys?" And she said yes.
What was it like working with Kristen Wiig?
What I loved about her was that she was so dedicated and she really wanted to do the absolute best job ever. She's really eager to rehearse and eager to get everything right. She took direction so well. It was just nice to have her express herself through dance. She was very connected to her body — physically and emotionally. I thought she was incredible.
There's so much intelligence, as well as wit and humor, in your Grammy choreography. Did you guys ever just crack up during rehearsal?
We laugh all the time. It's a job, but I'm there to have fun while I work, and Kristen's hilarious, so it was a magic gig. Everyone was having fun. Maddie had a great time. We were just playing a lot. We became really close.
Some people say that the Sia performance saved the Grammys. What are your thoughts on that?
We offered something that stood out because of its content and narrative and artistic choices. We've seen a lot of performers with backup dancers, fancy lighting, costumes, sex appeal for many, many decades, and Sia has really made a strong statement with her artistry and how she wants to portray herself and her art. It hasn't been done like this before. I don't know if it saved the Grammys, but it definitely gave something new to the Grammys.
Can you talk about the decision to have Sia facing the wall?
She's made the decision not to show her face for this album — she doesn't want to be famous in that way.
Have you had discussions about that?
Yeah, it's her choice. So that's that.
It's interesting that Maddie Ziegler's "Chandelier" character has reappeared in Sia's SNL performance, the "Elastic Heart" video, etc. — how would you describe the character?
Her character is very complex and mature and at the same time childlike, confused, angry, carefree. For that character I pulled from many different strong human traits and emotional qualities.
What was it like working with Shia LaBeouf for Sia's "Elastic Heart" music video?
I love Shia. He's such a dedicated artist, very passionate, super kind. He's eager to do the best job that he can do. I can throw anything at him and he'll try it, and he'll give me his opinion, which I always love. He's absolutely delightful.
The "Elastic Heart" music video also caused some controversy. Some people thought there was a theme of pedophilia; can you talk a bit about that?
No — these people are delusional.
What has it been like to be a part of this hugely successful creative team that Sia has created?
It's been a dream to work with someone who is so free and smart, someone who is challenging media and music. It's been a thrill to be a part of that team. It's been a thrill to be respected by someone I respect so highly. It's been a really incredible journey and relationship.
So does Sia let you see her face when you talk to her?
Oh yeah, yeah. She's really fun.