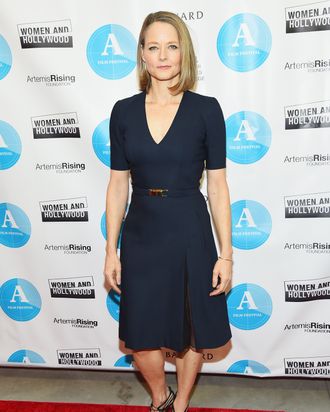 Photo: Michael Loccisano/Getty Images
As an Oscar-winning actress and acclaimed director, Jodie Foster is no stranger to breaking proverbial glass ceilings in Tinseltown. Slated as the head honcho for big-budget flicks like the forthcoming Money Monster and having directed several episodes of the critically acclaimed Orange Is the New Black, the seemingly diminutive Foster has bucked the status quo.
We caught up with Foster at the fifth Annual Athena Film Festival last night in New York City, which was founded to celebrate female leadership in the entertainment industry, including film. Before accepting her lifetime achievement award from the organization, in front of a predominately female audience on the campus of the all-female Barnard College, Foster explained how the sweet old fatherlike figures at the now nearly defunct Orion Pictures green-lit her directorial debut.
"I will say that directing my first movie [Little Man Tate] was a pretty big moment for me, and it was because of a few wonderful supportive old men. The Orion Pictures guys … we'd call them the old men. They sat down with me and said, 'I believe in you,' and that's how it all started. One of them being Eric Pleskow, when I presented him with the pitch for my first movie, he said to me, 'Don't even pitch me anything, chances are your movie isn't going to make any money, but I want to make your second movie, your third movie, and your fourth movie, and this is the beginning of a long-standing relationship.' These men felt like fathers to me, and they helped usher me in as a director," Foster noted.
But feminists need not fret — Foster also stressed the importance of staying true to your own vision as a woman. "I think there's a lot of temptation to cast aside your voice and signature as women and try to be like every other guy out there, and make movies in a man's voice. But I think, as a director, I'd give the same advice I'd give a female actor: Just be true to yourself and try to know who you are. And when you make decisions, the only one you really need to make is, Is this real or is it not?
The Athena Film Festival, presented by Barnard College's Athena Center for Leadership Studies, will take place on Barnard's campus through February 8.