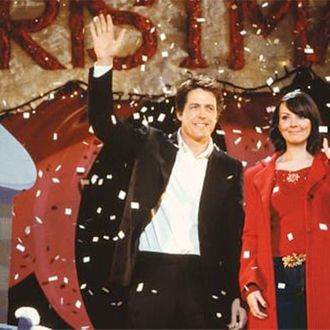 Hugh Grant in Love Actually.
You may recall an online debate, prompted by a scathing tenth-anniversary review in The Atlantic, that posited Love Actually is not only the least romantic movie ever — but actively anti-romantic. Harsh. Hugh Grant responded Tuesday to the criticism of the ultimate holiday indulgence at the screening of his latest quasi-rom-com, The Rewrite, hosted by the Cinema Society and Brooks Brothers. "Well, interesting theory," Grant told Vulture. "I don't think it's fake, because Richard Curtis, who wrote it, is a man [who] has suffered more in love than any other human being I've ever met. So he does care about love; it's the thing that has dictated his whole life. So I think he did write it from the heart."
And what about the shallow story line of his character, the British prime minister, who presumably falls in love with his staff member upon first glance? "I don't know," he said. "I haven't seen the film for 12 years, so it's a really tough question." While you've been obsessing over these fictional romances every Christmas season, apparently Grant has moved on.