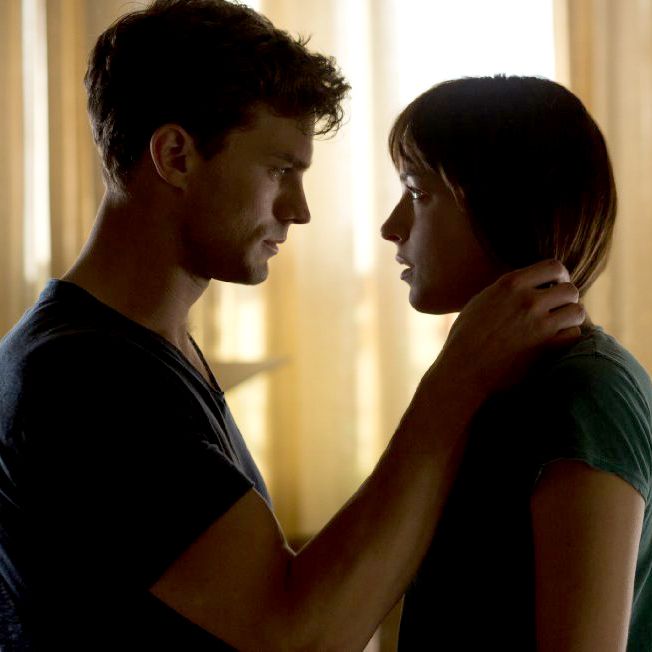 Jamie Dornan (left) and Dakota Johnson in Fifty Shades of Grey.
Photo: Focus Features
The first rule of online publishing: If something works, keep doing it until it doesn't. And so, when my Gone Girl first date went off without either of us slitting the other's throat mid-coitus, my editor decided to raise the stakes and send me to another movie, one that he figured would be even more embarrassing to sit through with a stranger: the erotic hit of the season, Fifty Shades of Grey.
This time, my date found me. Lia (not her real name) messaged me after we matched on Hinge. She'd read the Gone Girl post, and, coincidentally enough, had also seen the movie on an early internet date. A willingness to endure potentially awkward movie screenings was the chief — probably the only — criterion I had for my plus one, so I asked her if she wanted to be my official Fifty Shades date. She said yes, with a shruggie emoticon — no contract needed.
When we met up for a quick drink beforehand, Lia confessed she wasn't really looking forward to the movie. In fact, she was dreading it. She'd read The Atlantic story about the BDSM community's objections to Fifty Shades, and was worried she was in for two hours of artfully lit emotional abuse. Still, she was trying to be game. "I'm just going to keep my expectations at the absolute lowest," she said, "and then maybe it will be okay."
We made our way over to the movie theater in Battery Park City, a planned community full of expensive, anodyne high-rises — the kind of place where Christian Grey might stay, if he lived on the East Coast. The entrance to the theater took us through an opulent corporate atrium, and for a second it seemed like the screening might be packed with Wall Street dudes taking their secret girlfriends out for a special night on the town. (It was, after all, the night before Mistress Day.) But no — if you're wondering who goes to a deserted neighborhood to see Fifty Shades of Grey at 8 p.m. on a Thursday, the answer seems to be: people who procrastinated until everywhere else was sold out. The crowd was probably 80 percent women, and they came ready to party. From the moment the Magic Mike XXL trailer began, it was clear that this would not be a movie where Lia and I would have to sit in respectful silence. It was like being at a sleepover, only instead of being brought together by algebra class, we and our dozens of new friends were united only in hunger for some nasty, R-rated romance.
Thankfully, the movie delivered. Dakota Johnson was surprisingly hilarious, and I enjoyed the way Jamie Dornan played Christian Grey like a sulky 14-year-old surfer. For most of the film, I was hoping these two crazy kids would be able to make it work. Given equal footing, like the scene where they hammered out the details on their sex contract, they seemed good together. And then, once it became clear that BDSM just wasn't Anastasia Steele's thing, I was rooting just as hard for them to split up. (I am a fickle 'shipper.) "Sure, you like each other, but you have nothing in common," I wanted to shout at the screen. "Just break up!" That's the sort of sentence that doesn't really lend itself to movie theaters, though, so mostly I just gasped and laughed whenever it was appropriate, which was always.
And, thankfully, the experience was a lot less mortifying than I feared. Fifty Shades is pitched at such a unique wavelength — self-aware, high-gloss smut — that it was almost impossible to be embarrassed by it. Sure, the movie was full of naked people, but they weren't naked naked; they were naked the way people in Vogue are naked. The audience probably helped, too. Just like Rocky Horror, there's a "we're all watching this dumb thing together" vibe to Fifty Shades screenings. Even during the awkward silences, someone's trying to stifle an errant giggle.
Lia was not shy about disguising her hatred of the film. She was not into Jamie Dornan at all and found his attempts at seduction laughable. When Ana and Christian were talking dirty over email (sans voice-over), she literally elbowed me in the ribs: "At least it's not his stupid voice this time."
After 100 minutes of tasteful nudity and high-pitched crooning, we were discharged into the night. The wind was coming in strong from the river, and both of us nearly got blown over while waiting for the light to change on the West Side Highway. We talked about the sex scenes (acceptably hot) and how we should feel about Christian Grey's implied history as a victim of sex abuse (uncomfortable). We were wandering, and it was way too cold for that, so we stopped into a mock English pub located next to a strip club. Over a mug of beer, Lia told me she was glad Anastasia never signed Christian's contract.
"If she would have signed it," she said, "it would have sort of signaled that everything that happened to her afterwards was okay, when obviously it wasn't."
She elaborated: "There's this idea that 'consent' should be the be-all and end-all of any sexual interaction. Like, if you've got consent, you're good to go. And don't get me wrong — it's a good baseline. But even with consent, things are going to go wrong, and people are going to get hurt. That can't be the only thing you think about."
Maybe because it was a first date — or maybe because we both knew I was going to be writing about it — our conversation stayed on this conceptual level all night. We never got too deep into the specifics of our respective sexual histories, or of our darkest fantasies. (And if you were hoping to read about those, why are you on Vulture?) I think a lot of couples who go see Fifty Shades are going to have the same reaction. The actors are attractive, the sex is hot, but the movie's not an aphrodisiac, not really. Still, though, we were both able to have one night of open and honest conversation that went deeper than the usual first-date chit-chat.
And we didn't even have to go to a Red Room to get there.