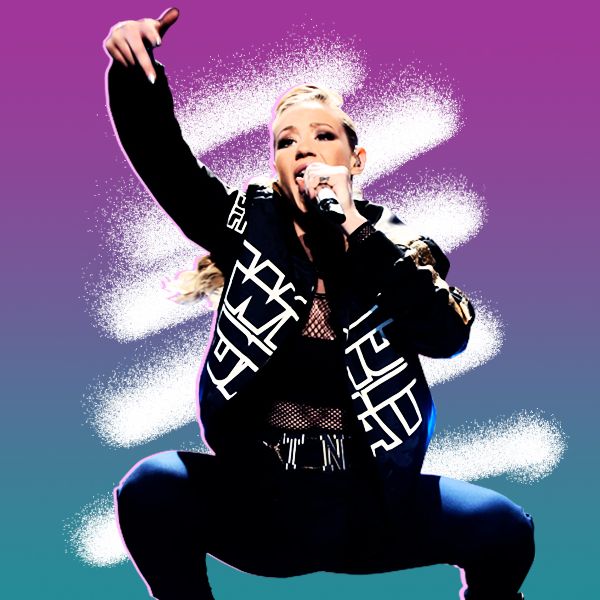 Iggy Azalea.
Photo: Maya Robinson and Photo by Taylor Hill/Getty Images for iHeartMedia
In Iggy Azalea's short career, the Australian rapper has been no stranger to controversy, particularly of the racial-appropriation sort. Prior to the Grammys, we ran through her past dust-ups (many of them with Azealia Banks). Below is an updated timeline. (Warning: There are a lot of tweets from a variety of people that we quote directly, so be prepared for a lot of spelling and grammatical mistakes.)
September 9, 2011: Iggy releases a video for her song "D.R.U.G.S.," where she says the line, "When the relay starts, I'm a runaway slave … Master, hitting on the past gotta spit it like a pastor." Rapping over the beat to Kendrick Lamar's "Look Out for Detox," it's an allusion to the line where the L.A. rapper says, "When the relay starts, I'm a runaway slave." Her debut mixtape, Ignorant Art, is released days later.
September 19, 2011: DJ Lissa Monet calls Iggy and Azealia Banks "my new girl crushes" on Twitter.  Azealia responds, "
October 19, 2011: In a number of interviews, Iggy says getting booed offstage at New York's Canal Room is the impetus for her career. She says she wants to prove people (or at least that person) wrong. On Twitter, she says, "It was kinda awkward cause this girl stood in the front row my entire set screaming 'your pussy suckssss!!!' ! Lol #whyyoumad." Curiously, video from that night shows a warm crowd; one person does boo her, at the 6:26 mark. It's a man.
October 19, 2011: Azealia Banks tweets, "how sexy is iggy azalea?? it's kind of ridiculous … *tugs collar to let out steam*" So, seemingly, there's no problem here. (This post — like all of Banks's early tweets — was later deleted. Evidence can be found fairly easily on the site Topsy.com. It's just not possible to link to it.)
October 20, 2011: Azealia Banks tweets, "once wrote a song called 'Barbie Shit,' but nicki minaj blew up like the week after so i took it down, lololz. i felt corny. Also wrote a song called P-U-$-$-Y before Iggy Azalea." Iggy writes a subtweet: "its NEVER been about who did it first… its ALWAYS been about who did it better." Banks, uncharacteristically, doesn't engage in the scrap, retweeting Iggy's insult and writing back: "i know right?? lmfaooo. haha."
A year later, Iggy will misremember (or misrepresent) Banks's run of tweets as, "'I'm next level, I had a song about being a Barbie before Nicki Minaj had a song about being a Barbie. Here's the link to my song. And fuck Iggy Azalea, I had a song called 'Pussy' before she ever did. Here's a link to my song. It's better." So there you go, that's the start of the beef. It doesn't matter that a day earlier the Harlem rapper was in love with Iggy, nor that she never says, "fuck Iggy Azalea," or anything like it.
October 21, 2011: Azealia Banks posts to Twitter: "I smell beef."
December 2, 2011: Someone tweets, "Iggy Azealia Banks iz weird." Banks responds, "We're two COMPLETELY different people hun. :-\" Iggy doesn't respond. (Iggy has never said Azealia's name on Twitter.)
December 9, 2011: Iggy announces her forthcoming album title will be The New Classic, which is a fairly deliberate troll.
December 19, 2011: A$AP Rocky and Iggy Azalea are spotted in public, holding hands. Azealia Banks grew up with Rocky and his friends in Harlem; this is seen as a further dividing point.
January 13, 2012: Iggy is asked about reports of problems with her and Azealia Banks: "I have no deal with her. I don't know her personally. I said it about Kreayshawn, too. If I don't know you personally, how could I have a problem with you? What would I have a problem about? I don't know that person … I don't know you. I truly don't understand it. I just keep making my own music, and I'm deaf to that. What is there to say? Nothing." Interestingly, Kreayshawn never said anything negative about Iggy, though the Australian rapper sometimes made, responded to, and retweeted statements that could be viewed as such.
January 17, 2012: Azealia Banks tweets, "Iggy Azalea's hair looks really great in her new video. How long do you all reckon that hair is? 40" in?" (Though this tweet is later deleted — all of Azealia's early tweets are — a response remains.) If there is beef, it's pretty one-sided.
January 18, 2012: Azealia Banks reportedly signs to Universal.
January 27, 2012: Iggy announces that she's now signed to Interscope. "I'm super happy about it," Iggy Azalea tells Billboard. She says other labels — specifically Def Jam — would've made her their "guinea pig." She tweets, "Get used to me + jimmy [Iovine] smashing shit, cause thats the plan." She says Iovine called her "the new Tupac." It should be noted: Interscope Records is owned by Universal. This is where everything starts going really sour.
January 31, 2012: "You can never be a young BLACK girl enjoying her life and having fun. There's always some shady, dishonest cracker looking to assassinate your character. No offense to anyone." —Azealia Banks, on Twitter.
January 31, 2012: "Ok. i apologize to anyone who was offended by that tweet. I shouldn't generalize my personal issues. forgive me." —Azealia Banks,  on Twitter. She then asks, "Why am i being criminalized for being myself?"
February 7, 2012: Iggy tweets, "im managed and signed to Interscope." (This'll come up later.)
February 28, 2012: Iggy winds up on the cover of XXL magazine, alongside French Montana, Macklemore, Future, and others for its Freshman List. She's the first female to grace the annual issue. Congrats! But Azealia thinks otherwise: "Iggy Azalea on the XXL freshman list is all wrong. How can you endorse a white woman who called herself a 'runaway slave master'? Sorry guys, I'm pro black girl. I'm not anti white girl, but I'm also not here for any1 outside of my culture trying to trivialize very serious aspects of it." (Iggy then tweets: "You can't block my blessings! Today I'm celebrating! Get with it or kick rocks!")
March 2, 2012: Azealia Banks announces she's being housed under Interscope/Polydor, the same record label as Iggy Azalea.
March 10, 2012: Iggy is joined by her new boss TI on DJ Drama's radio show in Atlanta when she's asked about Azealia's reaction to the XXL cover: "This is my day and it's my achievement. You have to work to have your own achievements, with all due respect." TI piles on, saying maybe Azealia could get her album shelved with the hopes of being a Freshman again.
March 11, 2012: Azealia heads off to war with TI.
March 12, 2012: Iggy writes an open letter to MissJia addressing the offensive "runaway slave-master" lines: "It was a tacky and careless thing to say and if you are offended, I am sorry. Sometimes we get so caught up in our art and creating or trying to push boundaries, we don't stop to think how others may be hurt by it. In this situation, I am guilty of doing that and I regret not thinking things through more." She goes on to explain she doesn't hate any race of people. The full letter is here. She signs it as "Iggamonster."
March 25, 2012: Azealia Banks releases "Fuck Up the Fun," largely seen as a dis track against Iggy (because of the lines "Like come on, ya'll bitches is still on Myspace and YouTube tryna get ya'll little video views up to a million. Like come on, ya'll bitches ain't fucking with me").
March 27, 2012: Rocky defends Iggy against Azealia, whom he's known since his Harlem days: "They got to cut it out. That's some bullshit. Iggy is not racist. Trust me. Trust me. That's petty for Azealia because … don't pick on her (Iggy) 'cause she white. That's a low blow."
May 18, 2012: There are reports that Iggy got dropped by Interscope, but Iggy says she wasn't dropped because she was never actually on Interscope. She was simply managed by them, and when TI got involved in her career, contracts started changing … or something. (Refer to what she tweeted on February 7.) The prevailing rumor is that Azealia Banks got her dropped from the label. So, now Iggy's signed to TI's Grand Hustle but doesn't have a distribution channel.
April 23, 2013: Iggy tweets, "Hey world. I signed to island def jam. Iam now mercury UK/ island def jam USA awesome!!!! No. That doesn't mean I'm no in hustle gang. Save it. Still in it. Still on the hustle gang album. Friendship doesn't require contracts. If this confuses you, you are welcome to read the press release on billboard later today. ?" Remember all that stuff about how she didn't want to be the guinea pig at Def Jam? Forget it.
June 18, 2013: Sway Calloway puts Iggy on the spot, asking her if everything on her body is real. She says, "Yes, [my] eyelashes are real." So, too, is her butt: "I've heard a bunch of crazy things: that it's my underpants. I heard I have implants, I hear all kinds of crazy stuff. It's my flesh. It's my butt."
Weirdly persistent, Sway then asks her to freestyle. Totally unprepared, she and T.I. try to stall as long as they can, but the radio jock is unrelenting. After several weird minutes, Iggy finally spits a few mangled bars from her unreleased song, "New Bitch."
June 2013: As she gets more well-known, people begin to go through Iggy's tweets from 2010 through 2012 and find some regrettable things said. Things like "Just saw 5 black men get arrested out the front of popeyes #damn #stereotypes" and "Is it wrong I feel happy to hear southern accents again & not mexican ones? Fuck it. Iam." As of February 2015, a post showing seven such tweets has 129,887 notes on Tumblr. (Iggy calls it "unfair," saying that she was once able to "joke" on Twitter but — because of celebrity and outrage culture — that's out of the question in 2013.)
June 20, 2013: Iggy is asked whether she'll return to "ratchet, twerking music," and she's noncommital: "I am going to go back but I need to show that I do other things so that I can get booked on TV. I can't get booked on TV doing twerk music because they don't want to see butt cheeks alternate on Saturday Night Live."
September 13, 2013: Iggy lands the cover of Complex, where she's asked about using a "black" voice. Her answer is … well: "If you're mad about it and you're a black person then start a rap career and give it a go, too. I'm not taking anyone's spot, so make yourself a mixtape. Or maybe if you're black, start singing like a country singer and be a white person. I don't know. Why is it such a big deal?"
April 21, 2014: Iggy's album, The New Classic, finally comes out on Def Jam. The fourth, fifth, and sixth singles — "Fancy," "Black Widow," and "Beg for It" — become hits at radio.
May 15, 2014: Tyler the Creator is on 106 & Park when asked which female artists he'd sleep with. Perhaps Iggy? He grimaces: "She stinks. She got shots in her thump. I want real booty. You feel me?" (Iggy calls him "rude" and "immature." After her boyfriend Nick Young chimes in, Tyler apologizes.)
June 6, 2014: Iggy is said to have criticized Lorde, but it's immediately seen as an overreaction. Lorde forgives Iggy; Iggy chastises the press.
May 26, 2014: "How can you be from another country and rap like you're from Memphis, TN?" —K Michelle, Twitter.
June 29, 2014: Nicki Minaj accepts the award for Best Female Artist at the BET Awards. She says, "What I want the world to know about Nicki Minaj is when you hear Nicki Minaj spit, Nicki Minaj wrote it." It's pretty obvious that this is a dig at Iggy — who has been battling rumors of ghostwriters for a while — but a few days later, Nicki claims that the media is "putting words in my mouth."
July 3, 2014: Iggy takes to Instagram, where — days later — commenters continue to bring up the BET Awards. "I have to say the general explosion of pettiness online in the last few days is hard to ignore and honestly … lame." She says it wasn't her year, she tells everyone to "let it go."
July 2014: Madd Mary's dis — "Eff Iggy" — goes viral. It includes the line, "You just too damn afraid to engage in intelligent conversation about misappropriation of hip-hop."
July 10, 2014: Public Enemy's Chuck D, after seeing an alleged tweet of Iggy's, picturing her with Drake, B.O.B., and TI, captioned, "Me And Ma Nigga's, tweets, "a new straight path to slavery Here comes a endorsed sanctioned CORPlantation artist with A line straight out of 1853." When it becomes clear that Iggy never actually tweeted that, Chuck D says it doesn't matter: "True or not the IGGY thing is a reality when you call yourself with the slaveass term that was branded on skin & today marketed, sht happens."
September 24, 2014: Rah Digga says in an interview, "Don't come to America and try to convince me that you're Gangsta Boo … Personally, I don't consider [Iggy] Hip Hop. I listen to her album. Everything that I hear on there is everything but that. And I feel like Hip Hop is Hip Hop." Iggy responds with a subtweet: "I honestly don't really mind if I'm described as rap or pop. My passion is purely making music and entertaining."
October 12, 2014: Snoop Dogg posts a picture of an albino woman on Instagram. "Iggy Azalea No Make Up," says the caption. (He didn't create it, he just reposted the picture.) BuzzFeed has a rundown of the events: She responds on Twitter, accusing him of acting one way in person and another way online. And then he posts a bunch of pictures of White Chicks and vague pimpish threats, and then she posts a bunch of things — including a picture of Snoop as "your drug addict aunt [after getting] clean" — and it's all stupid until TI gets on the phone with Snoop.
October 14, 2014: Iggy is followed by a couple of paparazzi into a grocery store in L.A. and gets annoyed. Her friend spits on the photographer. When he complains about getting AIDS or Ebola from the errant spit fling, Iggy says, "Okay, I hope you have Ebola. I hope you die. You're a fucking cunt." And then she tries to ram him with a shopping cart.
October 15, 2014: After three days, the long national nightmare is over: Snoop apologizes to TI.
October 27, 2014: While walking through LAX, Snoop is asked if he'd ever work with Iggy, now that the beef is over. He sings the hook to Big Sean's "IDFWU." So, no. Probably not.
October 31, 2014: Iggy and a friend dress up as White Chicks for Halloween!
November 18, 2014: Eminem stupidly does his stupid Eminem thing and makes jokes about raping Iggy on a new song, "Vegas." Iggy tweets, "im bored of the old men threatening young women as entertainment trend and much more interested in the young women getting $ trend. zzzz."
December 3, 2014: In the wake of protests in Ferguson, New York, D.C., and basically everywhere in America, with many rappers and members of the hip-hop community speaking their support, Iggy is notably absent. Azealia Banks puts it out there: "its funny to see people Like Igloo Australia silent when these things happen… Black Culture is cool, but black issues sure aren't huh?" She also demands that people stop comparing Nicki Minaj and Iggy, as it's belittling and degrading. (Iggy responds: "we've all read the script 49584068408540 billion times now, find a new game plan.")
December 5, 2014: The Grammy nominations are announced. Iggy is nominated for Record of the Year, Best New Artist, Best Pop/Duo Performance, and Best Rap Album.
December 18, 2014: Azealia Banks is on with Hot 97's "Ebro in the Morning", where she's (understandably) emotional about race relations in America; she feels blacks are being "erased" and "smudged [out]" from their own culture by interlopers such as Iggy and Macklemore (whom she feels are in no way better than any black kid trying to make music today). The interview is smart, candid, and fascinating, and — of course — Iggy is brought up repeatedly.
December 19, 2014: Iggy gets on Twitter and calls Banks "poisonous," and a "bigot" who lacks the "mental capacity" to realize her situation. Adding that Banks's lack of success is because of her "piss-poor attitude," not because she's black. But Iggy implores her to "Make it racial! make it political! Make it whatever but I guarantee it won't make you likable & THATS why ur crying on the radio."
December 20, 2014: Busy day! First, Q-Tip decides to educate Iggy on hip-hop history and what he believes is the importance of sociopolitical messages in hip-hop. TI would later join in to bridge the gap and show that Q-Tip was coming from a helpful place. (Azealia, seeing TI come once again to Iggy's defense, called him "indoctrinated and conditioned.")
At the very same moment, the hacker group Anonymous threatens Iggy: "You are guilty of misappropriating black culture, insulting peaceful protesters, and making light of Eric Garner's death," saying if she didn't apologize for these actions, a cache of her nudes would be leaked. The Anonymous account is suspended quickly.
December 21, 2014: Lupe Fiasco and will.i.am jump into the fray, letting Iggy know they support her. Iggy thanks them and says, "i find it patronizing to assume i have no knowledge of something I'm influenced by, but I've also grown up with strangers assuming that."
December 22, 2014: Iggy is in full taking-on-haters mode, tweeting, "how you feel about me blending musical genres together doesn't bother me, no one is making you support or buy pop rap albums."
December 29, 2014: Remember how in 2013, Iggy was forced to freestyle on "Sway in the Morning," something she was completely unprepared for? A year and a half later, video of it goes viral. There are Vines, there are tweets. Jezebel has a pretty good collection.
Macklemore goes on "Ebro in the Morning" to have a frank conversation about race and hip-hop. He doesn't address Iggy directly, but he says, "To me what it comes down is you need to know your place in your culture. Are you contributing or are you taking? Are you using it for your own advantage or are you contributing to the culture?"
January 8, 2015: In an interview with Vanity Fair, Iggy addresses the scrutiny by saying, "Well, they don't say that stuff about Macklemore," adding, "Yes, I think it has 100,000 percent to do with the fact that I have a vagina."
January 9, 2015: Kendrick defends Iggy pretty softly in the pages of Billboard: "She's doing her thing," he says. "Let her. People have to go through trials and tribulations to get where they at. Do your thing, continue to rock it, because obviously God wants you here."
January 23, 2015: Iggy does an interview with GQ where she says a bunch of regrettable things, like, "At the very worst, if I have a short-lived career, at least I could say I sparked a change — that I inspired some leniency in what people accept in hip-hop. And if I have a very long career and can be gyrating in a leotard at 35, that would be great." She's asked how she deals with criticism: "Uh, awards season helps. Anytime where people get to choose who they want to have a voice and they choose me, I just think that makes it worth it. And that gives me the patience to just bite my tongue. When people choose me as the person they think should be speaking for them, I think, Well, I don't really care what someone in the industry or another artist has to say about it. Your opinion is biased anyway, because you want people to listen to your voice. So having actual people who choose me, it makes me think, I have a place, and I don't care what other people have to say about it. I was a fan of rap music growing up, and I didn't feel like there were enough characters that represented me and my situation. So I think it's needed."
Jill Scott and Eve discuss Iggy on "Sway in the Morning." They mostly support her, with Eve saying, "Let her do her thing. It's not my cup of tea but she's representing for somebody. She's doing her thing. What are you gonna do?" But, Scott does criticize her "blaccent." Iggy responds with a string of tweets, saying, "I'm myself."
January 30, 2015: On the same day that she angrily tweets about some unapproved Steve Madden pictures, TI tells Iggy (via TMZ) to "stop responding to the haters" on Twitter.
February 8, 2015: Iggy is held without a win at the Grammys, and — even worse — her Papa John's deliveryman gives her private cell-phone number out to his family members. Iggy begins calling out the pizza chain on Twitter, and when the brand responds with insufficient seriousness, she threatens legal action: "I don't think data breach is funny. I expect you to contact me to explain how you are going to rectify your breach of my personal information in a satisfactory and professional way or lawsuit will be filed."
February 18, 2015: After returning from a vacation to paparazzi photos criticizing her body, Iggy announces she's "taking some time away from social media." "I need to be happy and it is too negative and draining," she explains. Iggy says her management team will now update all of her social-media accounts.