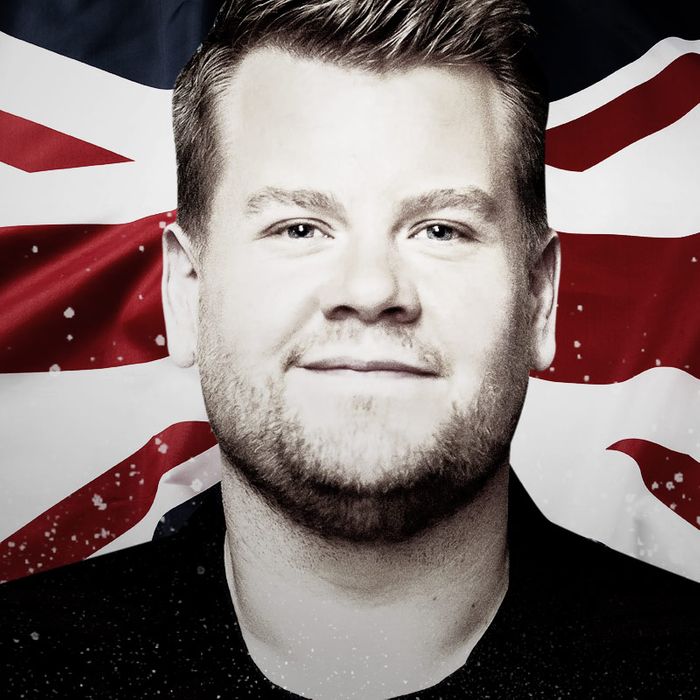 Photo: Kelly Chiello and Photos by Getty Images
Tonight James Corden will begin his run as the host of The Late Late Show, news that has been greeted with a resounding "Who's James Corden?" Many attempts to answer this question include some sort of explanatory note that Corden is famous in his native Britain. What we're trying to answer today is: Just how famous?
The question is trickier than it seems, thanks to Britain's unique relationship to its celebrities. I'm not the first to suggest that C-list celebrities are the last vestige of British manufacturing, but it does feel like the U.K. simply has more famous people than the U.S. does. From my vantage point, their monoculture hasn't quite died off the way it has in the States — everyone from the queen on down is anxiously following the exploits of a couple hundred self-tanning enthusiasts, all of whom are simultaneously starring on TOWIE, appearing on The X Factor, and getting divorced from a footballer. All of these people have only one name, and all of them are on the cover of The Sun this week.
Corden seems to be a level or two above these people. A quick C.V.: He first rose to prominence as an actor on shows like Boyz Unlimited and Fat Friends, before breaking out as the creator and co-star of Gavin & Stacey, a very sweet TV rom-com that ran for three very successful seasons from 2007 to 2010. (It had 20 episodes total, because Britain.) From there, Corden entered a period of total ubiquity, launching a sketch comedy show and a sports panel show and hosting the Brit Awards three times. After a few critically panned projects, the backlash was swift — read this interview from its peak — and Corden has spent the past few years trying to pull himself back to respectability. It's generally worked: He was nominated for an Olivier Award for his turn in One Man, Two Guvnors, created the critically acclaimed spy-comedy The Wrong Mans, and was just awarded an O.B.E. Throughout all this, he's remained a panel-show regular, a class of celebrity that doesn't really exist in America. (The best comparison is probably "a more intellectual version of the talking heads on Best Week Ever.")
However, a few haters remain. One of them is my cousin Heather. "He's obnoxiously famous," she said, when I polled a bunch of British relatives about Corden's fame level. Our cousin Finlay agreed: "I would expect anyone I had a conversation with to, at the very least, be aware of who he is, and at worst, know him as 'the fat bloke from Gavin & Stacey.'" Cousin Rose decided to bring math into it. "If David Beckham is 100 percent famous," she reasoned, "James Corden is 70 percent famous." Rose's mum, my aunt Clare, was the only dissenter. "I have no idea who he is," she wrote. Then two minutes later: "I have now been shown an image, and he does look familiar."
To get an opinion from a Briton who didn't share my genes, I turned to Twitter friend and pop-culture expert Jonno English. "James Corden is solid B-list," he said. "He's the non-threatening guy loved by your mom, who hosts seemingly every awards show."
That gave me some solid ideas for U.S. analogues. I threw them out to Jonno, and he concurred. Taking into account his supporting role in a beloved sitcom, his love of musical theater, and his multiple hosting gigs, I've come to the conclusion that James Corden is roughly as famous in Britain as Neil Patrick Harris is in America, if Neil Patrick Harris were slightly more hated. Next up on How Famous Are They in Britain?: Rita Ora! (Who?)