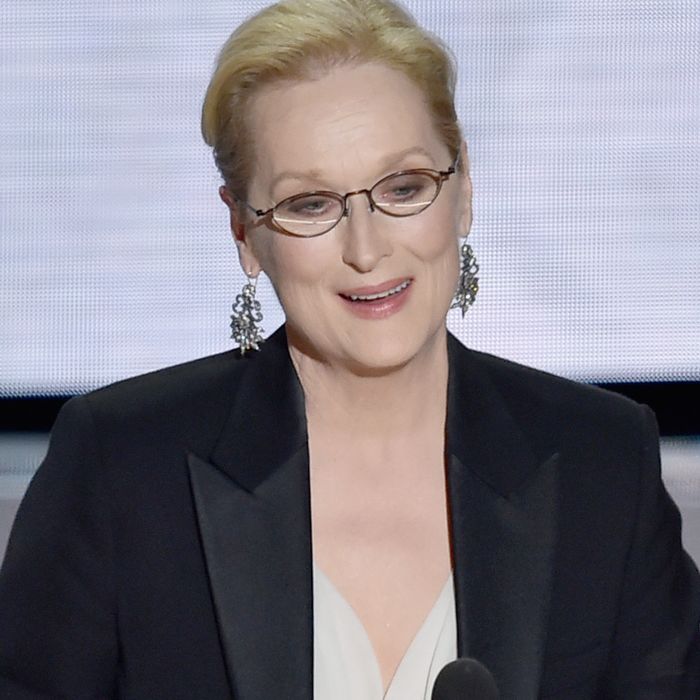 Meryl Streep introduces the In Memoriam segment at the 2015 Oscars.
Every year, the Academy honors dozens of departed in the Oscars' "In Memoriam" segment. And every year, they manage to leave people out. Sometimes it's a timing issue, sometimes it's an indication that an actor was primarily known for TV work, and sometimes it's just an oversight. Here are the biggest stars left out of this year's montage — please add any names we may have missed in the comments section.
Joan Rivers
Rivers was never nominated for an Academy Award, but she was an inescapable part of Oscars night for almost two decades. Rivers began hosting E!'s Oscars red-carpet special in 1995, and arguably did more to influence the preshow spectacle than anyone else. Besides her work in television and standup comedy, Rivers appeared in a handful of films over the course of her career, most notably Spaceballs and The Muppets Take Manhattan.
UPDATE: The Academy addressed the Rivers snub in a statement: "Joan Rivers is among the many worthy artists and filmmakers we were unfortunately unable to feature in the In Memoriam segment of this year's Oscar show. She is, however, included in our In Memoriam gallery on Oscar.com." 
Elaine Stritch
Like Rivers, the acerbic Stritch was known better for playing herself than anyone else, but she had a solid sideline in films over the course of her 60-year career, including supporting roles in A Farewell to Arms, Providence, and September. To add insult to injury, Elaine Stritch: Shoot Me was also snubbed in the Best Documentary category.
Richard Kiel
The 7-foot-2 Kiel barely spoke in most of his roles, but he was a welcome, hulking presence in films as diverse as Moonraker, Happy Gilmore, and Eegah. His snub only confirmed that henchmen are the least-respected guys in the business.
Gottfried John
John was a familiar face for Bond fans, too — he played Ourumov in GoldenEye — but the German actor was also a part of Rainer Warner Fassbinder's stable of repertory players.
Taylor Negron
A prolific character actor, Negron made the most out of roles that, in other hands, would be simple throwaway parts. He should have been included for the pizza scene in Ridgemont High alone.
George Sluizer
This Dutch director was hardly a household name, but he did make The Vanishing, one of the scariest films ever created. That alone should have made him worthy of inclusion.