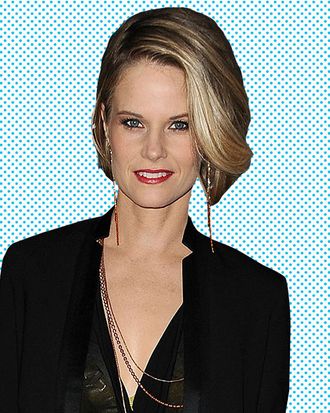 Photo: Jason LaVeris/FilmMagic
On tonight's episode of Justified, Constable Bob Sweeney (Patton Oswalt) says of Ava Crowder (Joelle Carter): "That girl could make a dog break its chain." In the FX drama's current sixth season, she's got two men chasing their proverbial tails: Boyd Crowder (Walton Goggins), her ex-fiancé/partner in crime, and Deputy U.S. Marshal Raylan Givens (Timothy Olyphant), another former flame, who sprang her from jail on the condition that she become his confidential informant to bring down Boyd. "They're not exactly fighting over her," Carter says. "It's more like they're pulling her apart. But a lady does love a little attention one way or another." The Georgia-born actress has been drawing praise for her powerful performance, not to mention her character's passionate kiss with Raylan in the latest episode. She spoke with Vulture about Ava's next move and what lies ahead in the final season.
When did you realize Ava would be so much of the focus of this season?
Halfway through last season, when Ava was in jail, they told me, "We're doing this for a reason. Because in season six, we're bringing her back home, and Ava is going to be a huge part of the story." Of course, I was like, "Sounds good to me!"
How did Ava's experience in jail change her?
She was a good person who had to do a lot of hard things to survive in jail. The love relationship with Boyd was too much for her to handle when she was inside, so she tried to disconnect with him by telling him to go away — you know, like a woman does. She wanted him to come back, but she had to reject him to put him in his place. We saw her become a little more calculating and a little less human. She brought that out of jail with her. So who is she now? She's trying to redefine herself.
Does she still have feelings for Raylan?
She's beholden to him because he got her out of jail. In this episode, she's trying to find a footing with this new role she's playing. She's trying to get Raylan to admit he might care about her a little bit more than he's willing to say. But she's a desperate, scared animal. She doesn't know what to do, and her options don't seem good on either side, so she makes a move to run without thinking it through too well.
When the show started, Ava was an abused wife who killed her husband. Now she's caught in the crossfire between two deadly men. What's her next move?
Ava was born again in the beginning of the show. She was fresh out of this horrible circumstance, but with hope and desire to get out and see the world she'd missed. As the seasons have gone on, she's gotten knocked down more and more. This season is all about: Can someone stop the madness and end the cycle of violence? Ava just wants to start over somewhere she can breathe and be at peace. I like the idea that she still holds on to that hope.
Is there any residual spark with Boyd, or is she just using him to win freedom?
For Ava, the perfect scenario would be for Boyd to figure out how to get them out of Harlan and be on the run together. She's still in love with this man, but he's not her best option. When he comes in so enthusiastic about this new plan to keep them in Harlan and become the king and queen of the soon-to-be-legal pot industry, she realizes that option of running away together might not be a future choice for her. Everyone wants to know where her loyalty lies and whom she loves, but from here on out, she's got to look out for Ava. She's just trying to survive. That makes it even harder, to have those feelings for Boyd and to have to choose a different direction.
What was it like shooting the kiss with Timothy?
It all happened spontaneously, and it turned into a great scene. The characters have this chemistry and history, so there's always the possibility of a romance between them. But I didn't feel like this was as romantic as it was desperate. He offers her the option she desires — "I can help you get somewhere you can start over." She wants to believe him, but she's very scared. And he wants to make sure she's okay before he leaves her alone, because she's already run away once.
Is there hope Ava may find a happy ending, or at least get out of Harlan alive?
I hope so. I think she deserves it. But I love my character. She may not be the most upstanding citizen on the planet, but she gives you a reason to believe in her, and I do. I want to see her have that opportunity.
So what's next for you — how will you top Justified?
I just hope I get to play another woman who's so flavored, complicated, and strong — and so lovely, soft, and feminine. And so flawed! I'll miss the collaboration with these actors and writers. But it's time to grow new relationships and get out of the nest.