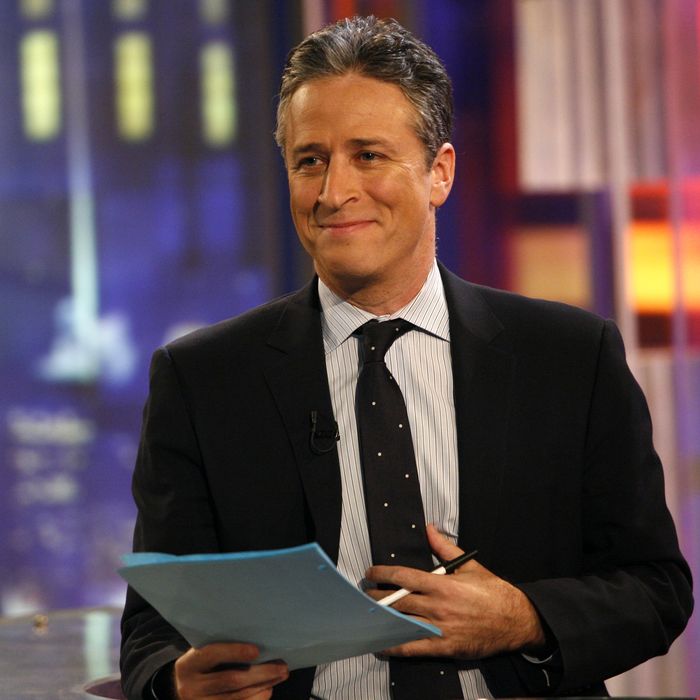 There had been rumblings for months that this might happen, but the TV world was nonetheless shocked by tonight's news that Jon Stewart is stepping down as host of The Daily Show later this year after more than 15 years in the position. Stewart announced his decision to a studio audience at a taping of tonight's episode. It's another massive shake-up for an industry that's been rocked by endless change of late: With Jay Leno and Craig Ferguson gone, Letterman leaving in May, Colbert replacing him in the fall, Chelsea Handler getting a Netflix talk show, and Stewart out the door by year's end, virtually all of the major late-night slots will have been shuffled over the course of two years. It's a lot to process, and no doubt much digital ink will be spilled over the topic in the coming week. For now, though, here are five immediate question raised by Stewart's leave-taking — and our best attempts at answers.
1. How big of a blow is this to Comedy Central?
Pretty big! In just the last year, the cable network will have lost its two biggest late-night stars: Stephen Colbert left for CBS in December, while the person who was arguably the most logical in-house candidate to replace Stewart, John Oliver, went to HBO. That's a pretty big talent drain, and one that is almost certain to have an impact on the network's Nielsen numbers in late-night. Stewart's ratings have softened a bit in the last year or so, but he still regularly drew a bigger crowd of young viewers than David Letterman and Jimmy Kimmel (who are handicapped by their later start times and lengths). Now, just as CBS is about to turn up the heat with the introduction of Late Show with Stephen Colbert, Comedy Central will face the challenge of holding on to Stewart's viewers under a new host.
What's more, keeping the 11 p.m. hour strong will now be twice as hard, as the network is still working on bringing viewers to Colbert's replacement, Larry Wilmore. While it's too early to make any judgments about how Wilmore's program is doing, early data suggest he's pulling in a smaller crowd and not holding on to as much of the Stewart lead-in as Colbert did. This is not a surprise, given how many years Colbert had to build an audience. Early buzz on Wilmore has also been positive. But his understandably weaker-than-Colbert ratings underscore the difficulties ahead for Comedy Central: It will now have two freshman hosts fronting its two biggest late-night shows.
And yet, as much as Stewart's departure will impact the network's 11 p.m. lineup — just as the 2016 election cycle will be kicking into high gear — it won't be a make-or-break event for Comedy Central. Establishing itself as a viable soldier in the late-night war has no doubt been a major accomplishment for the network, bringing in a very lucrative and reliable revenue stream. However, prime time remains the profit center for Comedy Central. And on that front, things looks great. The last five years have seen the launch of several big critical and/or ratings hits, including Key & Peele, Workaholics, Broad City, Inside Amy Schumer, and Tosh.0. Veteran South Park also remains a massive hit with the network's core demo of young men. Not all of these hits will be around forever — deals for South Park and Tosh.0 both expire in 2016 — but Comedy Central isn't facing a collapse post-Stewart.
2. Will The Daily Show continue? 
It will: Comedy Central's statement about Stewart's departure called The Daily Show  "an unparalleled platform for political comedy that will endure for years to come." And in December, Comedy Central president Michele Ganeless told Variety the series would survive after he left. "The show will live on. It is a franchise, like the 'Tonight Show,'" she said. "We'll figure it out when we get there … We will identify talent, and hopefully, we will find the next Jon Stewart."
3. So who will replace Stewart?
We have no idea.
4. Will Stewart do another nightly talk show?
It seems unlikely that's his immediate plan. It would be hard to imagine a better platform than the one he has now, and Comedy Central would have likely paid Stewart whatever he wanted to stay (or that at this point in his career, money is even a motivation for him). A quick check-in with several cable and broadcast network sources surfaced no rumblings that Stewart was in talks to do another show. One late-night veteran dismissed the idea that Stewart would keep up the nightly grind somewhere else. "How do you follow that?" this source asked. "He's probably burnt." CBS News reported that Stewart told the studio audience he felt "restless."
5. How does this impact the rest of the late-night landscape?
Overall, not much. Stewart's only direct 11 p.m. competitors are Conan O'Brien on TBS and the alternative comedies of Adult Swim. Stewart's departure certainly won't hurt Conan, but his show is so different from The Daily Show, it's hard to see him suddenly surging as a result of one host change. Still, whenever someone as established as Stewart leaves, it encourages viewers to shop around and sample other late-night offerings. And Stewart will be leaving at a time when there will be plenty of new or newish offerings from which audiences can choose: CBS's upcoming Colbert and James Corden shows and NBC's still-young Late Night with Seth Meyers.
There's one wild card, however — the possibility that Stewart's exit will inspire another player to launch a new 11 p.m. show. Fox and sister network FX have both, at various times, expressed an interest in late-night (FXX tried, and failed, with W. Kamau Bell). With incumbent Comedy Central suddenly weakened in the half-hour, next fall or January, following Stewart's exit, would be an ideal time to try something in the slot. We've heard absolutely nothing to suggest either network is ready to plunge back into the late-night wars, but if any network were ever interested in doing so, striking while longtime 11 p.m. leader Comedy Central is vulnerable would make a lot of sense.